With different gay sub-labels such as Euroboy Hard, Euroboy Sport, Euroboy Express, Euroboy XXX and Euroboy Collections, Euroboy has been one of the most prolific gay twink porn studios of recent years. Primarily featuring young British twinks, a few Euroboy gay dvd releases use European and South American models.

Twinks Getting Off (3 DVD set) - Studio: Euroboy - new

Twinks Getting Off contains three hot Euroboy dvds in a great triple pack! In Cherry Popping Twinks, young lads get off on first-time thrills, like sneaking a quick shag at school. Rule Breaking Twinks take having it off to a whole other level - because there's nothing like breaking the law to get your blood pumping and your cock hard. Finally, fit lads are well up for it after a bit of footie in Get Your Kit Off!
Rough & Tough Boys - Studio: Euroboy - new

Rough & Tough Boys are the sort of lads who don't do well sitting still - you won't find them revising for school or working behind a desk. They would much rather put their fit young bodies to work, and when you're a young man with energy to burn, that means a whole lot of sex! Young soldiers in the army, juvenile offenders, and hard working labourers - they are all keen on a stiff cock or a tight arse! Cast: Aaron Aurora, Oscar Roberts, Olly Tayler, Dylan Thorne, Riley Tess, Alec Steele, Luke James
Three's Cumpany - Gay DVD - Studio: Euroboy - new
They say that three's a crowd, but EuroBoy believe that Three's Cumpany. These horny young lads know that they only thing better than getting to play with another boy's cock and hole, is getting to play with two boys' cocks and holes! Multi-tasking is clearly one of their strong suits as the twinks take it from both ends, getting fucked up the arse while they slob on a knob.
Junior Apprentices -Gay DVD - Studio: Euroboy
These naive twinks are being trained by some of the dirtiest mechanics, filthiest plumbers and most perverted builders around! Watch their young minds and bodies being corrupted by older lads for their amusement and sexual pleasure. New to the job and eager to please; These young innocent lads will do anything to keep their apprenticeships!
Junior Office Sluts - Gay DVD - Studio: Euroboy
Suited and booted, these young twinks aren't being very professional, but using their tight holes and hung cocks to seal all the business deals! Abusing their positions, fucking interns over desks, shagging on office chairs and sucking their bosses cocks is all the work that gets done at Euroboy Ltd. Watch as these young business men pound the competition into submission!
Luke Desmond's Twinks - Gay DVD - Studio: Euroboy
Luke deserves his Well Hung quality rating with every inch - every ten of them that is - as he goes in search of eager British twink holes to crucify! Follow this hung and horny guy in Luke Desmond's Twinks as he and his monster dick seek out some hard cocks and tight twink holes from throughout the UK. Could this be more hardcore twink action than you could handle?
Massage Boys - Gay DVD - Studio: Euroboy

Hot teens get more than they paid for! Oiled up and ready to relax, watch as five boys get a much needed rub down! Hands explore their toned bodies, fingers slide into ass holes, cocks are rubbed to full erection and prostates are massaged with their hard teen dicks. Every massage here ends in a very happy ending!
Monster Cock, Cherry Pop - Gay DVD - Studio: Euroboy

Once they pop they can't stop - and it's all getting a bit racy in Monster Cock, Cherry Pop. Watch as these boys get their cherries popped by some monster cocks - and they love it!

Cast: Chad, Lex, Joey, Aaron, Nickie, Skylar
Onesie Direction - Gay DVD - Studio: Euroboy

These horny young twinks are having a sleepover with all their friends; but wrapped up head to toe in warm comfy onesies is making them all hot and horny! Forget spin the bottle or pillow fights, these not so innocent boys are swallowing each other's cocks and opening their buddies' holes for a hard pounding!
Onesie Direction 2 - Gay DVD - Studio: Euroboy

Touring around the world is stressful work, so the pent up lads in Onesie Direction 2 need a way to relax - and what better way than taking your sexual frustration out on the fans and your band mates' asses. The horny boy band even get so worked up one day, that they strip off their signature onesies and become one big tangled no-holes barred fuck train, No ass is left unfucked! It's not the onesies that make them so beautiful!
Play Time - Gay DVD - Studio: Euroboy

Ready, set, go! It's Play Time - and these twinks play hard and fuck even harder! Don't let their tiny bodies and tight holes fool you - they all have hung dicks between their legs along with fucking filthy minds. When it comes to Play Time, they always make sure they have fun. They give it their all and always have a very sticky happy ending!
Post Boys - Gay DVD - Studio: Euroboy
The Post Boy always delivers a first class service; he always cums on time and always has a huge package for you! Euroboy's 'male order' service lads are going door to door delivering the best service around; getting down onto their hands and knees to squeeze large parcels into tight holes and never forgetting that the customer is always right…
Puppy Play - Gay DVD - Studio: Euroboy
Taken for walks, tied up and fucked like bitches; these boys have been bad puppies that need to be taught a lesson! Master twinks take control of their boys in this puppy themes feature that is sure to leave you panting! Dog masks are put on subs, tail butt plugs shoved up their arses and collars around their neck before they are led around the room and fucked on all fours! No animals were harmed during the shooting of this film - just slutty boys!
Rule Breakin' Twinks - Gay DVD - Studio: Euroboy

These good for nothing boys have no respect for anything when it comes to getting off. They'll suck cock in the church, get nasty during college hazing games, they'll even take a car on a joy ride while riding each other! Down on the farm, they're no better, they'd rather suck and fuck than do their chores - they're RULE BREAKIN' TWINKS!
Sauna Virgins - Gay DVD - Studio: Euroboy

These young lads are trying out the local sauna for the first time and end up with more than they bargained for! Huge hard throbbing cocks around every corner, tight boy holes exposed in the steam room and fit young boys jizzing in the Jacuzzi!
School Secrets - Gay DVD - Studio: Euroboy

Barely legal – but still filthy fuckers! Stealing test scores, smoking between classes and vandalising school property is the least of the teacher's worries; as these schoolboys are getting spit-roasted on the headmaster's desk and bumming in the locker rooms! Virgin cherries are popped, teen cocks are sucked and boy juice is flying everywhere at Anal Academy.
Scouting For Boys - Gay DVD - Studio: Euroboy
Lost in the woods, these cute English boys waste no time at all abandoning their maps in favour of exploring the XXL content of each other's shorts. It's not long before the uniforms are stripped of this naughty gang of juicy young boys and they're getting down to business, right there in the middle of the great outdoors. Join the troop as they go on their very first camping trip together without adult supervision!
Selfie Sluts - Gay DVD - Studio: Euroboy
These Euroboys are constantly taking pictures of themselves and sharing them on social media - so why don't the Selfie Sluts take pictures whilst doing what they do best - fucking! Capturing images of themselves sucking on each other's fat dicks and then sharing the moment of first penetration on twitter - even posting cumshot facials on Instagram! Watch as they fuck and film! Fuck me while I take a selfie!
Shag Hard Lads - Gay DVD - Studio: Euroboy
Trapped and horny in juvenile detention, taking things too far during a college hazing, even having it off on something as innocent as an ice cream truck… these SHAG HARD LADS are out to fuck, decency be damned! Uncut British boys fuck each other in raunchy hardcore scenes, showing a total disregard for the rules in pursuit of shooting their loads!
Slutty Sleepover - Gay DVD - Studio: Euroboy
Slutty Sleepover tells the tale of eleven barely legal boys on their first after-school sleepover - their first chance to be alone together. Watch as these big dicked, tight arsed and dirty minded young virgins finally get to explore their sexuality and each other's bodies. See fresh rock hard dicks being sucked off and then used as fuck tools to plow deep into cute schoolboy asses.
Smart Asses - Gay DVD - Studio: Euroboy

It's always the quiet ones...These geeks may look reserved and innocent but are actually very naughty nerds! They suck cock better, fuck arse deeper and swallow more loads than your usual 18 year old! Don't let the glasses and side partings fool you! Hung like a horse and hornier than a nymphomaniac; they may stay late and study but only so they can fuck each other senseless on the library floor!

Sports Day Fuck-A-Thon - Studio: Euroboy

It happens every year. Whilst the coach is looking the other way, the boys will play! Welcome to the Sports Day Fuck-A-Thon. These boys might be up and coming athletes, but their starring sport is fucking! Out in the field or changing in the locker room, they cannot contain their teenage lust. They all want to fuck their team mates then and there for all to see! When these twinks shoot, they always score!
Swim Team - Gay DVD - Studio: Euroboy
Britain's Under 21s Swim Team are on tour and training hard. Away from home and working hard all day, these boys are super horny - and what better way to relieve the tension than by plunging into their team mate's deep end. Watch as these stream-line young twinks cannot control themselves any longer - splashing and fucking away in the pool!


Taking One For The Team - Gay DVD - Studio: Euroboy
These boys are Taking One For The Team, aiming to score and hitting the back of the net everytime! Whether getting sweaty in the changing rooms, team bonding in the showers, or even getting dirty on the wrestling mat, these boys are out to win and pound the competition into submission. So sit back and watch the biggest dicked British twinks take one or more hard cocks for the team!

Teenage Kicks - Gay DVD - Studio: Euroboy
With their hormones going into overdrive, the horned up boys in Teenage Kicks cannot contain their teen lust any longer. These Euroboy twinks are young, hung and full of cum and have permanently got the horn. It doesn't matter where they are or what they're doing - if they want sex they'll do it right there and then. That's how they get their teenage kicks!
Cast: Aaron Aurora, Jesse Magowan, Kai Alexander, Kamyk Walker, Kevin Ateah, Lloyd Adams, Skylar Blu
Teen Fuck Fest (3 DVD set) - Gay DVD - Studio: Euroboy

A great three dvd pack of Euroboy teen films containing Sports Day Special, Hunky Builders, and The Corruption Of Youth.

Tight arses, big cocks and gallons of spunk make this three hour dvd one of the hottest twink-fests around!
The Ice Cream Vendor's A Bender - Gay DVD - Studio: Euroboy
Driving from town to town, the Ice Cream Man picks up the youngest boys to drink straight from the pump before bending them over his counter and showering them in cream. They all know that The Ice Cream Vendor's A Bender, but he has the biggest cone and the juiciest sauce and the lads always come running when they hear his song or see his dirty van. Lick it before it drips!

Trick Or Treat - Gay DVD - Studio: Euroboy

Do you choose Trick or Treat? Dressed as sailors, angels, zombies and horny devils these boys are hunting for two things; and both include filling their holes!

Whether it's a mouthful of candy or an arse full of hard cock; watch as they go around the neighbourhood doing the most sordid things for a mouthful of something sticky!
Twink Love -Gay DVD - Studio: Euroboy

Love is in the air and our twinks are falling head over heals with each other! Watch as these loved up and lustful teens make sweet love to each other! Whether taking a romantic bath, seducing each other over the dinner table or bringing a willing bottom boy to share; these lads will pull at your heart-strings and your groin!
Cast: Jesse Magowan, Troy Stevenson, Chorche Maxwell, Justin Conway, Oscar Roberts, Kamyk Walker, Kyle Dickson, Austin Ellis, Riley Smith, Aaron Aurora, Thomas Fiaty
Virgins - Gay DVD - Studio: Euroboy
Nothing feels better than a Virgin! These young unspoiled boys are taking their first steps to becoming men; using their tender holes and throbbing inexperienced cocks, they explore each other's tight and innocent bodies. Watch as these lads' most intimate and life changing events unfold in-front of your very eyes – if you've never seen a boy lose his cherry before you are missing out!
Weapons Of Ass Destruction - Gay DVD - Studio: Euroboy

Bottoms up – it's Happy Hour! The UK's horniest gay bar is open all hours and one manager spends his shifts jacking off to the security footage. Find out the kinky activities he stumbles upon; from training staff to take two dicks at a time, to taking advantage of drunk customers in the toilets. These barmen spend more time pouring spunk down each others throats than drinks!
Well Hung Virgins -Gay DVD - Studio: Euroboy
The cocks are huge and the holes are tight in Well Hung Virgins, a twink-filled fuck-fest from Euroboy XXX. Watch these young British lads become men and pop their cherries! Kyle takes on hung and very muscular Danny for his first time and ends up on his back. Two well-endowed scally lads decide they need a bottom boy to share, and hit the jackpot when they bag a young virgin with a very greedy hole.
Xtra Large Lads -Gay DVD - Studio: Euroboy
The most hung boys from the UK measure up in Xtra Large Lads before slamming their cocks into the eager holes of their mates! Five steamy scenes see eleven massive cocks plunging deep down throats and into tight butts.
Young Boys In Uniform -Gay DVD - Studio: Euroboy
Take the youngest and twinkiest boys in the industry and dress them in the sexiest and most innocent uniforms around and you have one twinktastic movie! From innocent scouts messing around in a tent, mischievous interns working up a sweat in their suits and school boys just exploring each others' bodies – this feature is sure to get any twink fan's pulse racing! Don't miss the pleasure and pain written across young Aaron's face at the cherry popping pyjama party!
Youth Offenders - Gay DVD - Studio: Euroboy

Joy riders, muggers and gang leaders; these young lads are bad boys, but it's what they get up to behind bars that's really naughty and perverted! These horny teens aren't gay for pay; but once locked up together, they just have nothing else to fuck but each other! Whether tag teamed by fellow cell mates or taken advantage of by the guards; these lads are truly fucked now!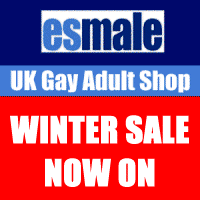 Esmale (UK Gay Adult Shop) sells a large range of gay adult sex toys including a range of fetish and restraint products, Cock and Ball play items, Whips, Paddles and Slappers, Blindfolds, Masks and Hood and are the UK stockist of Mr B leather and fetish products. They also sell a large range of men's designer underwear, condoms and lube, fleshjacks, jock straps and anal toys. Treat yourself!
Save an extra 10% on top of their already discounted prices with our exclusive code 'GAY10'. Click here to shop
See also: www.gayadultshops.co.uk