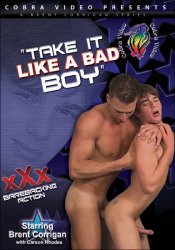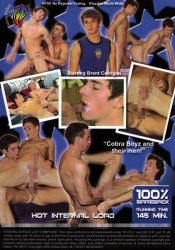 Brent Corrigan
also features in the following films:-
Bareboned Twinks
Every Poolboy's Dream
Naughty Boy's Toys
See also:-
Dirty Bird Media for more gay DVDs featuring Brent Corrigan
See new
Brent Corrigan: Beautiful Boy



Description / Review:
Take It Like A Bitch Boy will most likely be the last ever Cobra dvd, following the tragic murder in January 2007 of Cobra's owner and director, Bryan Phillips.
Cody is hanging out at the beach and notices Leo, a life guard. At Leo's place, he grabs a shower leaving Cody in the living room to watch TV. Cody cant resist a peak at a straight guys naked body, but soon Cody's clothes are stripped off and he wants to get wet too. Leo isn't to happy about his shower being interrupted by a naked boy. Cody bumps him as he bends down to pick up the soap, and Leo becomes disgruntled. He tells Cody "I'm not like that" and gets out of the shower. Leo heads out to get dressed but Cody has other plans and tells Leo he loves to watch straight guys jacking off. Leo confides that he is horny, but will only allow Cody to watch, but not touch. He gets on his bed and starts to jack to a porn. Slowly Cody slips onto the bed and removes his towel. Cody stares at Leo's cock and is now rock hard having accomplished his goal. Cody gets closer and tries to touch Leo, but is pushed away and told he can only watch. Cody stares as Leo rubs one out, and tells Leo to squirt on his belly. Leo does and then Cody scoops up his cream to use as lube and finishes himself off with a nice squirt of his own. Cameron has just gotten out of the shower and is cleaning up.
Nate comes in and tries to make a move but Cameron says he doesn't feel like that and pushes him away. Nate doesn't take no for and answer an pins Cameron against the fridge, licking and biting his ear. Nate gets down and rims Cameron, then spins him around to take his thick cock in his mouth. Cameron starts to slowly lick and suck, but soon Nate is pumping his cock in and out of his mouth. Nate pulls Cameron up and once again pushes him against the fridge. He slips the head of his cock inside Cameron and precumm drizzles down from Cameron's thick cock in anticipation. Nate starts pounding and you can hear the slapping of his balls against Cameron's smooth ass. Cameron then wants a turn and puts Nate on the ground doggy style. He enters him and Nate flinches. Nate switches and puts Cameron on his back, he starts slowly then pumps harder and harder until Cameron blows onto his belly. Nate goes down to lap up the cream and the boys kiss, then Nate pulls out and squirts on Cameron's belly too, only to lick his own cream. Nate, still rock hard, sticks it back inside and the boys fuck again until Nate squirts all over Cameron's balls and hole and finishes the scene by licking up his own juice.
Lance is really turned on by the fantasy of an older married guy dominating him and making him do whatever he wants want to get off. Mr Anderson is finishing up a business presentation. Lance comes in and starts wiping down the white board. Mr Anderson looks at him, and seems to recognize him from the Cobra website. Lance is called over to his computer screen and asked if his father knows about the website work. Lance makes a plea and says he'll do anything, if only he wont tell his father. Lance is put on his knees and Mr Anderson opens his trousers and pushes Lances mouth over his cock. Lance is obedient and sucks him. Mr Anderson groans excitedly and lets his load squirt into Lance's mouth, then picks him up from the floor and strips off Lance's clothes proclaiming he now wants his boy ass. Lance is bent over the conference table and Mr Anderson sticks his tongue deep inside, telling him that he's still horny and his wife has been away.
Next Lance shows he can take it better than any bitch boy around and while bent over, Mr Anderson rams his long cock deep inside. Lance is yelling in pain nd even though he's begging Mr Anderson to go easy on him, Mr Anderson just keeps pounding away, blackmailing Lance that he will tell his father if he isn't a good boy. Lance enjoys the domination and then tells Mr. Anderson he wants to top him. Mr Anderson bends over the chair and little Lance gets his revenge and makes his muscle daddy groan, but soon Mr. Anderson pushes him on his back and spreads his legs wide open. He stuffs it back in and pounds Lance. The boy screams and groans, then tells him to pound him like a bitch boy. Finally a huge load erupts from Lance's cock, all over his leg, chest and belly. You can tell by the intense expression on his face that he really enjoyed that orgasm. Mr Anderson pulls out and blasts his second load on Lance's red hole, then sticks it back in and then being done with him, immediately pulls the boy up and pushes him out of the office still naked.
Cameron is relaxing, reading a book and little Cody comes in and snuggles up next to him. They dance and kiss until finally Cody is on his knees licking Cameron's thick cock. The boys lay down and 69 each other, Cameron rubs Cody's smooth butt and then lays back as Cody deep throats and jacks him, causing Cameron to groan and bust into Cody's mouth. Cody licks up all the cream and now it's his turn. Cameron works Cody's hard toy with his hand and tongue until Cody tenses with his mouth opens wide and pops his cream in the air. Cameron licks up his treat. Cody gets Cameron up again and starts some dirty dancing, making Cameron hard. Cameron sits on the chair and Cody lowers himself down over his thick cock and the boys gasp as Cody gyrates. This time Cody is pointing straight up to the ceiling as Cameron slides in and out. Cody wants his turn and puts Cameron on the floor. He slides in and Cody shows that he can be a hot topboy as well as a bottom. They grind and moan together and Cody can't take anymore and pops his load all over Cameron and rubs it in. Cameron is all primed and bends Cody over the chair and wastes no time in plowing him. Cody's expression is priceless and Cameron's cock just seems to get larger and larger, the veins bulging from each stroke. Cameron's face intensifies with ecstasy and he bursts a huge load deep inside Cody. Cameron pulls out, and for 30 seconds or more, the cream streams out from little Cody's butt hole.
Brent Corrigan is on the phone in his hotel room, trying to get assistance from one of his friends for a school project. While his friend looks up a website for him, Brent's hand rubs over his jeans to the now swollen cock below. He hangs up from the call, takes out his cock, and begins rubbing and then jacking himself. He strokes harder and harder but suddenly a knock on the door interrupts him. He goes to the door trying to hide the bulge in his jeans and room service brings in his dinner. Brent's cell phone rings, and the waiter, Carson, follows him to the other room, checking out Brent's ass. Brent finishes his call and signs the check before Carson strips off his shirt and pushes Brent down to his knees. He stuffs his cock into Brent's mouth and grabs the back of his head to face fuck him. Carson asks if Brent will be his Bitch Boy and Brent eagerly slurps and deep throats Carson's cock until Carson dumps his thick creamy load into Brent's mouth. The creamy mess bubbles and streams down Brent's open lips and chin. Carson then clears the table and rips off Brent's jeans. He sucks him until the boy groans. Brent gets very excited and squirts a nice load in Carson's mouth. Carson says he isn't done with him yet and flips Brent over the table, sticking his tongue inside his boy hole. He rims him and then forces Brent up against the wall, rubbing his bare cock against the boy's now moistened hole. Brent is begging Carson to fuck him. Carson slides it in slowly and holds Brent tightly against his chest, pumping him harder and harder. Carson rams him and tells him to Take It Like A Bitch Boy. Carson sits down, and Brent straddles over him and rides his cock. Carson orgasms and groans while long creamy, streams of cumm drip down from Brent's loosened ass. Carson continues to plow Brent and as he jacks the boy, Brent squirts out a nice load onto his belly. Carson bends over to lick it up, then gives a creamy kiss to Brent.
NB: Unfortunately Cobra Gay DVDs are becoming increasingly difficult to get hold of. Most of the titles are still available on video on demand though.
If however you are looking for more recent titles featuring 2 of their most popular stars, click on the links here for Gay DVDs featuring Brent Corrigan and Brent Everett
Additional Information
Categories: UK R18 / XXX Gay Adult, Gay Bareback
Running Time: 160 mins, Year 2006
Price: From around £31*
Starring: Brent Corrigan, Carson Rhodes, Lance Evans, Cameron Lane, Cody Lockheart, Nate Grant, Leo Kross, Christopher Anderson
Director: Bryan Phillips
Studio: Cobra Video
Buy DVDs Online at: Simply-Adult.com
Downloads and Streaming: Cobra Video, See also: www.GayVod.co.uk
Country: USA. Language: English
Additional info: No Regional Coding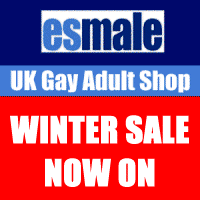 Esmale (UK Gay Adult Shop) sells a large range of gay adult sex toys including a range of fetish and restraint products, Cock and Ball play items, Whips, Paddles and Slappers, Blindfolds, Masks and Hood and are the UK stockist of Mr B leather and fetish products. They also sell a large range of men's designer underwear, condoms and lube, fleshjacks, jock straps and anal toys. Treat yourself!
Save an extra 10% on top of their already discounted prices with our exclusive code 'GAY10'. Click here to shop
See also: www.gayadultshops.co.uk