Summary:
11 hot and horny uncircumcised lads who love to shoot of lot of cum in their mouths. Randy boy fuck actions where no rubber troubles their pleasure!
Description / Review:

Scene 1: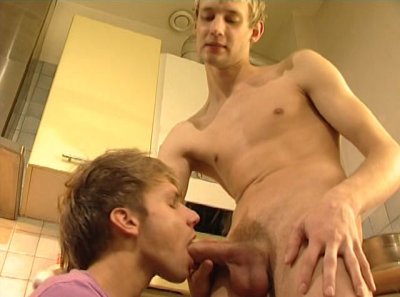 "Hey Andrej, your ass looks really luscious" Tim Junker whispers to him in a wicked way. "Well then, use it" replies the black haired Stoickov. Tim kneels down with a bright grin on his lips and starts to lick Andrej's ass carefully with his tongue. That one leans back and enjoys being rimmed with pleasure. Then he gives Tim his cock, in order that he can use it. He swallows his dick like a sex-hungry guy. Andrej is all horny by now. He pulls up Tim to him, and starts to finger his hole. He continues doings so until the other one takes off his shorts quickly. Without hesitation he sits on Andrej's dick. He rides it up and down. It's time for Andrej to get more active. He rotates Tim's head against the wall in order that his ass shows in his direction. Finally he can insert his fat prick into Tim's tight asshole. He bangs him as hard as he can. Tim is totally excited that he can't hold his load anymore. He wanks his schlong while feeling every impulse of Andrej. Finally his juice squirts out of his bell end. His white cream drips on the red sofa. Andrej cum is also about to shoot out. He leans back on the couch and pulls up Tim's head over his prick. He jacks off faster till his sperm runs out. Tim licks all the proteins and leans back satisfied.
Scene 2: "Geez, what takes him washing up so long" thinks Vladimir Prus. "Now, that I'm really horny - Well, maybe I should distract him a little bit" is what he's got in mind. In no time he starts to fondle Stefan Peters with his hand. He pulls up his t-shirt slowly and plays with his nipples. Stefan pretends not being disturbed and continues to do the washing up as if one had all time in the world. After Vladi opened his pants and gives him a blowjob, Stefan doesn't need to be invited twice. He swallows Vladimir's prick deep inside his mouth and blows it until it gets hard as stone. Then his rips off Vladimir's clothes of his body and plays with his nipples. He chews on his dick and wets his hole. He sticks his tongue deep inside Vladis ass-pussy and fingers it. That one really enjoys this and can't wait to get screwed. Without restraint Stefan fucks him roughly. He dumps his prick deep inside his hole. Slowly at first he then bangs him harder. After that Stefan can't hold his juice anymore. Il pulls his dick out and Vladi kneels in front of him. He swallos his load and licks the rests of Stefan's schlong. Both kiss savagely and lick his sperm from their lips. Stefan enjoys the taste of cum in order that he doesn't mind Vladimir shooting his hot load into his face. Abundantly Vladis squirts his sperm out of his bell end. "I knew that I was going to get my fuck this time" Vladi thinks at the end totally satisfied.
Scene 3:


"Mmmh, having a bath like this is what would satisfy myself" thinks Carlos Michaelis. He puts the water cheerfully into the bathtub and takes his clothes off like a pro. He sits into the warm water and plays with the foam. He dispenses the bath water over his body. When he's touching his hole he just can't resist. He plays carefully around that part with his fingers and wanks his prick which is getting harder with any minute. He looks around for an object that he could insert into his asshole and finally spots a plastic bottle. He sticks it slowly into his arse and the bottle slides in and out easily. By doing so his dick is really getting hard. He feels like his bell end growing fatter and bigger. He wanks it as fast as he can. Finally he can't hold his jiiz anymore. His cum squirts out. Satisfied his dispenses the rests of his sperm over his body and to finish licks his fingers.
Scene 4: Carlos finishes his bath at time and is dressed by now. Nihat Alpey, his buddy from the south is coming for a visit. They both sit on the couch and talk. But Carlos' still very horny. He pulls up Nihat's shirt and plays with his nipples. He plays carefully with his pants and pulls his dick out. He gives him a sensuous blowjob until his prick is hard as stone. Nihat puts up with it and helps Carlos undressing his pants willingly. Then he fondles his hole and fingers it. He also licks his tight asshole. But he finally wants to screw him. Nihat turns around and offers him this luscious butt. Without taking his own pants off Carlos sticks his prick into his hole. First just a little bit but in no time his schlong disappears completely inside his sphincter. He fucks Nihat - who moans aloud of pleasure - like a horndog. Carlos for his part also wants to feel a dick in his hole. He finally takes his pants off and sits on Nihat horny bell end. His cock slides slowly inside Carlos' hole. He rides on Nihat until he can't hold his juice anymore. Carlos descends from him and kneels over his fat dong. He fondles his hole until the other one hot cream squirts out of his glans. Hungry for jiiz Carlos cleans it all up with his tongue. To finish he also wants to jerk off. He stands next to Nihat and wanks his fat prick. Abundantly his hot proteins squirt out of his dick. Nihat who got almost frightened by the view of this licks his schlong dry and leans back totally exhausted.
Scene 5: The shy Benjamin Walter, is an ominous lad. He just loves satisfying himself. He fondles his body easy-going and takes off his shirt slowly. He opens his pants and pulls his dick out. He wanks it carefully. After he has taken his pants off he leans back in the chair. He fondles his hole and wanks his prick. He fingers his hole without mercy whiles his cock getting harder. He feels some prickling in his glans but still hold back his jiiz. He inserts one last time his finger inside his tight hole and spanks the monkey. Doing this he just can't hold it any longer. His white juice drops out of his cock. More cream squirts out seconds later. Happy and satisfied Benjamin leans back and plays with the rests of his own sperm.
Scene 6: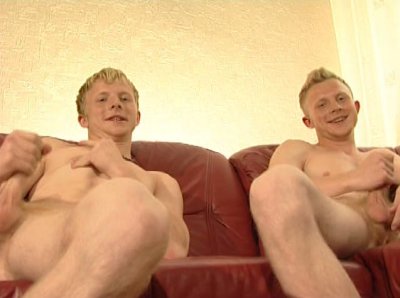 Michael Block and Oleg Petermann sit arm in arm on the sofa and tell each other jokes. Suddenly their heads come near. Then Oleg makes the first step and kisses Michael. That one loses his inhibitions and takes Oleg's t-shirt off. He opens his pants and starts to give Oleg a blow job. He puts up with it but wants to suck dick too. He opens Michael's pants and kneels down to him. Slowly and sensuously he chews on his glans. Then he spreads Michael's legs to wet his asshole. He continues by sticking his fingers in his hole to fondle the inside. Michael is totally excited when Oleg's prick is ready to bang him. He inserts his cock at last. His schlong disappears deep inside Michael. He screws him for a short time only but in a very hard way. Michael is whining quietly. Finally Oleg cannot hold his sperm anymore. He pulls up Michael's head closer to him and squirts a full load of proteins into his mouth. This odd taste of cum just made Michael even hornier. He can't hold his load either. Oleg kneels over him waiting for his sperm to shoot out of his bell end. To finish both kiss savagely and disperse the rests of sperm with their tongues.
Bonus-Scene: The twins Peter & Paul sit together eagerly in front of their laptop watching "Cum Twice". This exciting DVD makes them totally excited. Bit by bit they rip their clothes off their body and grin at each other. These horny sperm lads in it make their pricks get totally hard. Then they wank their dicks as fast as they can until one twin jerks off after the other out of his glans. Well, as they say, "Cum Twice" - literally. Peter and Paul thought exactly the same and grin by watching the résumé of cumshots...