Summary:
Mirage is a blockbuster with a plot! The movie opens with a group of savage tomb robbers as they loot a lost Egyptian crypt in search of a golden ushabti a treasured golden statue that is the most valuable artifact from the ancient world. Eight Arabian men all dark, sweaty, and swarthy rummage through the treasure chamber, looting the riches of ancient Egypt. Their joy turns to ecstasy, urged on by the wall paintings of nude Nubian soldiers.
Description: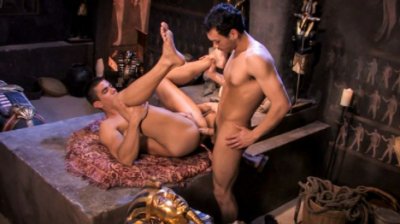 Shot in the deserts east of Palm Springs, on the soundstages at Raging Stallion Studios in San Francisco, and on the big island of Hawaii, Mirage is the big budget movie of the year. Its stars have never been better, and Chris Ward delivers the movie of his career. This will be remembered as the movie of 2007.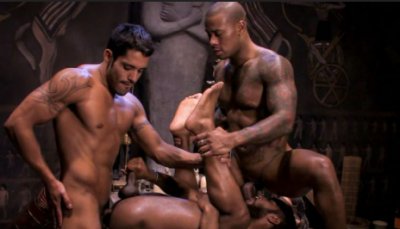 The movie opens with a group of savage tomb robbers as they loot a lost Egyptian crypt in search of a golden ushabti - a treasured golden statue that is the most valuable artefact from the ancient world. Eight Arabian men - all dark, sweaty, and swarthy - rummage through the treasure chamber, looting the riches of ancient Egypt.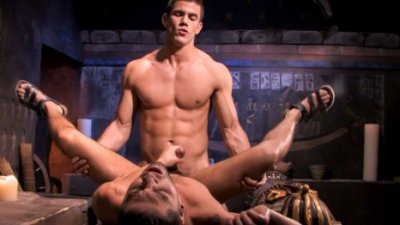 Before long, a massive orgy breaks out in a scene that is the greatest group performance ever directed by Chris Ward. The eight-man orgy contains 25 cumshots and so many fuck positions that the Kama Sutra must be consulted to figure them all out! It is really a tour de force of male erotica. They all start by sucking each other off in a frenzy of cock worship that results in each of them blowing massive, wet loads. But that is only the beginning of the scene!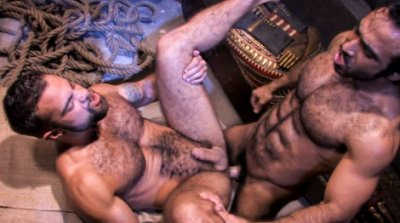 Justin Christopher, one of Raging Stallion's top exclusives--the one with the nine-inch, rock hard cock--grabs new discovery Max Schutler and takes him aside for some personal attention. Both men are ripped and stunning; their dark, lean, perfectly chiseled bodies are beautifully photographed by cameraman Ben Leon. Justin and Max are in the prime of their lives--each 28 years old and both sexually skilled beyond belief.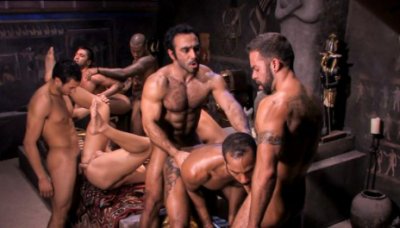 They devour each other like famished Bedouins, clawing, biting, kissing, and finally fucking in four stunning positions. The fucking is unbelievable and might be the finest anal penetration ever filmed by Raging Stallion. Justin's rock hard cock delivers real satisfaction as Max bounces up and down for nearly 30 minutes in footage that will blow jizz from coast to coast. Everyone who has seen this scene looks in disbelief at how much Max's perfect ass can take! The scene utilized Raging Stallion's new reduced visibility condoms--making the fuck so hot that guys watching are going to get blisters on their hands!


As soon as Justin and Max shoot their second set of loads, the scene suddenly turns into a three-way featuring RSS exclusives Rambo and Marc LaSalle with a guest appearance by none other than Tommy Blade. Rambo, a stunning black Nubian prince covered in shimmering tattoos, takes charge and fucks LaSalle silly.
Tommy sucks Marc's fat cock at the same time, sending shivers of uncontrolled spasms up and down LaSalle's body. He is living a fantasy, taking it from both sides in full-body stimulation. No man can survive this for long, so Tommy Blade takes charge, his fine body looking lean and mean. He fucks Marc on his back, while Rambo thrusts his 8-inch meat down Marc's eager throat. All three cum like sex pigs.


Seconds later, Max Schutler is back, fucking Dominic Pacifico up his round ass. Dominic is a great performer--and one of his best assets is his set of great, low hanging balls. The scene captures them beautifully in three revealing fuck positions. This segment is a high point of the movie!
Max's uncut cock strains against cumming, fucking furiously then stopping just in time to cool down and keep the action going. Both men are overwhelmed by passion and heat until gigantic cum shots fire in all directions--and get this--they both shoot simultaneously as if on cue! These guys are in total harmony.


Immediately after these dual cum shots, Hairy Hunk Huessein and Hairy Super Stud Steve Cruz are on to each other! A body worship sequence of sheer manpower opens the pairing as each man eagerly licks and sucks the other, their black hair glistening with beads of sweat.
An amazing blowjob sequence starts the action (FYI, Steve Cruz is a real cock sucker!). If you remember the scene between Huessein and Sarib in Arabesque, well, this one is even better. For lovers of hairy men with perfect bodies and rock hard cocks, this is the pairing of a lifetime! The fucking is what you expect from Raging Stallion--in short, the best in the business and the cum shots are white hot! Huessein and Steve alone are worth the purchase price of Mirage!


Before you know it, the group is back, all men fucking each other in an orgy that represents the apex of the art of group sex. The energy rises by the minute, driven to a frenzy by the pounding music of JD Slater! Cum starts to fly--first with Steve Cruz and Huessein. While the last guys are shooting their third loads of the movie, Steve sneaks over and grabs the golden ushabti--no one sees him because they are still shivering in orgasm!


Steve runs out of the tomb while the others are still cumming, charging naked through the desert towards a waiting airplane piloted by Jake Deckard. The two have been plotting to rob the robbers! They fire up the engine and take off with the Arabs in hot pursuit and on their tail. They barely escape as they fly off into the sunset. We used a real plane to shoot this! As darkness sets in, however, the problems begin. Flying over southern Egypt, their plane begins to lose altitude. In a moment of horror, the plane crashes into the Sahara, right in the middle of territory controlled by the very men they have just double-crossed!


The next scene begins in the palace of the Sheik, played wonderfully by RSS exclusive Dirk Jager. He is in his boudoir with his concubine (Matthieu Paris), a room richly furnished with silks, gold, and lush carpets. The sheik is cruel to those he does not like, and he lavishes all of his sexual prowess on Matthieu. A violent oral scene sets the tone, with Matthieu gagging furiously as he tries to take Dirk's long cock. Dirk's washboard abs (he was trained as an
Olympic gymnast) strain as he thrusts his dick down an open throat. But the Sheik is not interested in just a blowjob--he throws his fuck toy over on the bed and delivers powerful strokes that Matthieu can barely take. Arabian cum soon erupts from both dicks.

Huessein, the leader of the tomb robbers, enters the room to report that he and his men had lost the statue to the Americans. The sheik is none too pleased, but reports of the plane crash give him hope. He gathers his soldiers and they set off through the desert in search of the wreckage. He will not be double-crossed and he is eager for revenge.

As dawn breaks, Steve and Jake climb out of the burning wreckage, aware that the smoke will attract the Arabs. They set out across the desert in the hopes of staying one step ahead of their pursuers. The heat blisters down on them as they struggle through mountains, sand dunes, forests of date trees, and dry canyons. Finally, after hours without water, they collapse, sunstroke taking its heavy toll.


As they lie there Steve falls into a dream--a fantasy of a tropical beach with wind and water. (This scene was actually shot in Hawaii just for this movie!) As the cool sea breezes caress his body, his dreams bring him a naked Jake!
The ocean swells smash into the rocks, covering them both with spray. They go down on each other, only mildly surprised when Collin O'Neal joins them on the rock. A riveting three-way takes place, the blue ocean behind them, the polar opposite of the harsh reality of the desert. It's a great scene--and Collin O'Neal's dick never looked bigger! Steve's performance stands out--so much so that we now consider him to be the new Tag Adams!


Suddenly, Steve and Jake are rudely awakened from their sleep at gunpoint. The Arabs have caught them and they are in big trouble! It turns out that the Sheik and Jake have met before. Jake had been held as a sex slave for six long years, and the hatred between these men can be seen in their eyes. Outnumbered 2 to 1, the four Arabs march their captives off to a deserted canyon to fuck them into submission. Their minds are full of rape and revenge!


The grand finale of Mirage is another massive scene--six men and 15 cum shots. It starts as the Arabs force Steve to orally service each of them--and they make Jake watch the whole thing! Jake simmers in anger as Steve is humiliated over and over again. Then one by one they fuck Steve, Jake getting more and more pissed off. After the Sheik finishes with Steve, they finally allow Jake to get in on the action.
Even Jake gets to fuck Steve--who by now is fully certifiable as the new pig of porn! Cumshots fly every five minutes as position after position, and pairing after pairing, merge into a blend of near-perfect erotica! A highlight is an extended double penetration set-up that is a real showstopper.


After the final cum shots, just as the sun sets below the golden hills of Upper Egypt, the Americans are marched off into the darkness. Next we see the Bedouin camp, lit only by firelight. The Arabs fall to sleep, one by one. Somehow Steve gets his hands untied. He frees Jake and the two quietly sneak off into the desert night---with the golden ushabti.


Shot in the deserts east of Palm Springs, on the Sound Stages at Raging Stallion Studios in San Francisco, and on the big island of Hawaii, Mirage is the big budget movie of the year. Its stars have never been better, and Chris Ward delivers the movie of his career! This will be remembered as THE MOVIE of 2007!

A special one-hour long round table discussion of the movie with Jake, Steve, Chris, Ben Leon (Videographer) and Kent Taylor (Photographer) is a great special feature. Hear the behind the scenes stories and watch footage that didn't make it into the movie. This is one of the most informative special features you will ever see--get a real behind the scenes look at how this amazing movie was put together.
Keywords: Group sex, uncut, three ways, cock sucking, multiple cum shots, cum, beards, tattoos, sex outdoors, Latins, Blacks, Arabia, Egypt, German, European, Turkish, Tattoos, Adventure, Exploring, Planes, Hairy, Muscle, Fantasy, Swarthy, Outdoors sex, orgy, rimming, master, slave, invisible condoms