Summary:
Men.com presents Precinct 69 starring Felix Fox, Paul Wagner, Ty Mitchell, Adrian Hart, Nick La, and Kyle Connors.
Scene 1: Kyle Connors, Felix Fox
When Kyle Connors's sweatpants get ripped off in a freak subway door accident, undercover officer Theo Brady of Precint 69 immediately calls in Agent Felix Fox for backup. Felix puts Kyle under arrest and takes him to the interview room, telling the redhead to confess his public indecency was planned. As Theo watches from behind the one-way mirror, Kyle gets naked and waits for Felix on the desk on all fours. Felix fucks that ass, and Kyle rides the sexy agent. Felix penetrates the perp's mouth, then sucks his cock. Kyle lies back on the desk as the top pounds his hole, then they swap facials before Kyle makes his daring escape.
Scene 2: Adrian Hart, Nick LA
Captain Adrian Hart of Precinct 69 is working on some paperwork when he starts feeling horny. He checks that the coast is clear before he takes his dick out, but Officer Nick LA walks into his office and catches him. Nick wants to help his captain polish his nightstick, so he gets to his knees and sucks that cock. As Nick deepthroats Adrian, the top accidentally pulls down his curtains. Right outside, the janitor is cleaning up in the hall, and when he turns and sees Captain Hart rimming Nick through the glass, he falls over. Adrian isn't concerned about the man down--he's much more interested in the man he's going down on.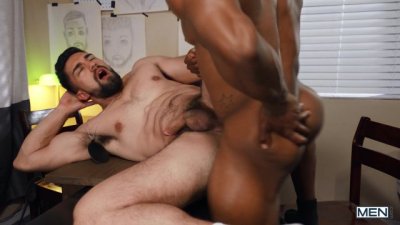 He bends Adrian over and penetrates his hole with a toy, then explores it with his tongue. The bottom rides Adrian on a chair, then the top sucks Nick's cock before fucking him on the captain's desk. Adrian stretches Nick's ass out in doggystyle, then turns the bottom on his back as Nick asks for more. Nick strokes his cock till he cums, then takes the captain's hot load in his mouth.
Scene 3: Paul Wagner, Ty Mitchell
Officer Paul Wagner is supervising a visit between a prisoner and his husband, Ty Mitchell, but Ty has shown up to tell his soon-to-be ex that he wants a divorce. The criminal watches sadly from behind the glass as Ty begins kissing the sexy cop, then Paul takes out his huge cock, bends Ty over the desk, and fucks him doggystyle. The guys take turns sucking each other's dicks, and Paul picks Ty up before putting him on the desk and penetrating his hole in missionary.Ty rides Paul's nightstick like his own personal toy, stroking his cock as he takes every inch till he orgasms loudly, then takes a sticky facial from Officer Paul.