Summary:
Whether you're incarcerated or simply working in a prison, you stand a good chance of getting it in the end - SCREWED!
Whether you're incarcerated or simply working in a prison, you stand a good chance of getting it in the end - Screwed. Or so this Chris Steele film strongly suggests. There are eleven extremely hot guys on both sides of the Fontana facility fence - ready, willing and eager to get it on with each other. Five scenes - two sizzling threesomes and three sexy duos - go down as this tale of prison lust unfolds.
Description / Review
As the story begins, the CO escorts a new handsome prisoner, David Taylor, down the hall to his cell. His good looks are not wasted on either the CO or the horny prisoner in the cell next door, who already seems to have a bulge growing in his pants. Back in the interrogation room, the CO is seen talking to Mason. He's trying to get Mason to admit to being a snitch, the reason he had him brought him to his facility, or so he thinks. In reality, the prisoner is just a pawn in the CO's corrupt scheme. When Mason refuses to cooperate, the CO brings in another officer, T.C., to "talk" to him. He wants him to act as a snitch and report about drug activities in this prison, but he says he's not a snitch and is having none of it. Then Kash, a smooth P.R.I.C. (Prison Relations and Investigation Coordinator), joins T.C. and tries "convincing" Mason, but after the con still refuses, the two resort to sexual tactics.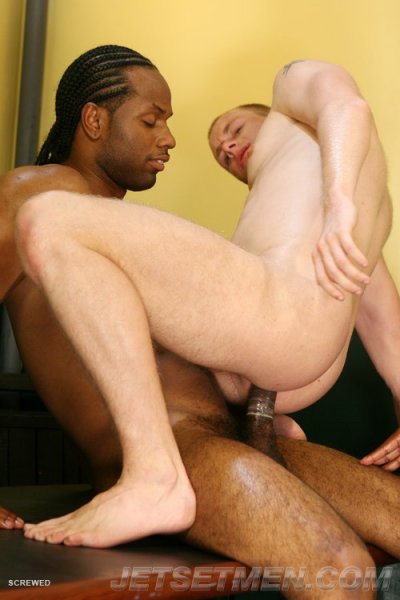 Wearing lubed latex gloves, the two probe Mason's naked ass, finger-fucking him and spreading his hole wide. All they get for their trouble is Mason's encouragement to go farther and deeper. He wants to suck their big dicks, so they drop their clothes and let him have a go at it. He sucks on both their cocks, back and forth, and even together. T.C. and Kash both have hot muscular bodies and huge dicks. Once they've got their cocks into play, they seem to forget any other reason for being there. Mason jacks his own dick off in the process of slurping on theirs. "Fuck my mouth," he pleads. And yes, he likes to eat ass, so T.C. offers his. Mason's long tongue and lips lick and eat all he can. While he's still bent over sucking again on T.C.'s dick, Kash pushes his cock into Mason and begins to pound his ass.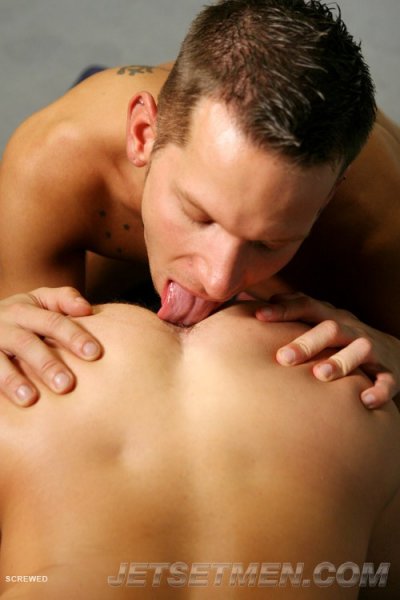 Mason can't get enough. "Fuck me, fuck me," he shouts. "God, you can fuck. You want me to snitch for you? Then fuckin' earn it." T.C.'s dick is now huge and hard, so Mason climbs up on the table and drops his ass down on it. It's so big that he can't quite get it all the way in, but he manages to bounce on it. Kash guides the proceedings and gets off on watching Mason's ass action on T.C.'s pole. Mason gets down off the table and bends over to let T.C. keep on fucking him, hammering him from the rear. It's truly awesome. Kash, who's been jacking off the whole time, cums on the table, and Mason drops his load on the ground. T.C. strokes his dick and cums on Mason's ass.
Back in the cellblock, the CO again visits Vince Ferelli, the sexy new prisoner's neighbor, and brings him a newspaper. At first, he refuses it, but he takes it when he realizes that it contains his supply of drugs. His "neighbor" is in prison for "cock fighting," an irony not lost on Vince. To keep his mouth shut about the drugs, Vince asks that his neighbor be transferred to his cell. The CO then heads to the Warden's office. He is responding to the Warden (Cayden Banks) and his fear that the prisoners' intake of "contraband" is becoming worrisome. The CO pleads ignorance, but tells the Warden that he's already brought a snitch from another facility to help. The Warden wants to see the security tapes every day.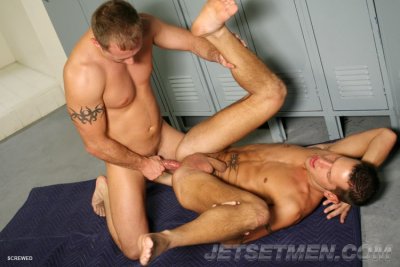 At the end of their shifts, Officer Lucas comes up behind new guard Austin at the sink in the guards' locker room. He wants to welcome the new guy and "show him the ropes." Lucas's beautiful big dick is already hard and out of his pants, so he encourages the newbie to kneel and suck on it. Austin is quick to follow orders. Lucas says he wants to see what Austin's got as well, and soon the two are nearly naked with Austin sucking on Lucas's thick dick and big balls while stroking his own. Warden Cayden makes a surprise visit, but he likes what he sees and joins in. They think no one will know what goes on at the end of the day, but a surveillance camera picture of the proceedings suggests otherwise. Cayden gets his dick out, so that Austin can suck on both of them. Lucas helps out by sucking on Cayden's dick while Austin sucks on his. Soon Lucas and Austin are on their knees in front of the Warden, hungrily sharing his dick and balls.
Austin returns to working on both of them, eventually together. Lucas then grabs Austin and kisses him while pulling his ass open for Cayden to shove his dick in. Cayden pounds Austin's ass while Lucas holds on to him. Lucas backs up to lean on a nearby table, encouraging Austin to go down on him while Cayden's fucking him. Lucas throws his legs back to let Austin not only suck his dick but to lick and eat his ass at the same time. But soon, Lucas wants to screw Austin's butt too, so he flips him onto the table, throws his legs in the air and shoves it in. Cayden helps out, sucking on Austin's dick and, at the same time, offering him his own dick to suck or his mouth to kiss. Finally, Lucas spews his load over the new guy, and Cayden gives up his cum as well. Amazingly, Lucas shoots a second time. Austin sits up and pounds his dick to cum also. The two have nothing but praise for the newbie. They all share a three-way kiss and head for the showers.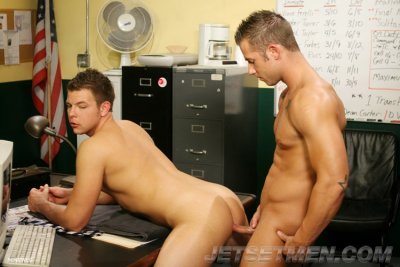 The CO accommodates Vince and moves the new guy over. Vince pushes David toward the wall, and into the corner, in the friendliest of ways. He offers him $50 to help him out with his bills, but expects a little "something" in return. Cleverly, David captured the drug transaction on his cell phone and sent it off to his lawyer, but he's never-the-less more than willing to have sex. He rips Vince's shirt open, and Vince removes David's, revealing his beautifully inked right shoulder, chest and arm. David sucks his way down Vince's muscular body and grabs his big dick out of his jockeys. "Preppy-boy sucks some good dick," Vince tells him. David pulls those shorts down and continues to suck, pulling his own dick out of his jeans and stroking it as he goes. Vince jumps into the driver's seat, and, starting with David's nipples, licks sensually all the way down his body to his cock and balls. Vince seems to like David's cock and would suck it and his balls all night. David has eyes for Vince's hot ass and wants to fuck him, which is just fine with Vince.
He pushes Vince back on the bed to suck his dick some more, stroking his own as he sucks. Vince remarks, "You're gonna make a lot of friends in prison!" David pulls Vince's body forward and pushes his legs up to survey his inviting ass, working one of his long fingers into his hole. Finally, David shoves his dick in and pounds him. After a lengthy fuck-session, Vince produces his favorite toy, a man-sized dildo which David pushes up his ass. Vince strokes his meat and eventually, while getting rammed by the dildo, shoots his load. Vince then massages David's legs and groin to help him to cum as well. The two fall into a clinch and kiss, which looks decidedly more like the beginning of something than the end.
These two guards are at the end of a long day's shift. They're changing clothes in the locker room and making prison small talk, including rumors of a new warden and speculation about when Ferelli will nail the new snitch's (Mason Ross) ass, when they fall into each others' arms and kiss. The two are hot for each other. Tyler pulls Shane's big thick dick out of his pants and drops to his knees to go down on him and suck it. He's got his own dick out as well and strokes it as he works on his friend. It doesn't look like the first time (or the last) for these two. Shane wants some of Tyler's big dick as well, and drops to the floor to take it. It slides in and out of his mouth and throat easily as he slurps it down. Tyler eventually changes places with him so that Shane can suck on him some more. They go back and forth a few more times before Tyler drops to his knees to let Shane to eat his ass. Shane licks and sucks on his hole, producing major groans of ecstasy from Tyler whose face is buried in a mat. Then the two wrap themselves around each other's bodies, so that each can access the other's ass to suck and eat it.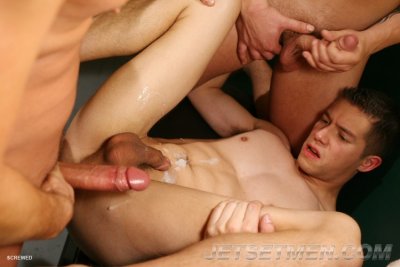 Tyler starts working his fingers in Shane's hole, providing some spit to lube his way. Shane wants it "so bad" - something bigger up in there - and Tyler has just the dick to fill his hole. They keep eating and moaning, knowing full well what's coming. Up on their knees now, Tyler has no trouble pushing his way into Shane's eager butt and fuck him hard. It hurts so good. Eventually, Tyler flattens Shane to the floor and continues his pounding down into his ass. Tyler then turns Shane over on his back and drives his big dick in up to the hilt, power fucking him. He pulls out at the last second and shoots his load over his friend. Shane cums immediately after. After some more kissing, they agree that it's time to head home.
CO Daily is alone in Warden Bank's office, when a guard drops off the previous day's security tapes. Rod checks them out and sees the three-way the Warden had with newcomer Austin and Officer Lucas in the locker room. When the Warden arrives, Rod shows him the tape. He moans, "I am screwed." Rod agrees, "Yeah, you are. But before that, why don't you get on your knees and suck my dick?" The Warden accepts the bribery and goes for it. Before long, Rod's clothes are off, and the Warden is on it. He sucks on the CO's dick and jerks himself hard at the same time. Soon the two are kissing, and Rod is removing the Warden's shirt and giving him head. He removes all the Warden's clothes and continues sucking while stroking his own dick. They make a good team. Rod pushes the Warden back on the desk. His legs go in the air, and his fingers warm up his hole. Rod wants him to spread legs even wider and play even more with his pucker hole.
Rod strokes his dick hard and eventually shoves it in. Rod fucks him harder and harder, and the Warden jacks off as he pounds. Then the Warden gets up and stands on the floor, leaning on the desk to take even more of Rod's aggressive pounding. Both men are truly getting off on it. Then Rod puts him back up on the table to fuck him more and see him cum, which he soon does. This is followed quickly by Rod squirting on top of him. And interestingly, we immediately see it all, including their kiss, through the security camera, leading us to believe that things will remain the same at this prison - as long as Rod Daily is around and calling the shots.