Summary: Young Holes Take Big Bare Cocks!
Scene Description:
Scene 1: Mickey and Damien
While Timmy is getting fucked by Nathan, in the next room Mickey is taking Damien's hard 8-incher and deepthroating the huge tool until he gags. That really gets Damien into action. He only wants one thing, and that's for Mickey to fuck him hard and bare. Mickey doesn't need to be asked twice. Using a lot of spit he hammers his XL meat into his bottom's tight ass and pumps his load into Damien's hungry, wet hole with a couple of last rough thrusts.
Scene 2: Andreas amd Nestor
Handsome and fit blond lad Andreas always gets what he wants, and right now he wants the mouth and ass of his friend Nestor. The kinky surroundings of the newly-discovered dungeon with a plethora of butt toys laid out in front of them is all it takes for Nestor to be dropping his pants and showing off his smooth little ass. Andreas wastes no time getting his mouth between those cheeks, licking out his friend's hot little hole, his own pale uncut cock soon throbbing and leaking precum as he reveals it for Nestor to gobble. With the taste of clear cock juice on his tongue Nestor is desperate for more, and he certainly gets it when his buddy head to the back again and slides his bareback dick deep inside his chute. Nestor is in heaven, his underwear-framed ass cheeks split and stuffed with dick, his waistband used for leverage as Andreas pounds his bare dick in and out of his rump. The pleasure only grows when Nestor gets on his back for a deeper fucking, rammed until Andreas needs to pull out and squirt his cream all over his friend's slutty little hole. The warmth of his buddy's cum sliding back into his hole soon has Nestor pumping his own thick cream out!
Scene 3: Casper Ivarsson & Tommy Hunter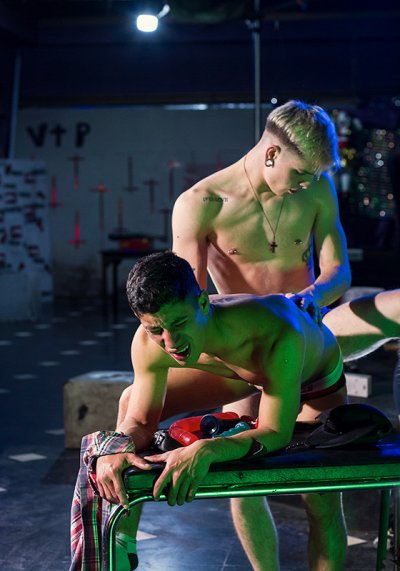 Casper Ivarsson gets an invite he'll never forget when neighbor Tommy Hunter returns home to his apartment and lures the young man inside. The boys are perfectly matched, in more ways than are immediately obvious. Once they've made out and become familiar with each other their smooth and fit young bodies are slowly revealed, athletic and lithe, sporty and smooth. Their engorged cocks are next, and the two are impressed by what they find. Casper has a gorgeous long and throbbing erection ready to be truly appreciated by a fellow dick fiend, but Tommy's extra large teen cock is truly a thing to behold. With a little friendly dick play, stroking and frotting their shafts together, the boys get their first taste of each other, greedily licking and sucking on their generous inches while they swap their manhood. With the taste of clear cock juice on their tongues the boys make their way to the bedroom where Tommy takes aim at the the tight little hole presented to him. He eases inside, making young Casper moan and groan with pleasure, filling the young man with his incredible bareback inches. The boy has never felt anything like it before as Tommy rams into him and slides out again, his balls swinging with every thrust. Casper's little hole takes an amazing pounding, but as he lays back and shoot his juices from his dick while Tommy's extra large teen cock erupts cream over him, he knows it was worth the discomfort.
Scene 4: Martin Muse & friend
A country bumpkin has travelled into Prague extra to shoot this scene with his tight-bodied top Martin Muse. Surprising him in the kitchen, he nurses on his soft cock until it bloats and swells with horniness, the bottom's devoted blowjob going on and on until he is rigid and ready to ride. The bottom grunts and groans as his hairy asshole takes Martin's bare cock as deep as he can, opening up spreadeagle on the kitchen counter to take every inch in. He stares devotedly up as his fucker as he slurps him to sticky climax with his hungry mouth.
Scene 5: Evan Ryker & Richard Hicks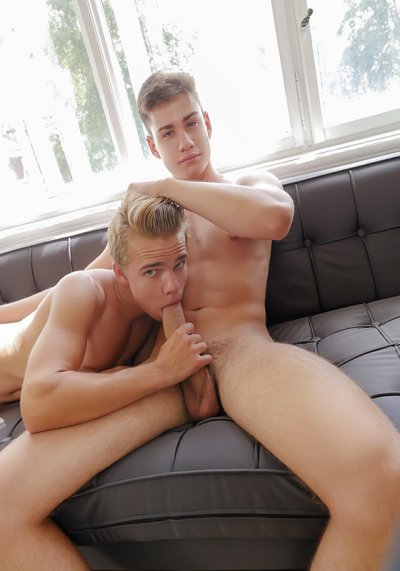 They make a perfect couple, two gorgeous young guys with awesome smooth bodies and plenty of cum to share, but there's more than that. Handsome lad Evan Ryker has a huge bare boner in his pants, and his adorable little pal Richard Hicks loves to spend the afternoon sucking it and riding him on the couch. The two start sensually with a little romantic groping and kissing, jerking each other off when their dicks are revealed for each other, but when those cocks pass their lips and the smooth boys start slurping each other their passion to fuck takes over. Hung young Evan slips his naked tip between those cheeks and plunders his boy's hole, filling him with fuckmeat and jabbing him from behind. When sweet little Richard slides his butt down and takes control, riding his big-dicked friend, you can see he's already on the edge and desperate to cum. He holds back a little longer, making the fun last, but when Evan wanks off and starts plashing cream over the boy's chest Richard is soon joining in with his own juicy wad!