Summary:
Young Men of Falcon: Falcon Four Hours features twenty five of the hottest young men from the Falcon Family of Companies. Settle back and watch these eager young studs learn all the ropes from the men dreams are made of; full of energy, eager to learn and determined to please, these stud-pups are an inspired new generation of Falcon Men.
Description / Review:
Scene One - from Try Me On For Size
Featuring Brendan Falke and Jacob Hall
Stock boys Brendan Falke and Jacob Hall try on Jocks t-shirts and masturbate to their own fantasies until they discover each other and rub poles and holes among the inventory.

Scene 02: - from Iron Will, Scene 4
Featuring Marcus Iron and Billy Kincaid
Hot Marcus Iron does a slow, sexy striptease for Billy Kincaid, getting Billy ready for the ass pounding that Marcus gives him. His tight, young ass is just waiting for Marcus to fuck him until he can't take it anymore, and Billy shoots his load.

Scene Three - from The Velvet Mafia Part 1
Featuring Erik Rhodes and Fox Ryder (aka Brent Corrigan)
Erik Rhodes is the lucky star who gets to pop Fox Ryder's on-camera cherry. But the tables are quickly turned on the enormous muscle stud when sly Fox flips him over and fucks him good.

Scene Four - from Head Games
Featuring Josh Harting and Jeremy Jordan
Enjoy an updated version of "truth or dare" with smooth young Falcon Exclusive Josh Harting and Jeremy Jordan. This suit-stretching session of stroking, kissing, sucking and fucking will leave you drenched and priming for round two!

Scene Five - from Born 2B Bad
Featuring Bobby Williams and Pierre Fitch
They start with Bobby and Pierre checking out a straight porn video, which of course leads to both dicks getting rock-hard. Pierre is the first to dive on Bobby's cock and we watch wonderful shots of Bobby tonguing Pierre's hole greedily, and then plowing Pierre hard. Bobby stands and loses it all over Pierre's gorgeous face, followed by Pierre's blast-off - a geyser that erupts all over his taut belly.

Scene Six - from Spring Training
Featuring Bull Matthews, Tad Brady and Tom Mitchell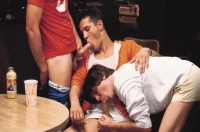 Bull Matthews runs into Tom Mitchell in the cafeteria and lets him know that he saw what went on in the showers the other day. Tad Brady comes into the cafeteria and Tom tells Bull that he fucked Tad last week. Bull makes eye contact with Tad and Tad can't ignore the lump in Bull's shorts. Tad wants to blow Bull so Tom locks the door to the cafeteria. Tad is put onto a cafeteria table and easily works off the soda and chips he had as the bottom boy for Tom and Bull.

Scene Seven - from Head Games
Featuring Josh Harting and Ty Parks
Josh Harting plays a game of "guess who" with Newcomer Ty Parks by the side of the pool. These two hot young bucks quickly abandon the guessing game and get on with another more urgent and fulfilling pastime involving the kind of lip-service every Falconman can savor.

Scene Eight - from Through the Woods
Featuring Pierre Fitch and Tristan Adonis
Pierre jumps out of Mr. Wolf's car and runs into Tristan Adonis, who offers him a ride. Instead of giving him a ride with his car, Tristan gives Pierre's bubble butt the ride of its life.

Scene Nine - from Getting It in the End
Featuring Eryk Elliott, Rocco DeNiro and Jeremy Jordan
Back at Colby's farm, two sultry farmhands, Eryk Elliott and Rocco DeNiro, each take a turn riding twink superstar Jeremy Jordan.
Scene Ten - from Big Dick Club
Featuring Duncan Princo and Ralph Woods
Duncan Princo finds the big dick he's been searching so long for: It belongs to Ralph Woods. Despite the fact that Ralph's cock is one of the biggest, Duncan takes it like a champ!
Scene Eleven - from Ace in the Hole
Featuring Mark Benson and Tom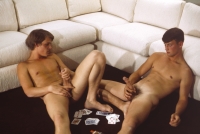 Tom and Mark, two horny studs are shootin' the bull in their dorm; broke, dateless and bored. Tom suggests a game of poker. "Strip Poker," he adds with a big grin, "Just to make it more interesting!" "Sure," says Mark," why the hell not?" It's a fast hot game as both studs end up bare-assed and hot-cocked. "Ready for another hand?" Tom asks with a bigger grin as he reaches over and grabs his buddy's big dong. Too hot to argue, Mark leans back and turns on to Tom's stroking fingers and hot cocksucking mouth, finally playing his ace in the hole as he plugs his buddy's butt. Ramming his spit-slick pecker all the way, he deals Mark a full ass of hot stud ball juice! It's a winning game, all the way!

Scene Twelve - from Shoot
Featuring Steve Gibson, Chris Robbin and Neil Erickson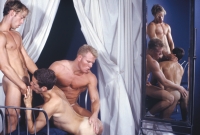 Steve Gibson, Chris Robbin and Neil Erickson in a photo-shoot run wild.
Scene Thirteen - from The Dark Side
Featuring Tommy Brandt, Josh Harting, Jacob Hall, Brendan Falke and Jeremy Jordan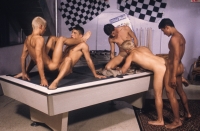 Scouts Tommy Brandt, Jeremy Jordan, Jacob Hall, Josh Harting, and Brendan Falke take turns sucking each other's cocks and ploughing each other's asses all in the name of earning their merit badges.