Summary:
There's a place full of the biggest dicks around, and if you're lucky you'll chance upon one of them, stiff and ready for action! If you're after your hole being stretched open and slammed full of raw dick, the Back Alley is the place to go. There's no introduction, the only thing you need is to take in the size of their impressive bulges, get on your knees and follow their instructions. Throat fucking makes way for ass opening, first with fingers, then straight to the balls deep fucking, pinning you in place until they are done with you, ending up covered in cum, either your hole, your face or even both, there's no way you're getting out of this spunk free! Close-up shots gets you right in the midst of the anonymous fucking going on, the real time fucking from muscled young men and cock hungry twinks looking for something rougher leaves them covered in the white stuff, and chances are, you too!
Scene One: Big Dicked Breeding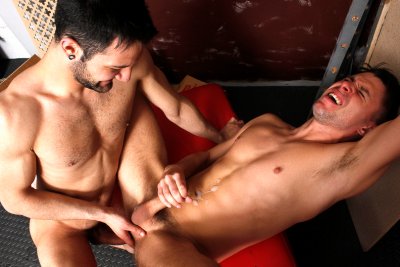 Hanging around for his fit mate to turn up, muscled young stud Nathan shows us his hot toned torso, trim chest hair and dark features, with a six-pack that we know will flex as he fucks! Dmitry turns up, and heads straight to his hot buddy, licking pits, chest and nipples, working his way down quickly to the waiting bulge in his jeans. Pulling them open and pulling that thick dick out, he's there for one reason and one reason only. Slurping and spitting all over Nathan's rock hard dick, Dmitry swallows it all as his ass is pulled open by Nathan, getting it ready for the pounding by his raw dick, fucking straight up balls deep over and over, his hairy young hole fucked open hard and rough and we get right in there, seeing it all in super close up. Slamming his hole, Nathan's muscled body is put to good use ramming the smooth Russian twink into the floor before covering his pretty young face in spunk, treating him like the cum whore he is as he then gets that spunk fingered into his gaping hole as he shoots his own load, not being able to hold back as his hole is abused with spunky fingers.
Scene Two: Sex Den Sluts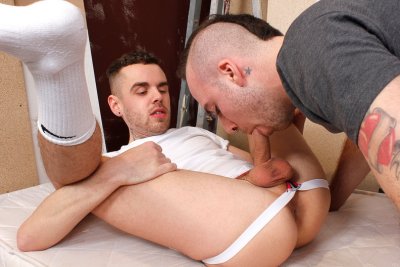 Giant dicked Sam chills out down the back alley, knowing that a hot bottom slut will turn up sooner or later. Playing with his huge slab of meat, he doesn't have to wait long for horny tattooed Skikes to show up, his ass ready for a pounding, and cashes in when he spots Sam's swinging dick. Wasting no time is getting his throat stretched open, the unshaven bottom lad is on his knees and Sam's dick disappears whilst his hole is opened, jockstrap on and his smooth pink target is framed perfectly. Eating ass and soaking it in spit before a couple of fingers to loosen it up, Sam's dick slides effortlessly into the boys hole, hot and raw, Skikes feels every inch penetrate deeper inside him, his hole the only goal and is given up to the big dicked stranger to open wider and deeper than ever before. Fucking so deep his balls slap hard, the cock hungry boy wanting it so bad he sucks on it straight out of his hole, not wasting a second of having a cock in his body. Shooting over his hole and fucking it inside, Skikes then jerks over his own face, his hole puckering as he is fingered with spunk and Sam licks it clean, a self-facial like none other, leaving the sex den stinking of sweat, sex and spunk!
Scene Three: Innocence Lost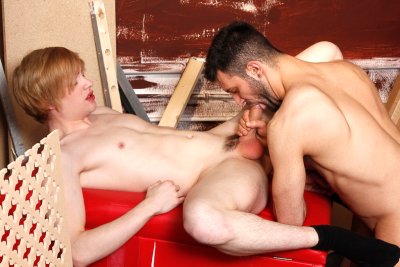 He may look innocent, but pretty young Johannes Lars with his long blond hair and pale features is anything but! He knows where to go for some big dicked action, and heads straight there to find some dick! Toned and muscular Nathan Raider is there waiting, his thick dick stiff in anticipation for who he might chance across, and when Johannes turns the corner, it's the jackpot. Stripping each other, you can almost see the dicks stiffen as they run their hands over each other, Nathan's beautiful torso and dick and Johannes' smooth milky white complexion the perfect pairing for these horny fuckers. Devouring dick, Johannes can't get enough and when the raw assplay begins, it's heaven for this twink! Ploughing deep, Nathan pins his legs wide open, giving him unlimited access to his smooth ass and we see everything is awesome close-up as if we can reach out and slip a finger inside! Johannes' ass will never be the same again after Nathan's through with it, fucked down into any surface available, Johannes has nowhere to go until Nathan's ready to shoot and covers the boys hole with his cum, fucking it inside of him and showing him exactly who he belongs to now!
Scene Four: Spunk Filled Strangers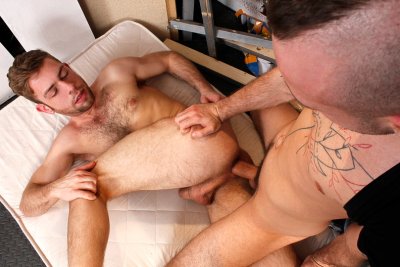 Back in his favourite haunt, Sam chances upon a damn fine hairy young stud, the blond beauty having heard of the size of the dicks that hang around the area and wants in on that! Catching Sam, his luck is in and Sam is straight up and pulling the muscled young lad towards him and filling his face with the stiff meat on offer. Slurping down all the way so his face is pushing against his hairy balls and crotch, getting the full flavour of Gabriel's juicy dick! Repaying the favour, Sam is soon right inside his few found fuck buddy, tongue first, then fingers and pulling back on his dick and balls, truly owning the lad who wandered in. Not one to run away, Gabriel wants more and pulls Sam's face deep into his hairy crack, getting it nice and wet and open - he already knows how much it's going to stretch him! Pulling the naked hairy young stud towards him, ass up and nowhere to go, Sam's giant dick slides inside and he goe right to the balls straight away - no fucking around! Picking up the speed, Gabriel is pushed down, unable to push back so takes it all with no option otherwise, not that he would ever say no to dick! Flipping him round and getting a grip of his hairy leg, Sam gives us and him the best access in, ready to shoot his load all over that hairy ass, letting Gabriel finish himself off as the spunk is slapped around his puckered hole, frothing up nicely as his hairy chest is covered with his own load spurting high and far from his quivering dick.
Themes: Bareback, duos, dark hair, smooth, big dick, fingers, facial cumshot, raw, close-up, voyeur, cum eating, tattoos, self-facial, creampie, muscle, hairy body