Summary:
Ten horny New York men set loose on each other in five scorching scenes. Once in front of the camera these horny showoffs get out of their clothes rapidly to fuck and suck each others brains out!
Description / Review:

The first action in Quickies stars Jason Tiya and Matthew Hyland. Jason is an extra-hot, horny, black turbo-top, with a donkey dick that measures in at a whopping eleven inches. Matthew is the kind of boy-next-door type you wouldn't necessarily think could handle a cock of such size, with that hot little, white ass. Surprisingly, though, he manages.
First taking turns sucking, licking, and tweaking each others' nipples, Jason quickly decides what he wants. Foreplay isn't what they came for. Not wasting any time, Jason splits Matthew's ass apart, force-feeding his hungry hole. He's in total control as he forces out every squirt of Matthew's sweet, white cum, then shoots his own all over Matthew's toned, white chest. For the second quickie, Dan enters the room to join Adrian. With mouths wide open, they use their tongues for deep, wet, sensual kissing, pulling each other as close as possible.
Taking a short break from the oral pleasure, they strip into their briefs. Dan gently presses himself on top of Adrian, licks and sucks his nipples, and traces his tongue down Adrian's torso, kissing and sucking along the way, to the bulge in the briefs below. It's not long before he pulls off the briefs completely and licks Adrian's sexy latin asshole, jabbing his tongue in and out of it, making it sloppy with spit. Adrian sucks Dan's cock, getting it primed for the inevitable. They swap, so Dan can lick and finger Adrian's hole. Dan spreads Adrian's buns and slides his meat all the way in, fucking him from behind, harder and harder.. Finally, the two sit up and Dan slides his fingers into Adrian's used hole while they both jerk their hard cocks to orgasm, drenching Adrian's balls and cock in cum.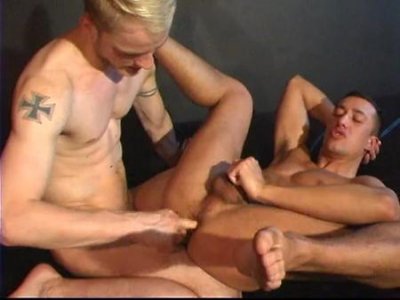 Next, Hunter, an adorable blonde with sexy-smooth skin and Vin Nolan, a Dark Alley favourite, take turns sucking until Vin takes total charge. He licks inside and around Hunters beautiful bubble butt, preparing it for his throbbing head. On his knees, Hunter takes the studs cock like a champion. Vin is relentless in filling Hunter's hole with his probing muscle. He pounds hard and fast, making Hunter take it like a real man. On his back, you can see Hunters big, fat cock getting stroked as he enjoys the ride. It's not long before both shoot every drop they've got and Hunter's dick is soaked. The fourth quickie involves two lean, tight, uber-cut studs, Blonde and Gabriel. Blonde has tattoos, a little bit of scruff, milky-white skin, and of course a gorgeous uncut dick. Gabriel is uncut as well. He's tan, toned, and totally French. Hot! The two hit it off with Gabriel sucking on Blonde's tool, and kissing, which is obviously Gabriel's forte. Blonde slides his cock inside Gabriel's awaiting hole, fucking French-flavoured moans out of him with every thrust. He pulls out so he can force his fingers in, feeling the inside of Gabriel's warm wet cherry. First one, then two, finally three fingers go in. Blonde's cock needs more attention, so he slides it in after removing his slippery digits. After more fucking, Gabriel displays his fully erect cock for a cum-shot you've got to see. Following soon after, Blonde blows a load on Gabriel's chest.
Last and certainly not least are a pair of who might be the hottest yet, if you're into beefy, built, blond studs. Everyone knows Matthius Von Fistenberg, Dark Alley's owner, but who's that other guy? It's Dark Alley's newest discovery, Aaron King. They've got chemistry galore as they kiss, lick and taste each other sensuously. Aaron slides his mouth down on every inch of Matt's thick, hooded cock. Then, Matt takes a turn on Aarons, slurping and licking away. If you've seen Matt in other Dark Alley Productions, you know he's the first in line for ass stimulation. It's not surprising then younger Aaron finds his way under Matt, who straddles him. Aaron's cock teases Matt's perfect, puckering hole with its tip, and is soon slid all the way inside as Matt rides up and down on it. Soon enough, Aaron pulls out and shoots his boy-juice all over big brother-type, Matt. Matt flips and squirts his own load, ending what is definitely a must-see.
Additional Information
Categories: UK R18 / XXX Gay Adult
Running Time: 85 mins, Year: 2005
Price: Around £27*
Starring: Aaron King, Matthias von Fistenberg, Jason Tiya, Matthew Hyland, Lars Svenson, Gabriel Sinclair, Adrian R., Dan Bradford, Vin Nolan, Hunter James
Director: Matthias Von Fistenberg
Studio: Dark Alley Media
Buy DVDs online on: Homoactive, Simply-Adult.com and RadVideo (USA)
Video On Demand: Dark Alley Media, See also: www.gayvod.co.uk
Country: USA, Language: English
Additional info: No Regional Coding