Summary:
Cole, Connor, Dylan and Jeff are your quintessential college alpha males - but what happens when these studs get the tables turned on them and are forced to watch while another collegiate stud takes what's theirs? We find out that guys bursting with testosterone and power secretly crave being teased and having someone else show them who's boss! Watching their girl get plowed right in front of them drives these guys absolutely wild, and turns them into eager and willing subs desperate to get used and fucked themselves.
Scene 1: Teasing Cole
One of the first things Cole mentioned to me when he came back after his hiatus to get in to some more hot action was that he had a girlfriend and was in a very serious relationship with her. That was initially the cause of a bit of concern on his part, as he wasn't sure just how much she was in to what he was doing. He felt it was only a matter of time before she decided she didn't want to film anymore with us. He's madly in to his girlfriend and was going to adhere to her wishes if she asked him to stop.
Lo and behold, when they sat down and really talked about things it turned out she wasn't bothered by what he was doing at all! In fact, not only was she okay with it but she wanted to be a part of it all! She wanted to come out and film a video with him, and was open to getting in to some other fun here at CF as well! That's where this video comes in!
You've seen "Teasing" videos here at ACS before, but this one has an extra special element to it! We get to see buff, blond, studly Connor in action with Cole's girlfriend, while Cole is right there on the bed with them, watching and stroking himself off to the show before him!
We know Cole is highly sexual, quite adventurous, and almost always horny! That's as much the case here as ever, as he is clearly not the least bit bothered by seeing his girlfriend in action with another guy right in front of his eyes! Indeed, he's insanely turned on by it all! He's loving the show as he lays back, pulls his dick out, and jerks off while Connor and his girlfriend fuck! He works up a huge sweat, talks dirty a bit, is groaning and moaning as he sees it all, and totally gets off to the sight of Connor blowing a load on his girlfriend's chest - to the point that he blows his own huge, powerful load right after!

Scene 2: Teasing Connor
More and more people every day are discovering Connor and counting themselves among his many fans. Every day, I get e-mails from people commenting on how he's gotten so much better with his performances and in his scenes and how he's just become hotter and hotter since first arriving at CF! Connor won me over when he first arrived, but I do have to agree that he just gets hotter with every new video he's in. He is the kind of guy that applies himself fully to anything he gets involved in, and that has included going out of his way to make his fans happy, win over new ones, look as great as possible, and really engage in some hot sex for our cameras and eyes!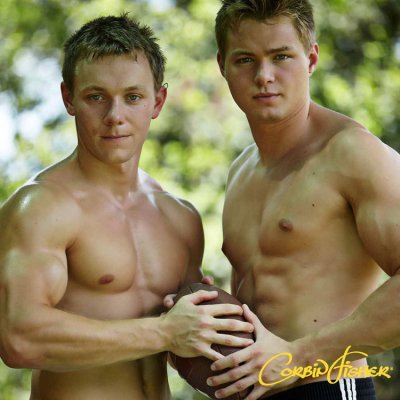 Unfortunately for Connor, another thing he had fully applied himself to when we shot this was his relationship with his girlfriend! Now, that sounds bad as written. But what I mean is, he found himself in the same situation several of our other guys have - his girlfriend was ok with his getting in to action with other guys, but didn't like the thought of him doing scenes with girls and drew the line at that. Connor chose to respect that and, as a result, found himself here - being teased by Dawson as Dawson gets to have sex with a cute girl in front of him and he can't do anything with her!
Dawson's the perfect guy to be the one to tease Connor, too. These two guys hang out quite a bit and have gotten to know one another quite well. You'll remember that Connor's first scenes sharing the spotlight with another guy involved Dawson and so they have quite the CF history together While hanging out with each other, they're constantly joking around, poking fun at one another, teasing each other about this and that, and it's all a ton of fun to watch and observe.
Knowing how they always like to joke around together, I figured they'd have some fun - and hot! - interaction with as Dawson got to tease Connor!
Dawson does a fantastic job of it, as well! He makes sure Connor doesn't get left out entirely, encouraging Connor to suck his dick before he starts fucking Chloe in front of him. He also gets in to some of his trademark, fast and furious fucking - stopping at least once to let Connor suck on his cock and lick it clean - and you can tell that Connor so wishes he could be doing the same! Connor's hard as a rock while watching Dawson go at it just inches in front of him.
In fact, despite Dawson being the one who is pumping and thrusting away, it's Connor who can't hold back anymore as he ends up shooting his load all over his hot chest while lying there and watching Dawson and Chloe fuck doggy style. Not long after that, Dawson pulls his hard dick out of Chloe to shoot his load all over her back.
They're not done, though, as Connor gets to finally gets to touch the girl - as he licks Dawson's cum up off her back!
Scene 3: Teasing Dylan
It's funny how things work out sometimes. The first "Teasing..." video we did, where Jeff was the one being teased, sort of came out of nowhere. He was seeing a girl who, at the time, didn't like the idea of him getting into any action with other girls on camera. She was able to deal with his being with guys, figuring there was no risk of any emotional attachment and the other guys wouldn't be a threat, but she didn't like the thought of him being with a girl. Thus, "Teasing Jeff" came to be as we decided to make the most of that situation and film him watching Trevor fuck a girl right in front of him.
What caught me off guard was just how much people liked that video! I figured we were making the most of a difficult situation, yet people found it insanely hot to watch Jeff watching Trevor fuck!
So I wanted to film another such video, but didn't want to just pull it out of nowhere. I figured that if similar circumstances ever came up with another one of our straight guys - where he really, really wanted to do a scene with a girl but wasn't allowed to for some reason - I'd definitely shoot another "Teasing..." video.
And along came Dylan! Dylan was the perfect guy to get teased for two reasons. First, he's seeing a girl that, like Jeff's girlfriend back when he filmed his teasing video, didn't like the thought of Dylan with any other girls. Secondly, though (and even better, in my opinion!), is that Dylan mentioned around several of the guys how he'd totally "rock the girl's world" and put all of CF's other guys to shame if he were allowed to do a scene with a girl. That's talking a big game! And it also made him the perfect candidate to be the guy having to find himself right there next to a girl, on the same bed with her, just inches away while she's having sex and getting fucked and yet not being able to do anything with her.
Even more things just came together with this particular Teasing video, though. TJ was in town and ready for some action! We haven't seen TJ in quite awhile, as he has been so busy with work and school. I've been looking forward to the opportunity to have him back down for quite some time now, and I also knew he was extremely eager to fuck a girl here at ACS for us. He's been in some of ACM's hottest scenes, has had some insanely hot sex with guys in front of our cameras, and it's also been way too long since we've had him here to fuck a girl! So he was the perfect candidate to have tease Dylan!
What else happened to just work out and come together in this video? Well... Dylan and TJ, for one! Right from the beginning, you could tell TJ was turned on by having Dylan there watching him. Similarly, you can tell Dylan was turned on like crazy seeing TJ fuck a girl right in front of him. The guys were so getting off on one another's presence, in fact, that they couldn't help but sneak some bi action in. When TJ tells Dylan he can suck his dick if he wants, I got so turned on by him taking the initiative like that and get Dylan to be the one to get his dick ready to fuck. Further, when they kiss, it was also hot as hell to see. Sure, the only full sex is taking place between a guy and a girl, but TJ and Dylan take total advantage of the fact that they're there with one another.
TJ outdoes himself here, really. While the girl is riding him and bouncing up and down on his big dick, he ends up saying out of nowhere, "I'm going to cum!" and pulls out to shoot a huge load all over his ripped chest. But he wasn't done there! Still horny and still hard, he gets right back to fucking the girl even after he's shot! That visibly impresses Dylan, who ends up furiously jerking off to the sight of TJ going at it and soon himself declares he's going to cum. Dylan cums all over his own tan abs as he watches TJ fuck.
TJ still wasn't done! Soon after Dylan came and shortly after some more fucking, TJ's pulls out to shoot yet another big load!
Two guys... only one is actually having sex... and yet there are three orgasms!
Scene 4: Teasing Jeff
This video was a lot of fun to shoot, but I can't help but feel a bit guilty about it! hehehe :)
You see, we've been getting a lot of requests to see Jeff in a vid here on ACS but there is a bit of a problem with that - his new girlfriend won't let him do a scene with another girl! She's fine with him doing scenes with other guys, but no guy/girl action whatsoever! Jeff's actually not the first guy that's been in that situation, and so we're used to accepting it as something that occasionally happens and has to be respected. When the guy's girlfriend regularly checks out the site - as Jeff's does - that also helps ensure we stay out of trouble ;)
Thankfully for us, Trevor is single and able to do what he pleases! So we definitely get to see this tall, lean, well-hung stud doing what he does best!