Summary: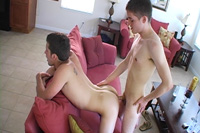 My Summer Vacation 2 starts out with Cole and Tristan hooking up at Cole's place, which has sure seen a lot of action. Cole's a great cock sucker and Tristan rewards him with a good hard fuck. Great chemistry and hot sex between these two young men which of course is followed by some nice and juicy cumshots.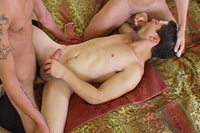 Poolboy Jake is back at it. He's cleaning the pool over at Cole's place while Cole is away. When he's done, he decides to take advantage of his employer's empty house by inviting over Eric and Damon for and afternoon of cock sucking and some serious ass fucking action.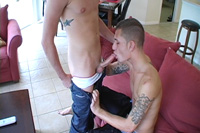 Cole and Eric hook up for a twosome in the third scene. Cole really wants Eric's big dick, but he's a little afraid of it getting shoved up his ass. But he gets so horny slurping on Eric's massive pole that he's practically begging Eric to fuck him and to hell with the consequences.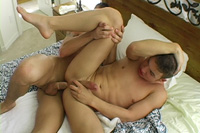 Their vacation is just about over, but before Damon and Eric say goodbye to Orlando and head home, they decide to have one last fuck - and boy, do they make it a good one. Eric gives Damon a good face-fucking before pounding his ass with his big cock.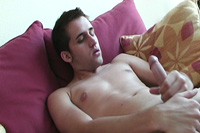 Cole Hardy rubs out a hot load in this cute solo "bonus scene".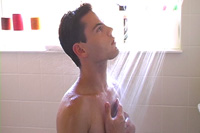 Jake Lyons couldn't stop being horny, making for another hot "bonus scene"
Ever been so horny that you just had to pull the car over and jack off? Tristan Sterling shows us what it's like in this sexy little "bonus scene.