BoySadoMaso gay fetish porn dvds have a rubber and latex theme with young guys commanding other young guys into submission with a variety of leather implements.

Active Filthy Rubber Boys - Studio: Boysadomaso
If you like your rubber action on the hard side, then you should view Active Filthy Rubber Boys. Six scenes with young lads in rubber, with punishment and filthy sex. All scenes are absolute free of any script - it's a 100% amateur movie!
Bad Master's Time - Gay DVD - Boysadomaso
Bad Master's Time gives you five scenes showing hard fetish Masters training, discipline and tormenting young slave boys in their charge. Discipline, rubber, blowjobs, raw handling, whipping, bondage and much more in this dvd!
BDSM Playboys - Gay DVD - Boysadomaso
Six leather fetish boys get some extra large face-fucking, raw whipping and spanking in BDSM Playboys. They are used by their masters and suffer hot wax, bondage, masks and a whole world of pain! Twink SM action from Germany, script free!
Boys In SM Scenes - Boysadomaso
Contains scenes from: The Young Sir is Angry, Leatherboy and the Man in Rubber, Fuck for Good, Short Attack, Young Cockmaster, Boys at the Cross, Deep Suck, Whip and Fuck, The Slaveboy and Leatherfuckboys.
Boys In Rubber Action - Boysadomaso

Boys In Rubber Action has nine different scenes with mainly a rubber or latex theme. A young shaved leather boy dominates his slave with a cane then gets a great blowjob. A masked young Master with a big dick trains his slave boy by fucking his mouth and ass. A latex Master punishes a slim boy with hard slapping, plus lots more. All models are eighteen years old or more.
Extreme Boy Pain - Boysadomaso
Cute boys play it rough in their leather suits spanking the hell out of their naked victims! 100% amateur SM!
Fucking Sado Maso Boys - Boysadomaso

Young boys packed in leather and rubber spank, suck and fuck each other hardcore style in this underground SM-movie!
Hard Punishment For Bad Lads - Boysadomaso
Contains scenes from: A Hard Lesson in Spanking, Wax, Bondage and Domination, Leatherboy and Slapboy, Rubberman and his Fat Pig Slave and Body Ass Spanking.
Heavy! Latex SM Boys - Studio: Boysadomaso
Heavy! Latex SM Boys is all about rough amateur SM Boys in full latex fulfilling their fetish fantasies and yours! These boys are into hard whipping, body punching, sucking, fucking, dog-drill - and all while they are dressed in latex. Heavy!
Leather Drill - Gay DVD - - Studio: Boysadomaso
Leather Drill shows a horny leather punisher in a discipline scene with his leather bottom. He dishes out some real punishment using his favourite whips and paddles. The bottom does get some pleasure as he receives a blowjob, but for that he must lick and serve for his leather master. Three more harsh leather scenes follow to give you more discipline action!
Leatherlads Under Slaps / Lederjungs Unter Schlagen
Leatherlads Under Slaps contains original amateur fetish scenes with young attractive lads in heavy spanking and flogging sessions. The young masters inflict humiliation and pain on their young slaves, trussing them up so that their vulnerable flesh is exposed - enabling them to be slapped, caned and whipped until their skin turns a bluish red and the blood rushes to the surface.
Pervert Manuel - Studio: Boysadomaso
Over 100 minutes of kinky slave and master sessions in Pervert Manuel. Manuel is young, extremely dominant over his submissive slaves, and sports a perfect body. With plenty of whipping, rimming, sucking, spanking and fucking you know this is the dvd to get your pulse racing!
Punkz... Skins In Training - Studio: Boysadomaso
Punkz...Skins In Training delivers an intense 110 minutes of heavy action with young boys in leather and rubber. These streetpunkz show off their skills at rimming, blowing, fucking, and demonstrate they are not to be messed with as they dish out harsh punishment and humiliation too. All scenes are filmed in a private atmosphere with 100% amateurs.
Rough Boys Vs Latex Slaves - Gay DVD - Studio: Boysadomaso
Rough Boys Vs Latex Slaves gives you seven scenes of hot boys in rubber and latex. These guys are heavily into discipline and these rough tops will ride, spank and fuck their submissive slaveboys before allowing them to shoot their loads. A worthwhile watch for any disciplinarian!
Strong Boy Discipline - Studio: Boysadomaso
Strong Boy Discipline is full of action between young leather and latex masters and their attractive slave boys - original, live and filmed without scripts in private playrooms! Seven full scenes, each titled accordingly, as young lads are hand slapped, cropped, whipped and strapped. Nipples are tweaked viciously before they are forced to pay homage to their master's jack boots - cleaning them with their tongues.
Used By Young Leather Masters - Studio: Boysadomaso
Nine new scenes of really hard and hot European amateur boy SM sessions are presented in Used By Young Leather Masters by Boysadomaso. Watch aggressive fuck scenes, hard whipping, spanking and dominant young Masterboys in tight leather-rubber clothes.
Young Boys Enjoying Liquids - Boysadomaso
10 different scenes mainly with the theme latex, rubber and kninky. Best scenes are My Ass in Your Face in which a young boy must lick the complete body and in a heavy scene the ass of a young master in a latex apron.
Young Domination Masters - Studio: Boysadomaso
Young Domination Masters has nine different scenes with young European Masters and their slaves in partly heavy SM, spanking, fucking, flogging, and bondage action - all 100% amateur videos including the original voices. For fans of hard pain recommended especially are the two scenes in which the big leathermaster from the cover is flogging, paddling and caning his two different young slaveboys in an extremely hard manner!
Young Fetish Boys having SM Sex - Gay DVD - Boysadomaso
Contains scenes from: Boyfuck in Rubber, Lick My Balls Boy, Fuck and Whip the Punkboy, A Hard Fuck for the Rubslaveboy, Bikeboy in Action, Rubberboy Dog and Dildo for Streetpunkboy.
Young Fetishboys in Spanking Sessions - Gay DVD - Boysadomaso

Young Fetish Boys In Spanking Sessions, the first dvd from Boysadomaso.net, has eleven different scenes in which young boys get mainly arse spanked by hand, bullwhip or leather paddle. In the opening scene a boy is bare arsed, his hands tied behind him. His tormentor uses a cat and a cane - the boy's cheeks reddening with every stroke.
Young Turk Tops - Studio: Boysadomaso

Young Turk Tops contains nine scenes with six young, active dominant Turks in SM Mastery of their also young slaves.

Cast: Yimaz, Mustafa, Lacin, Murat, Yengi, Kagan, Jean, Sebastian, Helgo, Waczlaw, Luka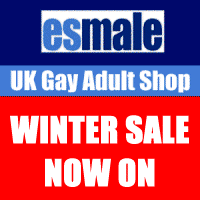 Esmale (UK Gay Adult Shop) sells a large range of gay adult sex toys including a range of fetish and restraint products, Cock and Ball play items, Whips, Paddles and Slappers, Blindfolds, Masks and Hood and are the UK stockist of Mr B leather and fetish products. They also sell a large range of men's designer underwear, condoms and lube, fleshjacks, jock straps and anal toys. Treat yourself!
Save an extra 10% on top of their already discounted prices with our exclusive code 'GAY10'. Click here to shop
See also: www.gayadultshops.co.uk