Summary:
For years, Blake Mason have been bringing you the hottest, most hung and uncut lads that Britain has to offer and they've collected ten of their very best for this DVD.
Scene 1: James Pershaw and Riley Tess
Hairy and handsome Riley Tess is back again to offer his tight hole to another of our hotties after getting fucked by Lincoln recently. James Pershaw has been hungry for more action too recently, so it was a great opportunity! The guys are so into sucking all that hard uncut cock, pausing their fuck to taste each other some more before James sinks right back in and fucks a hard load out of his bottom boy, then pulling out to decorate Riley's back with his ball juice!
Scene 2: Kai Cruz and Tyson Tyler
Kai Cruz is one of those bottom lads who can't get enough hard cock. He loves getting his ass fucked good and hard by a dominant top, and handsome muscle hunk Tyson Tyler is the perfect match. You know what they say about black guys, and Tyson definitely lives up to that, using his big cock to fuck the cum out of Kai before giving him a blast of jizz in the face!
Scene 3: Tommy Benson and Darius Ferdynand
Tommy Benson and Darius Ferdynand showcase some hot face-fucking before putting their wet, uncut cocks to better use.
Scene 4: David Johnson and Nathan Brookes
Gorgeous young stud David Johnson has changed a lot since he first arrived as an innocent straight guy ready to wank on video. We've watching him go from solo to sucking cock and fucking guys in the butt, and it's pretty obvious when Nathan Brookes gets the lads hard uncut cock out to suck on the boy is enjoying it! Nathan is one greedy boy who loves the dick, and he wastes no time reminding the studly David how good a boys mouth feels. Nathan rides that cock and takes a powerful ass ramming before getting a load of David's cum in the face, and his own squirts of juice aren't far behind either!
Scene 5: Keiron and Lincoln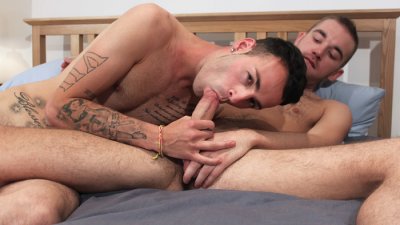 Time for another one of our recent newbies to make their debut duo on the BLAKE MASON bed - and this week it's Kieron's turn to get his kit off and get it on! Now, I know that Kieron claimed to be a total top in his solo film, however, once we gave him access to the site he had a browse around and decided that Lincoln was the guy for him. What's more, he said that he'd like to get fucked by him which is quite a big turnaround! Yep, we all know that Lincoln has a huge uncut dick and that he likes to fuck hard - so much so that even some of our most enthusiastic bottom boys have been scared off! But Kieron was determined that Lincoln was the guy for him - he wanted to suck every inch of his cock and feel it deep inside his ass... and Lincoln was more than happy to oblige the desires of a newbie to porn modelling ;-) To be honest, I wasn't sure what to expect and I wasn't even sure that this was going to work out, but after some masterful cock swallowing and extreme foreplay the moment of truth came... Lincoln lubed up and pushed his massive cock deep inside of Kieron. After a few gasps and moans, Kieron let Lincoln go and make no mistake, this boy likes to get fucked! They roll around the bed as Lincoln uses him as a fuck toy and once Kieron's on his back there was no holding off - he shoots a very big load indeed :-)
Themes: Anal, Facial, Masturbation, Deep Throat, Blond Hair, Brown Hair ,Fucking, Trimmed, Muscular, Uncut, Large Dick ,Straight, Turned, Gay ,Short Hair, Young Men, Cum ,Jerking Off, DoggyStyle, Rough, Sex In The Bedroom ,Missionary ,Riding, British