Summary:
Father Victor is the Head Master of an all male Catholic junior college. These are his confessions, which describe the impromptu sexual encounters he's experienced with some of the horny young guys under his supervision. Whether it's the good Father taking advantage of a situation, or a boy putting the moves on him, it always ends up with Victor's hard cock up a young man's ass. His preference is to fuck the boys doggie and he doesn't bother using a condom. As a result, there are plenty of smooth young guys walking around campus with a smile on their face and the taste of Father Victor's cum on their lips.
Description / Review:
Scene 1: Father Victor & Oscar Hart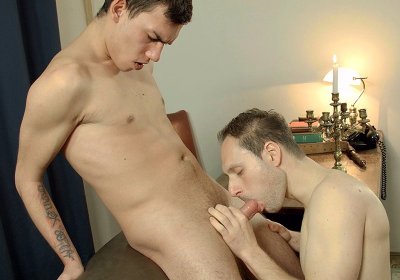 Once again Oscar Hart is in trouble and has been called to the headmaster's office. This time Father Victor has had enough and intends to give young Oscar a good spanking. Oscar has no intention of letting that happen and uses his youthful charm to convince the good Father otherwise. With his cute round ass enticing the older man, he asks to get bareback fucked by the priest. First he seduces Victor with a tender kiss, which leads to him sucking the good Father's big cock. Victor then services Oscar, before bending him over and rimming his tight hole. With Oscar in the doggie position, Victor pushes his raw cock in and starts bareback fucking him nice and deep. Then Victor flips the boy onto his back and delivers another round of raw ass pounding. Oscar wants more of the Father's cock, so Victor sits on his desk and the boy hops onto his throbbing meat for one last ride. This takes the good Catholic boy to the edge and he shoots his warm cum load all over the Father's desk. Victor then finishes himself off by pumping his load into Oscar's mouth.
Scene 2: Father Victor, Ariel Varga & Tim Law
Its lights out in the dorm, where Ariel Varga and Tim Law should be fast asl--p. Instead, the boys are up, looking at porn magazines and stroking themselves. The two don't know Father Victor is outside the door watching and getting aroused. Suddenly, he walks in and switches on the lights, exposing the horny boys in the act of jerking off. The two know they are in big trouble and will do anything the Father says. First he makes the boys suck each other's dick. With both rock hard and ready, Victor tells Ariel to fuck Tim, while he watches and strokes his hard cock. Watching the naked twinks fuck in front of him is too much for the good Father to resist and he proceeds to fuck Tim doggie. Then he has young Ariel ride his throbbing meat. Finally, Victor shoots his load while the naked boys watch. Victor then bids them goodnight and leaves the horny boys to finish themselves off.
Scene 3: Father Victor & Yuri Adamov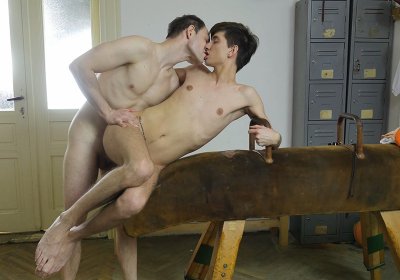 It's the day for Yuri Adamov to take his big gym test. First up is the horse and Yuri is failing miserably at it. Father Victor gets annoyed with the boy and shows him exactly how to mount the horse. Knowing he's not going to perform well, young Yuri tries seducing his older gym teacher. Father Victor likes what he see's and quickly forgets about Yuri's gym test. Soon the good Father is playing with Yuri's cute little ass, which leads to some passionate kissing. Yuri then sucks the Father's hard cock, and licks his nipples. Unable to contain himself, Father Victor bends Yuri over and rims his willing hole, before fucking the boy nice and hard over the gym horse. Next he climbs onto the gym horse, and Yuri mounts his hard cock for another round of fucking. Then, in the doggie position, Father Victor pounds the boy hard, until Yuri can't contain himself and cums all over the gym floor. Victor pulls out and finishes himself off by shooting his warm cum all over Yuri's gaping hole.
Scene 4: Father Victor & Will Sims
During his detention time, young Will Sims is bored and very horny. Will likes older guys and has always had a thing for Father Victor, so he decides to see if he can entice the priest. At his desk, Will whips out his hard cock and Victor quickly spots the invitation. Soon the two are kissing passionately, before Victor bends Will over and rims his hairy asshole. Then he lays Will on his desk and fucks the boy, making the bottom's toes curl in the process. Next Victor kicks back on his desk, and has Will slide onto his long cock. He fucks the boy nice and deep, while watching the pleasure on Will's face. In one final round, Victor puts Will's leg up onto the desk and fucks his cute little ass. Finally, Will gets onto his knees and sucks the Father's cock until Victor erupts into Wills mouth. Will then finishes himself off making a mess of sticky cum all over the classroom floor.
Scene 5: Father Victor & Jesse Jenkins
Young Jesse has the hots for Father Victor and sees an opportunity when he meets the older priest out on the grounds. He tells the good Father he's in need of some advice and suggests they go to the nearby church. Inside, Victor sits down with his cup of tea, unaware of Jesse's real motives. He soon discovers the truth, when Jesse hops onto his lap and starts to undress him. Father Victor protests, but young Jesse is having none of it and soon the two are kissing passionately.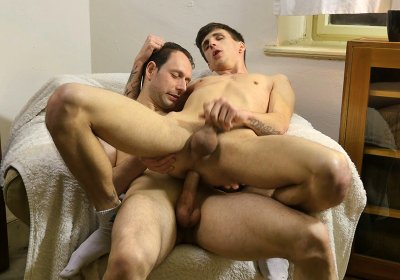 Victor gives into temptation and quickly has his cock in the naked boy's mouth, before Jesse wraps his warm lips around the Father's hard meat. Jesse then jumps onto Victors cock and rides it raw, enjoying every bareback inch up his tight little hole. Victor follows by bending the boy over a hair and pounding his ass, giving the young bottom everything he's been lusting for. Finally, Victor flips Jesse onto his back and fucks him hard and deep, until the young man cums all over his smooth abs. Then Victor finishes himself off by shooting onto Jesse's freshly fucked hole.