Summary:
Theo Ford is a landlord with a dark side in I Spy, with cameras fitted into every room of every house the lets out. A voyeur with a very strict tenant policy - they have to be hot, muscled, big dicked and with a high sex drive. It works for him as every day he flicks through his computer and catches sight of one hot fuck after another, from living room love-ins to kitchen quickies from a very hot duo new to the building! There?s one couple however that really makes him stop and think. A couple having problems, and even their passionate fucking can?t hide that red headed Saxon West is waiting for something to happen. Theo takes it into his own hands, quite literally, and gives Saxon a surprise he wasn?t expecting - but really was ready for! Full to the brim with tight flexing muscles, hairy chests, and load after load of huge wads of cum, sit alongside giant dicked Theo Ford and become a voyeur with him!
Description / Review:
Scene 1: Muscle Man Gets Pounded
Even in their own home, suited muscle studs Scott Hunter and Theo Reid aren't alone, with voyeur landlord Theo Ford watching from hidden cameras. Scott's busying himself watching some hot hardcore porn as Theo Reid comes in and tries to get in on the action, and eventually breaks Scott down, not that it could ever take much, these guys are hot! The shirts are unbuttoned but luckily remain on for a while; it's just too sexy to watch muscle men make out in a suit!
The suit trousers work their way south as we see pre-cum patches all over Scott's bursting briefs, a temptation that isn't lost on Theo who laps it up like a cat what got the cream! Scott's truly worked up now, after some great porn and now Theo playing with his hairy hole, his thick dick sliding inside as he's pumped full of meat in the middle of the lounge floor, worked hard and fast until Scott busts his nut over himself, swiftly followed by Theo's own wads splattering Scott's heaving chest and abs – no wonder our voyeur has taken the trouble to fit these cameras! The show's a damn fine one to watch!
Scene 2: Hung, Suited and Horny!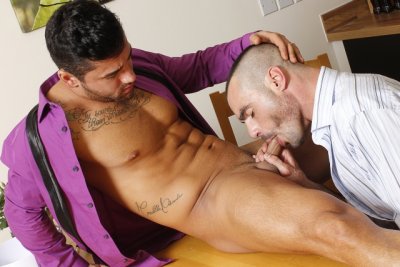 Voyeur Theo Ford is back and flicking through the apartments he's kitted out with secret cameras until he finds exactly what he's looking for! Two suited fuckers, dark hair, lean and with great chest hair, not to mention a sexual appetite like no other! Even in their kitchen Issac and Bruno find a reason to get naked and fuck like rabbits! Gifted Issac's long hard dick, Bruno turns around and sucks deep on his dick, Issac's shirt fully unbuttoned showing us his gorgeous six-pack and tattooed chest all the way down to his prize meat and full to bursting balls. These dark haired studs fuck hard on the dining room table, almost aware they are being watched as they show off their hot bodies, tight muscles and tattoos, hungry butts and more than willing tongues lapping every inch of their tanned skin, it almost gets too much for spy guy Theo whose dick is now out and hard, getting gently played with as he takes in this amazingly horny sight happening right now. Almost shooting as Issac and Bruno hit each other with jets of jizz, Theo's after something else a bit more special and holds back, just.
Scene 3: Red Headed Hunk Gets Slammed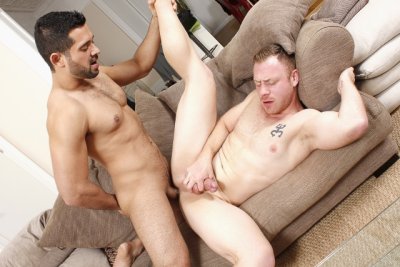 There's nothing quite like a dysfunctional relationship to get a voyeur hot under the collar, and that's exactly what Theo's been waiting for as he flicks through his collection of wired up apartments. Taking a special interest in the hard, fast make-up sex between red headed Saxon West and Latino lover Billy Baval, Theo's already turned on from his previous show and wastes no time in getting his own big dick out. Watching intently as Saxon tries to take all of Billy's big thick dick down his throat, Billy helps him out and pushing down, gives Saxon an extra inch of throat meat than he's had before! As Billy gives Saxon exactly what he's been after since he walked in the door, Saxon is bent over the sofa as his partner pounds him from behind, working his hungry hole out deep, shifting positions every other minute to really wear this horny bottom stud out and just as they are shooting, Billy's done his job and gets back to his book, leaving Saxon to clear himself up! What a lovely fella, but still, it's all about the hard thick dick after all!
Scene 4: Super Hung Intruder Gets His Way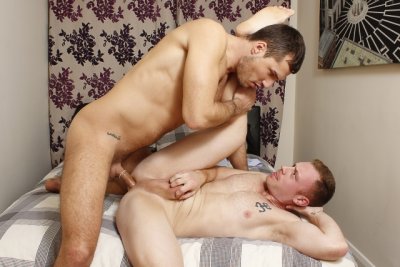 Saxon West is home alone, stripping naked ready for a bath, all right before Theo Ford's eyes. Our hot suited voyeur has even got a camera behind the mirror and he takes the opportunity he's been waiting for. Letting himself into the flat, this sleazy landlord makes himself at home, sniffing shirts and pants whilst Saxon dries himself in the bathroom. Even getting his dick out and looking directly into his cameras, Theo is as cool as a cucumber as Saxon catches him and protests, but soon flung on the bed and gives himself up to Theo. It's no surprise really, as the muscled hairy chested Theo is a dream stud by most men's standards; and when he gets that monster cock out from his trousers, well, Saxon's dreams are now coming true! Theo's chosen fuck mate is everything he knew he would be, that's half the reason for his cameras and after one hell of a fuck, Saxon is left drenched in spunk, a mix of his own and Theo's huge load that's been built up over weeks of anticipation!
Additional Information
Categories: UK R18 / XXX Gay Adult, British Gay Porn, Bears DVDs
Running Time: 72 mins, Year: 2015
Price: From around £28*
Starring: Theo Ford, Bruno Bernal, Scott Hunter, Saxon West, Theo Reid, Others
Director: Blacky Mendez
Studio: AlphaMale Media
Related Studio: Bulldog XXX (same director)
Buy DVDs online at: Simply-Adult.com
Gay Video On Demand: AlphaMale Media, See also: www.gayvod.co.uk
Member site: AlphaMale Media
Country: United Kingdom, Language: English
Additional info: No Regional Coding