Summary/ Description:
Deep Attack features Jorge Roiz enjoying his own exhibitionism between scenes of some of the hottest and roughest fucks from Alexander Productions. The dicks are as big as ever but the title of the film is on the money. These guys use their cocks to attack and when they go in, they go deep. So many big cocks you'll wonder where they all come from but even that won't distract you for long from yet another celebration of the amazing men of South America.
Scene 1: Renato Moraes, Pascoal Coelho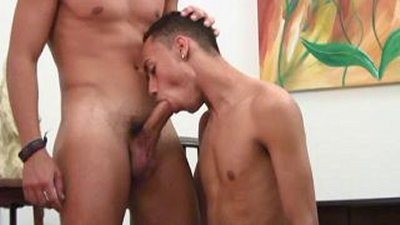 If you've seen the other Alexander Pictures releases with Renato Moraes, you may be used to him as a champion bottom. You may also, as I did, fail to notice how fucking perfect his cock is. As Pascoal Coelho helps us all realize, Renato is just as skilled as a top as he is as a bottom. In Pascoal's defense, he takes more of Renato's long dick down his throat than I'd have thought possible. The nice thing about a versatile stud like Renato is that he knows what it's like to be on the bottom and takes plenty of time to get Pascoal's fuck-hole ready with some hot tongue action. Alexander gets that camera right up on the action, too. Once he's worked his cock up that tight hole, it's game-on. Pascoal takes it like a pro, too. His hard cock is swinging to the beat of Renato's fast-paced fuck the whole time. Renato is truly versatile, though, and before long he's sitting on Pascoal's hard cock while his own boner is tight against his abs. These boys fuck themselves to an amazing orgasm and I, for one, was left kinda hungry!
Scene 2: Esteban Paes, Alef Carvalho
Alef Carvalho is proving himself to be a superstar bottom. When faced with Esteban Paes' monster dick he doesn't even hesitate. He grabs that thick fucker and starts slapping himself on the asshole with it. Not just his ass, mind you, right on the fucking hole. Esteban starts humping him like the alpha male that he is and once he makes his way inside Alef he just holds on for the ride and goes. You can see that Alef's been doing some work when he wraps his hole around Esteban's dick while sitting on his lap. He's sweating like a whore and fucking himself like one too. Esteban gets at that shitter from every angle until he's fucked the cum out of Alef and has worked his own nut up and out of that fat prick.
Scene 3: Joam Jorge, Erico Pires, Fabiam Oliveira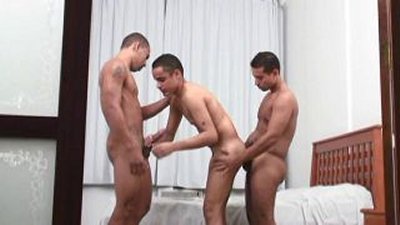 Holy Fuck. That's what you'll say when Fabiam Oliveira pulls out one of the fattest cocks to ever grace the screen. Then you'll get a glimpse of Joam Jorge's cock and realize that propriety requires you feel a little sorry for Erico Pires before you start beating the hell out of your own cock. When Fabiam passes Erico's mouth off to Joam's dick, you can see that having such a big dick has given him just the right amount of cockiness… they don't call it cocky for nothing! While all the cocksucking is happening you will have to figure out who's cock you are most excited to see stretching that little asshole to its limits first. Fabiam is the first, though, to start the ruining of Erico's hole. That fat dick slides in easy enough but the look on Erico's face makes it pretty obvious that it doesn't seem easy to him. Fabiam fucks as if his cock isn't the size of a toddler's arm and Joam keeps his own prick buried in Erico's mouth to keep him quiet. When Joam finally gets a turn at that ass I'm sure Erico was relieved but then Fabiam starts smacking him in the face and beating his dick on the boy's mouth. This is a very hot scene, with gorgeous cocks and hefty loads of cum.
Scene 4: Marcelo Sousa, Eloi Alves
Marcelo Sousa and his beautiful prick are back again and threatening the hole of Eloi Alves with permanent damage. The warm up is just long enough with both guys finding their way to their knees and a mouthful of dick. As you'd expect, though, it's Marcelo's piece that ends up getting the royal treatment from Eloi's once-tight-hole. Marcelo fucks him mercilessly while holding this sweet little bottom just where he wants him. When Marcelo pulls out of Eloi's ass, he shoots a creamy load on the bottom's flat stomach that triggers Eloi to follow suit. Their sperm are all mixed up on a stomach that could easily serve as a plate… I wouldn't mind stopping in for a snack! Marcelo enjoys playing with that cum with his hand just like most of us would do with our tongues. It's a hot ending to a very hot scene.
Scene 5: Denis Torres, Estevam Lobo

Estevam Lobo is on Denis Torres' cock before they even get their coats off. That's a cocksucker after my own heart. Denis has a nice big dick and is built like a bull. When he's finally had enough head, he dives into Estevam's ass as if he's been waiting his whole life for just such a place to put his dick. Estevam wastes no time in reaching back and urging Denis on. It works. Denis is fucking Estevam from behind while standing on his feet. It's like watching a bitch in heat get knotted by a big, male dog. Estevam's face shows the battle between pleasure and pain that Denis is fighting in his asshole. By the time Denis is attacking Estevam's hole in the good ol' missionary position, the power-bottom is over the edge. Denis fucks him until he's nutted all over his torso all the way to his neck. Denis follows that up with an intense orgasm of his own that seals the deal between these hard fucks.
Jorge Roiz - Solo
After an eternity of teasing, it's finally time to see Jorge Roiz finish what he's started. He's one of those guys who is great in a solo scene because he so clearly enjoys showing off his beautiful body and big dick for an audience. You have little doubt that he could only enjoy it more if you were actually in the room with him. All the showing off has certainly gotten the tension up. His muscles tighten up like mad and as soon as he nuts he's all smiles.
Deep Attack is an Alexander Pictures production that you won't want to skip. The tops in this collection of fuck and suck scenes have big dicks and attack deep. It will inspire more than a couple loads out of your balls before you're done!