Summary:
Brice Farmer, the sizzling hot French superstar, has shown in a dozen international productions how swiftly he can put his hard todger to good use. In this Special Edition spritzz presents Brice and his partner Moskito in six mega horny hardcore scenes.
Description/ Review:
Scene 1: Pissed Up Threesome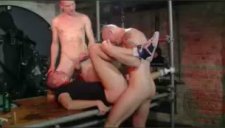 In the extremely filthy opening scene, a handcuffed Moskito gets his butthole pounded like never before. In a playroom, two studs have the time of their lives as they dive into his tight, little arse. Moskito must endure a fair bit of whacking, gobs of beer and ball torture so the two skins can get their kicks and shoot huge loads of cum.
Scene 2: Moskito gets shafted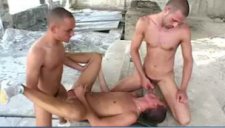 Brice just wanted a horny jerk-off over a porno mag, but a stoned Max lets himself be discovered whilst perving over Brice and becomes the sex victim of the fuck-crazed Brice.


Scene 3: Potheads Asspain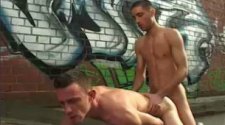 In an abandoned factory, young Moskito lets himself get shagged alternately by two active fuckers - but of course, not without first sucking their fat cocks until they get really hard.


Scene 4: Fuck Action at the Urinals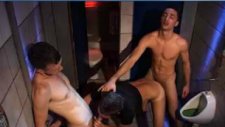 Brice is a DJ in one of Berlin's hottest club - Irrenhouse. He's got many fans and has his pick of the hottest guys around. But tonight is Daniel's lucky night and in the toilets, he gets his chance. Brice goes to take a piss and stands next to Daniel and plays with his boner. Daniel can't resist this invitation and eagerly gets to his knees for a horny face fuck.
Scene 5: Two for the price of one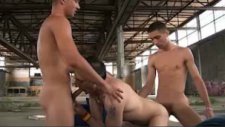 When party boy Moskito turns up, the party gets even hotter. Alex's swelling knob looks a promising piece of fuck meat for newcomer Tom and this lucky boy can make his dreams cum true as he gets a piece of Alex's donkey sized dick and Brice's oversized hard-on, and so begins a torrid threesome that only ends when every guy is spent.
Scene 6: Sea, Sex and Sun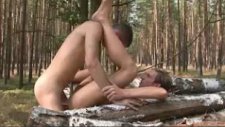 The summer heat and a naked, blonde Kai is the right victim for the ever-horny Brice. These boys sneak off into the woods where they get straight down to some gritty fuck action! Nearly two hours of hot Euro-totty!
---

Beschreibung
Brice Farmer ist ein echt geiler französischer Superstar, der schon in dutzenden von Produktionen zeigte, wie er sein heißes Teil gebraucht. In dieser Sonderedition von spritzz werden Farmer und sein Partner Moskito in sechs geilen Hardcoreszenen gezeigt.