Summary:
He could have any man he wanted, except one - his sister's lover. Sexy loner Angel (Tommy Defendi) is caught in a cycle of one night stands and meaningless hook ups, much to the dismay of his protective older sister Francesca.
When Francesca becomes engaged to sensitive, young Eric (Duncan Black) she brings him home to meet her brother, hoping Angel will be inspired to find true love of his own.
Little does she know that her perfect fiancee harbors sexual needs that only her hot, well-hung brother can fill.
Scene 1: Tommy Defendi, Wolf Hudson
Tommy Defendi is caught in a cycle of one night stands and meaningless hookups. His sister is getting married and wants to see her brother as happy as she is but Tommy isn't ready to change. He's content with the way his life is. Wolf Hudson and Tommy are making out in the bedroom but things heat up quickly as Tommy and Wolf take turns sucking each other's big cut cocks. Tommy worships every inch of Wolf's dick, sucking it from tip to base, pressing him against his full beard. Wolf sucks on Tommy's, guiding his cock to the back of his throat, making his eyes water. The boys flip fuck, Wolf being the first to fuck, pounding Tommy's hole after a long hot rim session. Tommy flips Wolf over and fucks him hard, while Wolf on his back. Wolf jerks his long dick while Tommy fucks him and blows his load all over his stomach. It isn't long before Tommy is ready to cum and pulls out to cum on Wolf as he kisses his neck and they make out.

Scene 2: Tommy Defendi, Brendan Patrick
house and conversations are had over bottles of wine and embarrassing family photos. Duncan wonders if Tommy thinks he isn't good enough for his sister, but Tommy tells him nobody is good enough for her.
Tommy calls his hookup Brendan Patrick over for another night of fun. Duncan can hear them in the bedroom. Brendon climbs on top of him, their stiff cocks rubbing against each other as they make out. Brendan takes Tommy's dick into his mouth, and has trouble forcing it's thickness to the back of his throat. But after a long passionate blow job Tommy fucks Brendan, pounding his asshole. When Tommy shifts him on his back, Brendan can't take any more and comes all over his stomach. Tommy pulls out and cums on Brendan's furry stomach.
Brendan and Tommy are lying in bed, but Tommy is only paying attention to his phone. Brendan asks Tommy where things are going, but Tommy says nothing, silent. Brendan leaves, upset, telling him not to call him again for sex. Duncan heard it all, and is up and listening.

Scene 3: Tommy Defendi, Duncan Black
As Duncan lathers his body in the shower, he is deep in thought, his mind wandering to what he'd heard the night before. Tommy's sister joins her brother in bed while she's waiting for Duncan to finish, and they have a heart to heart. She worries about Tommy and feels that she is responsible for him now that their Mom is gone. Duncan's entrance into the room interrupts their conversation, and he climbs into bed as well. Tommy notices the affection between the long haired fiancee and his sister. Later, Tommy is awoken by his sister convincing Duncan to have sex in his bed with him sleeping next to them.
The next morning Arden is awake and getting ready. Applying her makeup, says she is leaving to go see a friend. But soon after leaving, she pulls off the road to answer a call from her ex.
Back home, Tommy sits down and offers Duncan a drink. Tommy asks him if he's ready for marriage. He's happy she agreed but is unsure about it. Tommy reassures him that they're both good for her. Duncan has questions about Tommy's past and opens up about an experience he had with a guy at a party. Tommy reaches over and plays with Duncan's hair, rubbing his chest. Duncan looks over at him, and puts his hand on his belly. Tommy unzips his pants, and pulls out his massive dick, which Duncan starts stroking. Tommy puts his hand down the back of Duncan's jeans as Duncan sucks on the giant member. Tommy grabs the back of his head and moves it up and down, encouraging him to work his pole.
Arden comes home and sees her man sucking her brother's dick. Shocked, she doesn't say a word. Only after Tommy blows a huge load all over Duncan's face, does she angrily slam the door. Tommy scrambles to put things away, but an arguement ensues.

Scene 4: Tommy Defendi, Duncan Black
Tommy Defendi is outside shirtless, smoking a cigarette when Duncan Black comes out to talk with him. Duncan's fiancee made him sleep in the other room and now she's gone! Duncan wonders if Tommy has any idea where she is. He explains that their engagement is over, and that Duncan's an idiot because she's probably with her ex who she's been texting her the whole time they've been there.
Tommy laughs at Duncan when he says she is the love of his life, and believes he did his sister a favor by breaking them up. Tommy doesn't belive he can be blamed, because Duncan knew exactly what he was doing the night before when he told him about his experiences. Duncan leaves to angrily pack his bags, hurt. Tommy comes in to express his apologies. The boys begin to make out, and Tommy pushes Duncan down on the bed, pulling off his shirt and pants and kisses on his nipples.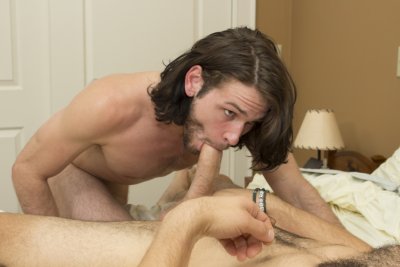 Duncan sucks on his cock, and climbs up on Tommy, he fucks the younger guys's ass, Duncan riding it up and down. Duncan lies down on his back as he gets fucked by Tommy. He keeps ramming Duncan flipping him this way and that, he gazes into his eyes, longingly as he fucks Duncan. He's close so he slows it down and moves duncan onto his back. As he keeps fucking him, he takes the younger man's cock in hand, getting him hard as a rock and he soon cums all over himself. Tommy pulls out of him and finishes all over Duncan's his tight abs.