Summary:
Bitume is now famous amongst Citebeur fans. He can suck his own 9 inch cock and you will see him doing just that but you'll also get to see his friends, those addicted to his massive cock, who can't get enough of it... Aurelien and Kriss bend over to receive the big prize; Gleen Coste gives us a 1 on 1 versatile fuck; The well-hung Souan and Lakdar ride him hard and at the end he gets well opened by Boris and David Castan who take turn at fucking his ass. As a bonus, check out Bitume in the video who made him famous: a self-sucking scene. Bitume is back for more rascal-fuck!
Résumé
Bitume le lascar et ses 23cm est de retour. On change pas un keumé qui assure et tu vas le retrouver à s'autosucer dans sa cave comme il le fait tous les jours. Mais dans la cave à Bitume y'a un max de potes qui débarquent et pas que pour sa grosse matraque ! Aurélien et Kriss cambrent leurs cul pour recevoir la teub King Size du lascar; Glenn Coste assure avec Bitume pour une baise recto verso alternée entre les deux keumé ; Souan l'antillais TBM et Lakdar le queutard le démonte à grands coups de zob ; et au final Bitume se fait faire la misère par Boris et David Castan qui vont bien lui rentrer dedans. Avec en bonus le premier solo en autofellation de Bitume devenu collector.
---
Description / Review:
Boris is dominant and he gets what he wants! A good bit of spit on the face and ass of his victims and he's ready to go!
Scene 1: A Hot Racal for you here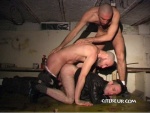 Bitume gets together with Boris and David Castan. Boris is well known for taking control and being dominant and David is equally capable when it comes to using a mouth or an ass for his own pleasure. Bitume cannot believe his luck, he is busy sucking both dude's cocks while they kiss each other, Boris lands the occasional spit on his face in his usual pervert ways and eventually turns Bitume around to offer his ass to David's fuck-meat. The poor Bitume gets plenty of action with one stud in front and one behind him!
Scene 2: 9 inch + 9 inch = 18 inch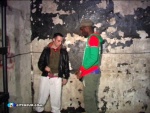 Fans of BIG calibers, this one is for you! Over 18 inch of cock between our two models, Bitume and Souan. The two 9 incher meet in a basement for an XXL duel. Bitume starts off with a bit of teasing but Souan isn't the type to joke with. He wants to show him who's the boss here. Bitume must submit to the big black cock, he gets faced-fucked then his ass is next!
Scene 3: Twice The Pleasure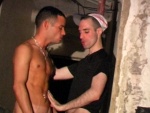 Glenn Coste and Bitume put o a show in this versatile video. They have two things in common: a massive 9 inch cock and a huge sexual appetite! Watch them service each other's dick and take turn at fucking each other for maximum fun! Glenn Coste and Bitume, it's twice the size and twice the pleasure!
Scene 4: Watch Out For Lakdar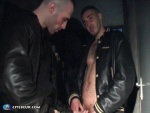 Bitume ( featuring right now on DVD in "Bitume and the Gang") is going through his daily routine of self-suck session in the basement of his apartment building when Lakdar, who was just passing by, catches him in action and can't believe his own eyes. The cute Arab dude is eager to prove that he also knows how to use his, not less impressive, cock! Watch out Bitume!
Scene 5: An Ass On Fire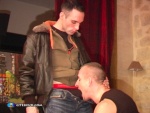 For those of you who don't know Bitume, he's the little dude with a massive cock who loves sucking himself off. Today, we found him the perfect match: Chris, a muscle dude who's always on the look for a huge cock to service his willing ass... Bitume's huge dick is ready to set his butt on fire!
Scene 6: Perfect Match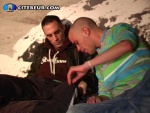 Bitume is huge! He's well-known for his self-sucking scene in Citebeur...Today he meets up with Aurelien, a cute French bottom dude who's always on the look for something big...Well today it seems like he found his match: Bitume's 9 inch dick is going to keep him busy for a while!