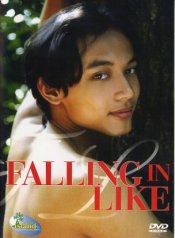 Summary:
Six bronze Asian beauties in three sensual scenes of intimate exotic sex. Wide eyes and wet lips meet smooth skin and tight, inviting ass in a film that is overflowing with youthful vigour and lust.
Description/ Review:
The somewhat un-sexily titled, Falling In Like, could have been more appropriately named 'Falling In A Wet Heap Of Hot Young Asian Lust'. Although not quite as catchy, it would have given a more accurate description of the film's contents.
Falling In Like, boasts six exquisite Asian boys in three couples, for three lengthy scenes of sensual and exotic sex. The boys, each one a slim, smooth, bronze skinned beauty, are captured in the shade of secluded trees, or on the soft sheets of antique beds. And, as if that wasn't enough, there's also a passionate table-top fuck.
The first scene features two boys between the trees. Slim but toned, wide-eyed but inviting, with firm young asses and aching Asian cocks, their intimate fumbling tumbles onto a bed of leaves where they don't just rush through the motions, but take time to pleasure one another. Tongues run over chests and nipples as they smother each other in wet kisses, and the passion builds. Brushing aside his mop of ebony hair, one of the boys, with a tattoo on his arm, runs his thick lips over his partner's stiff cock, before sucking him. As with the entire film, the action is sensitively shot, with great close-up shots of the boy's wet cock rising from its small patch of fuzzy, natural pubic hair.
The boy moans as his tattooed partner tenderly rims his tight, smooth asshole and, soon enough, they are fucking. The scene ends, like the two others, with glorious slow motion cum-shots. And, as the camera fades, the two boys are left tangled in each other's arms.
The following two scenes follow a similar pattern with two fresh sets of boys engaging in more fresh and sensitive sex. It is difficult to identify particular stars of the film, as all the boys are pretty, slim and smooth skinned with tight little asses and mouth watering cocks. All the camerawork is skilful and un-invasive and all the sex is relaxed and sensual.
This is one hot showcasing of beautiful Asian boys in some steamy exotic sex. The only disappointing thing is not being there with them.
Additional Information
Categories: UK R18 / XXX Gay Adult
Running Time: 89 mins, Year 2005
Price: Around £29*
Starring: Bon, Ep, Gung, Phisai, Suwit, Watana
Director: John Hayman
Studio: Asian Guys Video
Buy DVDs online at: Simply-Adult.com,
Video On Demand / Downloads: Asian Guys, See also: www.gayvod.co.uk
Country: USA, Language: English Subtitles
Additional info: No Regional Coding