Summary:
Hold onto your helmets, boys - this is gonna be fast, furious and totally raw! An explicit foray into the sexy world of sleek cars and high-speed bikes, with some of the Czech Republic's spunkiest lads going hell-for-leather in pursuit of the next hard-hitting fuck. Prepare to give your own exhaust the work-out of its life!
Description / Review:

Scene 1 The First Full Morning Of Sex

Starring: Marco Bill and Fany Duke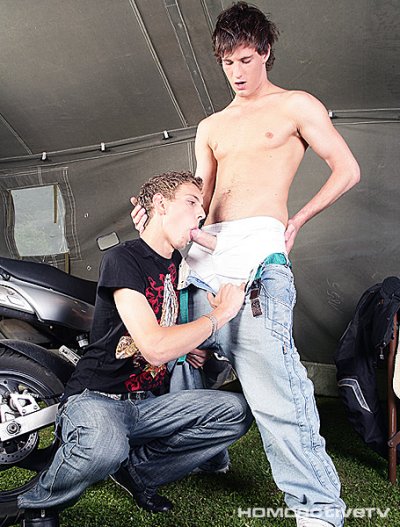 We all know, of course, that waking up next to Marco Bill can only mean one thing - namely that you're gonna be expected to open up every hole going in order to accommodate Bill's insatiable, ass-hungry cock - but did anyone warn the rather curiously named Fany Duke of this fact? Not that this gorgeous cock-lover appears in any way incapable of holding his own when it comes to servicing the sort of thick, veiny, uncut shaft that Bill has throbbing away in his crotch first thing in a morning; indeed, he's soon feeding off the monster like a being possessed, slurping off Bill's knob-end as if next month's rent-heque depends on it - which it probably does! Little wonder that the youngster finds it ultimately impossible to hold off from spewing the entire contents of his balls shortly afterwards - an act that Bill clearly takes as his cue to give his young compatriot a real good fucking! Ultimately resulting in Duke's ass being filled to the brim with copious quantities of thick, creamy spunk. Fabulous!
Scene 2: Everybody's Horny

Starring: Daniel Wood, Robin Few, Jesse Shaw
Also available: Big Cocks, Tight Holes (2 DVD Compilation)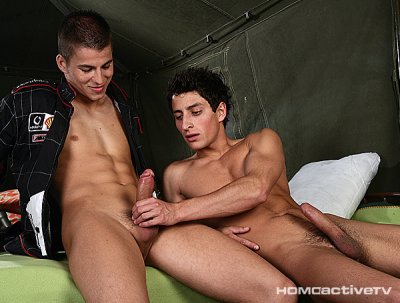 Having been given the opportunity to prove how good he looks when driving a car that's almost as hot as he is, Robin Few takes on the dark, sultry delights of Daniel Wood - whilst new-boy Jesse Shaw watches (and wanks) from the sidelines. As anyone who's seen him perform before knows, Few is one hell of a dirty-minded slut, who will literally go to any length to get hard cock thrusting into his innards - and this occasion is absolutely no exception. Indeed, if anything, the realisation that he and Wood are being watched makes the lad even more of a whore than he usually is. On his front, on his back - Few is a power-bottom in every sense, who's not content until every drop of jizz has been drained from Wood's balls. Even then, though, the sight of Shaw's monstrous cock - still quietly jerking off in the background - is more than enough to get the youngster wanting even more spunk. A wish that young Shaw is only too willing and able to see realised.
Scene 3: Caught In The Act
Starring: Damien Dickey, Rogan Crow and Jake Bailey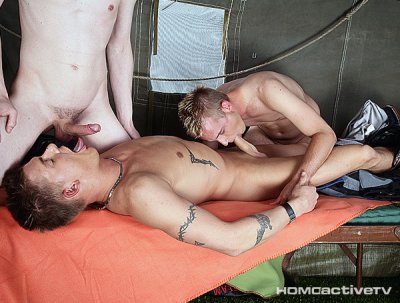 Rogan Crow might look sweet and innocent in a nervous sort of way, playing with himself all alone with only a wank-rag for company, but the arrival of Damian Dickey and Jake Bailey on their motorbike is more than enough to encourage the exhibitionist-streak in this young man. Indeed, despite all his apparent coyness, this is one young man who knows exactly what to do with hard cock when he sees it, engaging in the antics of his two more experienced counterparts like a veritable pro. Bailey, for his part, is equally forceful when it comes to getting what he wants - parting his legs so that Dickey can thrust his unsheathed shaft deep inside, before promptly mounting Crow's gorgeous butt-picker. No surprise then that the youngster should erupt shortly afterwards, whilst being skewered from both ends; although it's Dickey's cum-shot that ultimately gets our vote. A magnificent volley over Bailey's face that emphasises every inch of uncut skin in the process. In short, a definite must-see.
Scene 4: A Big Cock In Action
Starring: Jesse Shae and Nick Deniels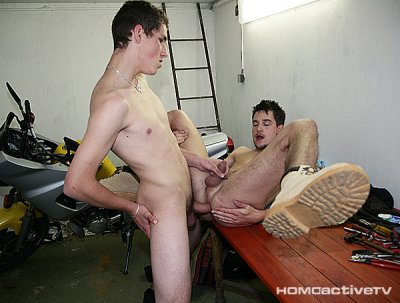 Having played a slightly marginal part in an earlier scene, Jesse Shaw returns for a much more involved set-piece with Nick Deniels - whose semi-developed facial hair gives the fellow an almost Shakespearean appearance. Not that there's any call for high drama in this encounter, though the donning of leather jackets by each of the boys at the start of the scene will certainly raise temperatures in plenty of quarters. As it seems to do, in fact, between these two lads; with Shaw promptly falling to his knees to service Deniels's cock, before Deniels in turn surrenders his tight little butt-hole to that meaty weapon that Shaw keeps tucked between his thighs. No danger of any rubber interfering with the action here, guys - these two horny crotch-rocketers like their action raw and uninhibited, and (in Deniels's case, at least) are not content until their mouths are awash with fresh seed. A desire that young Shaw is only too willing and able to realise as he blows a shed-load of sperm from his swollen bell-end.
Scene 5: The Last Cumshots!
Starring: Alan Craft and Robin Few
Fucking the daylights out of Robin Few obviously isn't enough for Daniel Wood, as he takes this opportunity to sneak off to the woods on his motorbike with Alan Craft. Spreading a blanket on the floor as if to eat a picnic, it's very much a diet of spicy sausage and creamy nuts for these two boys; blowing each other off, before Craft gives his pal a hard-knuckled hand-job that allows Wood to spray the forest floor with sperm. At this point you'd be forgiven for expecting Craft to be given the chance to bang away at Wood's pucker, but the unexpected arrival of Ray Weil (Wood's boyfriend) changes all that. Wood (not wishing to be discovered) makes a dash for it; leaving Craft to entertain Weil by means of the only weapon at his disposal, namely his butt-hole. Cue a scorching cowboy-style ride for the young filly, which only concludes when Weil bursts his nuts over his own belly and Craft blasts his contribution over Weil's expectant tongue. The Czech Republic has rarely looked so raunchy or so hot!