Summary:
The quest for a badge in cock-sucking and bareback sex continues as another legion of horny, mega-hung twinks prove that scouting in the 21st Century has come a long, long way! Gone are the campfires and group singing. Instead, these oversexed beauties adventure in the discovery of thick, uncut cocks, tight ass-holes and oodles of creamy teen spunk! Damian Dickey, Will Sims and the oversized black delights of Devon LeBron and Alejandro Marbena make this one dick-crazed jamboree you're gonna want to attend again and again and again!
Description / Review:

Scene.1: Kurt Maddox enjoys a black double penetration courtesy of two monstrous uncut cocks!
Cast: Kurt Maddox, Alejandro Marbena and Devon LeBron
Also available: Black Does White 7 (Compilation DVD)
Some boys just love to set themselves a challenge – young Kurt Maddox being one of them, it seems, given his determination to engage not only in a double-penetration fuck-fest but one that centres round the bumper-sized packages of Alejandro Marbena and Devon LeBron. Not that it seems he had much choice in the encounter if the opening moments of this stupendous scene are anything to go by. One minute he's minding his own business in the shower; the next he's being roughly manhandled by the two black dudes and being forced to entertain Marbena and LeBron in the most explicit and humiliating fashion imaginable.


The young white lad shows little sign of complaining, however. Far from it, in fact. Rather he's soon eagerly feasting on both the donkey-sized shafts on offer; before succumbing to the inevitable and allowing the two mammoth-dicked studs to take turns at fucking his hungry ass-hole. All this is but a prelude to the real centrepiece of the action, however, namely the moment when Maddox gets his pucker filled to the brim with both dicks at the same time! It's at this point, of course, that you'd be quite forgiven for expecting the lad to pass out from the sheer audacity of the encounter.
In the end, however, Maddox rides both dicks to his ultimate credit, taking every long inch like a pro and producing a stellar set-piece in the process. By the time that the black studs splatter the white pup's face with a plethora of spunk there's every good chance you'll have creamed yourself several times over. In short, definitely a scene to remember!
Scene 2: Will Sims takes every inch of his red-haired buddy's mammoth-sized ging gang goolie! HD

Cast: Darryl Declan, Will Sims
Also available: Donkey Dicks 5 (Compilation DVD)
Everyone wants a piece of horny red-head, Darryl Declan, and it's not difficult to understand why. Indeed, the centrepiece of his appeal – the monster schlong that he keeps nicely tucked inside his khaki trousers – is clearly a major talking point at Scout Camp. It's little wonder, therefore, that Will Sims is keen to grab the first opportunity to give the said ramrod a real good workout – which in the first instance is a decidedly oral affair, with Sims slurping on the oversized salami with such enthusiasm that you almost expect him to dislocate his jaw in the process! Fortunately for all concerned such a distasteful turn of events does not prove to be the end result.
Instead, Sims gives a more than commendable show of adoration, which culminates in the two lads engaging in a heady display of 69-ing, before Sims gives in to the ultimate temptation when confronted by such a noteworthy phallus and plonks his ass down on Declan's lap. One can only imagine the breathtaking mix of pleasure and discomfort that results from accommodating such an angrily engorged joystick, but given the look on Sims' face as he slides up and down every single inch of its length it's clear for all to see that it's an experience that the young bottom thoroughly enjoys. So much so, in fact, that the lad soon adopts a series of wide-eyed positions to maximise the feeling in his ass – ultimately resulting in him blasting a fine wad of jizz over his own belly. But it's Declan's eruption – like the dick that provides it – that warrants highest acclaim, splattering Sims' sweet, expectant face. Ah, bless!
Scene 3: Bryan's Showertime Fantasy Of Prime Beefcake Results In Oodles Of Hot, Sticky
Cast: Bryan Roico, Attila Rush
See also: 3 Is The Fucking Magic Number (Compilation)
We all have our own private fantasies – some more fantastical than others – but young Bryan Roico's daydream is almost certainly one that warrants much closer attention and which will leave our fans gasping for more. For not only is the dark-haired youngster quite a sweet little beauty in his own right – one that will have plenty of guys getting in quite a lather as we see him sat at the side of the bath tweaking his nipples – but the objects of his lust, namely muscle-boys Attila Rush and Damian Dickey, are definitely more than sufficient reason to get ensconced in front of a screen with a box of tissues for company.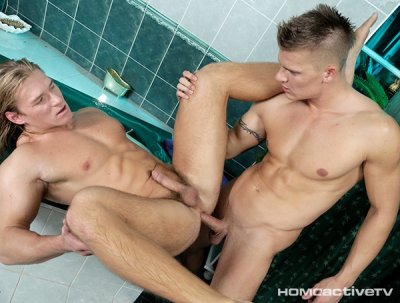 To be fair, Roico's involvement here is limited, for no sooner has he sucked both hunks off than the action centres purely on the two older lads. But who could possibly deny the beauty of seeing Rush and Dickey getting intimate in the bath-tub? Just the sight of Rush giving head whilst his mate holds his golden locks and forces him up and down his shaft is reason aplenty to get over-excited! But ultimately it's seeing the long-haired Rush getting pounded like a cheap whore by Dickey that warrants keenest attention – something that we feel quite sure the escapade is going to get!
Hot, sweaty, mindless fornication it most certainly is, and a display that (not surprisingly) we can't really recommend enough. By the time that both fellows have dumped generous wads and Roico has wanked out a fantasy load to wrap the scene, your own nuts will have long-since busted!
Scene 4: Brad Fitt takes a fireside wank whilst his scouting mates enjoy a threeway fuck! HD
Cast: Brad Fitt, Bryan Roico, Darryl Declan, Sven Laarson
Also available: Spunk-Lovin Spit-Roasters (compilation)
Even those who've never been on Scout Camp know that sitting around a fire, singing songs and toasting marshmallows is a quintessential part of the whole Scouting experience. What most of you might not have considered, however, is how the camp fire is extinguished once all the songs have been sung and the marshmallows consumed.
Well now, thanks to director John Smith, another mystery of the Scouting world has been well and truly debunked, with Brad Fitt quite literally tossing off into the flames. Of course, we're not exactly convinced that this is the most efficient manner of fire-control; but we're barely left with a moment to catch breath before our minds are completely distracted by the return of Darryl Declan, Bryan Roico and Sven Laarson to the nearby chalet, for whom all that outdoor activity has left a distinct buzz of horniness in the air.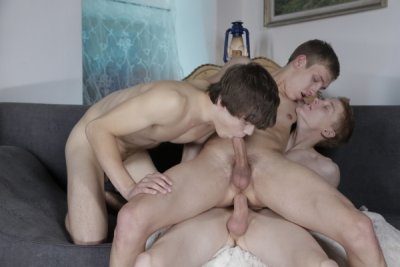 Needless to say it's no time at all before all three boys are out of their uniform and are feasting on the splendid array of dick on offer – egged on, no doubt, by the appearance of Declan's oversized ramrod, which you just know is going to be the main focus of all the ensuing fevered attention. And so it proves, with the meaty, uncut love-muscle giving both Roico and Laarson a real hard workout – much to their clear satisfaction, it must be said. The display of primeval rutting is a must-see for anyone who enjoys watching hyped-up lads in action; as is the sight of all three guys busting their nuts with a plethora of pent-up jizz. All in all, a top-notch performance that'll have you jerking faster than you know how!