Summary:
Another hot release from falcon. Cute young built studs in hot suck fuck and fisting action. What more could you ask for?
Description:
Scene 1: Nick Riley, Scott Davis, Kevin Pearce

Nick Riley pleases himself as he sucks his 10 inch cock. He then moves onto Scott Davis' comparably huge piece of meat. They are joined by Kevin Pearce who mouths both men's cocks, sucking them both off. Then Kevin gets fucked in the mouth by Nick and pumped doggie-style by Scott. Flipping Kevin over, Scott spreads Kevin's legs apart and fucks him hard. Soon both Nick and Scott unlease their loads on their willing cohort.
Scene 2: Blake Harper, Tommy Lord


Tommy Lord introduces himself to Blake Harper by licking and sucking Blake's hard cock. He reaches from behind and sucks Blake's balls then mounts a chair and shows Blake his hole. Tommy begins to play with his own ass and Blake takes him on the chair, lifting him in the air as he fucks Tommy. Tommy begs for more, plants himself onto Blake's dick and bounces up and down until he shoots his load. Blake then sprays his own load over Tommy's chest. (See also: The Best of Blake Harper)
Scene 3: Nino Bacci, Corey Summers


Nino Bacci pulls Corey Summers' cock out from his jeans and underwear and sucks it down his throat. The wrestle on the couch, Nino Playing with Corey's butt. Corey Goes down on Nino's cock. They switch back and forth, then Nino Starts eating Corey's hole and licking his cock. Standing up, Nino face-fuckes Corey, then lays down to get his cock and balls licked and his asshole tongued and eaten. They 69-each man sucking and tongue-fucking the other-until they both spill their loads.
Scene 4: Brett Michaels, Dylan Reece



Brett Michaels and Dylan Reece take a break from their experiment and share a steamy quickie. Dylan uncovers Brett's fat cock from under his black jeans. They spar with thier cocks until Brett goes down on Dylan. Dylan starts to play with Brett's irreistible ripe rump and starts munching the plump ass. Brett likes the attention so much, he has Dylan sit on his face. Hungry for more assplay, Dylan lays back and spreads his legs, exposing his hole for Michael's fat cock. Dylan loves Brett's cock up his hole so much, he straddles Brett's crotch and wiggles onto his thick cock, riding it hard and fast. After they cum they lay together in a warm embrace.

Scene 5: Jason Branch, Joe Serrano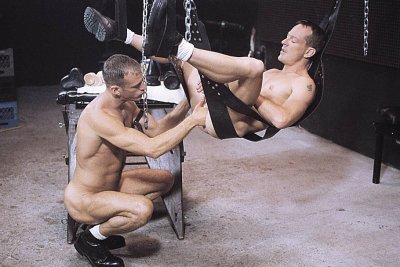 Jason Branch recognizes a great pig bottom in Joe Serrano and starts fucking his face. Joe eagerly swallows Jason's thick rod, massaging it with his tongue. Jason likes this boy and starts to suck on his sizeable cock...he fingers Joe's twitching hole then fucks him hard. Joe lays back, nestled in the sling, releaxed and anxious as Jason treats his boy to a session of deep ass plunging-from his own cock and a 10-inch dildo-sending Joe soaring into ecstasy. Satisfied and eager to please, Joe rims Jason's hole as Jason works out his own load.