Summary:
The luscious (but unfortunately fully-clothed) Chris Green takes you on a nocturnal tour of one super hot sex resort where men are men and women are - non-existent, in All Night Long! Highlights include: pool boy Tony Idol giving guest Brant James a blow-job with ice cubes in his mouth, poolside passion between superstar Jeff Hammond and equally big-dicked Sean Dixon; and the fabulous finale, featuring Idol, Cory Evans, Alex Kincaid and the now-famous Sean Davis dildo!
Scene 1: Tony Idol and Brant James
Tony Idol is pleased to serve...and sometimes, he serves to please! Brawny Brant James is the lucky guest serviced by muscular Tony, who strips and spreads ...
Scene 2: Jeff Hammond and Sean Dickson
Jeff Hammond and Sean Dickson are stroking themselves by the pool...who'll make the first move? Thick hung Jeff Hammond walks over to hungry brunette Sean ...
Scene 3: Peter Bishop and Cory Evans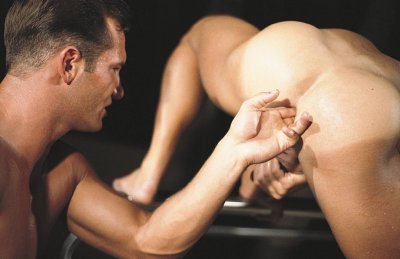 Cory Evans always gives perfect service - instead of tips, he likes to get serviced back! Sexy blond Peter Bishop is the lucky customer this night. Cory serves up his thick tock to Peter by the pool, shoving his long thick prick into Peter's hungry mouth. He face-feeds the blond stud inch after inch of his cock, but Peter has an appetitie for more than just cock...he licks and tongues Cory's puckered hole letting Cory ride his face over and over again, rubbing his slick sexhole against Peter's open slurping mouth. After fingering Peter's hole with first one, then two fingers, Cory is ready to take care of another of Peter's hungers - this time, with his hard dick up Peter's tight cock-starved hole. First up against a palm tree, then squatting over Peter's ripe upturned ass, Cory fucks Peter mercilessly. Peter's whole body shakes with groans as Cory thrusts his long hard tool into Peter's tight yet slippery ass. Finally, Cory shoves Peter's face between the globes of his muscular ass and rides the blond's face again as he shoots his load onto Peter's chest.
Scene 4: Alex Kincaid, Tony Idol, and Cory Evans
Resort guest Alex Kincaid takes a three-way sex break with hunky employees Tony Idol and Cory Evans. Tony starts off in the middle with dark-haired, dark-eyed ...