Summary:
It's arguably the very best form of exercise, but for these horny young things swimming isn't always enough. Indeed, all that fun in the water seems to leave them with an urge for an even more strenuous workout – only this time between the sheets! Or in the locker-room. Or indeed anywhere where the fancy takes! Just so long as it involves hard cock and results in plenty of spunk! Jaxon Radoc, Billy Rubens and Alex Silvers lead a flotilla of cuties whose idea of the ultimate splash is an ass-stretching, cum-sodden frenzy!
Description / Review:

Scene 1: Two Gorgeous Twinks Cause A Spunk Splash With A Horny Locker-Room Fuck!
Starring: Billy Rubens and Jordan Jacobs

It's a well-known fact that a good rigorous session of swimming will help ignite a hunger, but believe us when we tell you that it isn't food that Billy Rubens and Jordan Jacobs are interested in when they hit the locker-room fresh from the water. Indeed, given the glorious boner that pops out of Rubens's speedos it's pretty obvious what these boys have an appetite for; and before you can say "Ian Thorpe" this pair of angelic beauties are snogging each other's faces off and limbering up for another athletic workout – this time out of the water!
Don't worry about any prolonged foreplay from these sporty fellows though. Eager to dive into the crotch of the other, both lads are soon taking turns to gobble on all that tremendously tempting man-meat on display; but it's when Jacobs finally decides to plonk himself down on his swim buddy's lap that the temperature in that room reaches boiling point. Suffice it to say that the fuck that ensues is more than enough to get even the most reserved of porn fans into a lather, with the eager young bottom taking every fine inch that his mate has to offer and both lads putting on the kind of display that will leave you crying out for more!
Rubens, in particular, is a veritable picture of male prowess, pumping into his mate's pitch-perfect ass like a stag on heat. So it's little surprise that neither guy is able to hold out for long – Jacobs spewing all over his belly, then Rubens finally splattering his trademark multi-shot wad over the bottom's face. Lovely!!
Scene 2: Horny Hunk Tries Out Jaxon Radoc's Trunks – Followed By Every Inch Of The Aussie's Fuck-Pole!
Starring: Jaxon Radoc and Darius Ferdynand
Also available: Fucking Blonds (2 DVD compilation)
He's a young, good-looking gay guy, so it's little wonder that Jaxon Radoc has a somewhat enviable taste in fashion, but how Darius Ferdynand knew about the Australian lad's collection of top-class swimwear is anyone's guess. However the disclosure was made, Ferdynand's clearly determined to make the most of his buddy's love of classy clothes, and, seeing Radoc's collection, he's soon taking the opportunity to trial a sexy pair of crimson briefs.
It's a move that's only ever going to have one effect on Radoc, who – as we all know so well by now – has never been the kind of guy who can resist any sexy man, least of all one who's dressed in nothing more than a skimpy pair of trunks. But the fact that the Aussie is confronted by a muscled dude with a dick like a tree-trunk makes the resistance all the more futile. As such it comes as absolutely no surprise at all when the lad is almost immediately down on his knees giving the said joystick a generous embrace; before Ferdynand returns the favour as any good buddy would. Indeed, by the time Radoc is giving his mate's ass a rigorous rimming in anticipation of the somewhat inevitable fucking to follow, you'll have almost certainly come to the conclusion that Ferdynand's antics were all premeditated, and that everyone's favourite boy from the bush was the victim of a long-planned sexual advance.
Still, who the fuck cares? All that really counts is that we get to enjoy a fabulous fuck, with Ferdynand taking every inch of Radoc's cock like a trooper; before both guys spurt like whales in an all-out whitewash!
Scene 3: Cocky Young Blond Lad Gets All His Holes Filled By His Swim-Team Fuck Buddies!
Starring: Alex Silvers, Luke Desmond, Timmy Treasure
Also available: Spunk-Lovin Spit-Roasters (compilation)
We may be wrong, of course, but we've a sneaking suspicion that you, our loyal STAXUS fans, are just gonna love Alex Silvers – but then what's not to like about this cute-faced blond wonder? Slim, well-hung, pretty as a fresh daisy – he's exactly the kind of fellow you just pray will enter the locker room when you're out at the gym or down at the pool.
Well, for Luke Desmond and Timmy Treasure their luck is most definitely in here, as Silvers struts in with an almost arrogant manner and promptly makes a bee-line for Desmond, who as we all know is hung like a feckin' donkey! Seems like the news of the fellow's monster dick has got around to Silvers, and before anyone has chance to catch their breath the young fellow is down on his knees and slurping on that thick, uncut ramrod.
Not wishing to miss out on the fun, Treasure's soon in on the action as well, marking the start of a fabulous, no-holds-barred threesome that'll have you knocking out a whole series of pent-up loads.
But what other possible way is there to show your appreciation of this horny trio, who are soon engaged in a stupendous spit-roast as the two tops take every opportunity to fuck their buddy over a locker-room bench. As a result, Silvers is soon violated in every stupendous way, and it's no surprise that he's soon reaching the point of no return as a result. A few minutes on and his ass-crazed lovers are reaching their own mega-sticky crescendo of grunts, groans and (naturally) lots and lots of jizz. Seems like young Silvers isn't quite as innocent as he looks – especially when he takes a wad of cum in his mouth – but that's exactly how we like them!
Scene 4: Jaxon Radoc Gets Stretched In The Shower, Before Enjoying A Jizzy Swim-Time Facial!
Starring: Billy Rubens, Jaxon Radoc
Okay, so it may be a little chilly in the showers to begin with, but – as Jaxon Radoc and Billy Rubens soon discover – the temperature can quickly shoot right up once the soap's been lathered a little and the mood's been set for a few minutes of intimacy between swimming-buddies. Indeed, any competitive spirit that may have existed in the pool lanes is promptly put aside by both these lads in the quest for mutual carnal satisfaction – which, it must be pointed out, is to be found in grand abundance during the course of this spunktastic scene!
For the fact of the matter is that both these guys are in very fine form indeed as they smooch and grind in the shower-room for your sordid entertainment, and we've no doubt in our minds whatsoever that their display will have our fans going into a sticky meltdown en-masse! Not that there should really be any cause for doubt from these two classy fellows. Aussie boy Radoc is a very firm favourite already – in every sense! – and Rubens is an up-and-cumming star who's established himself as a must-see in pretty much no time at all.
So it is that their flip-flop sucking session is soon escalated by the sight of Rubens thrusting his fine, meaty fuck-stick deep into Radoc's ever-greedy ass-hole – the boy from down-under clearly savouring every inch of Slavic dick like the cock-slut he is! It's no time at all before our blond hero is busting his nuts; just before Rubens spurts the contents of his heavy sac all over his mate's face. If this filthy little set-piece doesn't do it for you then we don't know what will!
Scene 5: Sex-God Billy Rubens Talks Porn – Then Wanks Off His Gorgeous Dick For The Camera!
Starring: Billy Rubens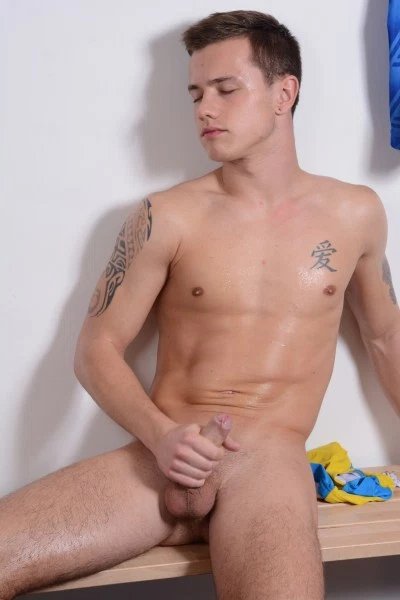 You've got to be something special to be able to hold your own – excuse the pun! – in a porn scene, but for young Billy Rubens a horny little solo poses no problem at all. Then again, why should it? It's clear from the opening interview that this is a young man with a lot of charisma and even more sexual energy; and, given the magical performances that we've already seen from him in front of camera, he's clearly a fellow who has a deep-seated streak of exhibitionism running through his veins. Actually, we defy anyone not to be totally and utterly enamoured of this horny little Latvian, whose idea of a good time is sneaking a quick wank whenever the fancy takes him. Fortunately for us, it's a fancy that seems to come to mind one hell of a lot; and it seems only all too characteristic for him to strip out of his swimming trunks in the locker-room so that he can work that thick, meaty, uncut shaft that he keeps stuffed between his legs. And let's face it, who the fuck could ever hope to resist that manly ramrod given half the opportunity of being formally (or even informally!) introduced to it? On this particular occasion, of course, it's very much a case of hand-relief all round; but it's a fine opportunity for us to savour every inch of that hooded beauty, and we suspect there'll be more than just a few loads of pent-up spunk spilled by guys the world over in appreciation of it. Many, no doubt, not too dissimilar from the cum-shot here – a copious geyser of cum from a man very much in his prime!
Themes: Big dick, Blond haired, Dark haired, High Definition, Muscular, Safe sex, Sports, Swimwear, Tattoos, Twinks (18+), Uncut cocks