Summary:
Modern life can be so sedentary – but not for these fucking lads! For when they're not in the gym keeping their handsome, toned bodies at the peak of physical fitness, they're enjoying the hottest, wildest sex imaginable – with the same cardiovascular results! As such, weights and treadmills are always optional for gym-rats like Kellan James and Noah Matous; with new boys, Ben Rasgar and Victor Rozas, joining Johnathan Strake and Seb Priestley for a jizzy, pumped-up session of cock-sucking and raw ass-banging at its very, very best!
Scene 1: Monster-Hung Gym-Buddy Gives His Cute Charge A Raw Stretch!
Starring: Ben Rasgar, Victor Rozas
Also available: Bigger By The Fucking Dozen 2 (Compilation)
There's absolutely no denying that Ben Rasgar is a gym-trainer like no other – a fellow who quite literally oozes arrogance in the opening few moments of this superb escapade almost as much as he oozes sweat! From spraying a mouthful of water across the training-room, to cockily kissing young Victor Rozas's six-pack mid-session, this is a guy who clearly has a dominant streak and who isn't afraid to show it. Then again, of course, if you'd got the kind of cock between your legs that this fellow has got then you'd probably be pretty self-assured yourself!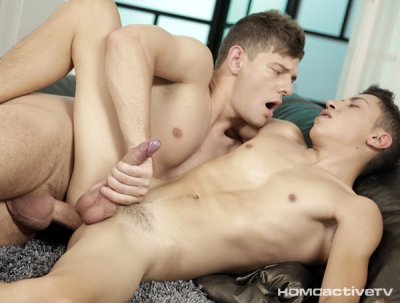 To begin with, however, it's the handsome Spaniard who takes centre-stage in proceedings; with Rasgar quite literally carrying Rozas over to a sofa, where he immediately begins to feast on that handsome Iberian ramrod. There's simply no denying the fact that the temperature notches up considerably once Rasgar's oversized mamba makes its appearance; leaving Rozas momentarily dazed in appreciation, before the young lad masterfully attempts to gorge on every fucking inch on offer.
But whilst you might be overcome with jealousy at the sight of the young twink slobbering over such a mammoth offering, chances are you'll be thanking your lucky stars you're not him when you see his arse having to take the full length of the said schlong – not least of all when the lad's riding it cowboy-style. The fact that he's clearly gritting his teeth says it all, of course; and the thin division of pain and pleasure is neatly encapsulated by his violent eruption. Topped off by Rozas pumping his own jizz into Rasgar's mouth!

Scene 2: Gym Buddies Enjoy A Flip-Flop Workout With Oodles Of Hot Jizz!
Starring: Kellan James, Victor Rozas
Kellan James and Victor Rozas are a couple of handsome mates keen to work up a sweat together – but their opening press-ups and squat-thrusts are nothing compared to the sexual workout that promptly follows their opening gym antics. For having engaged in a hard cardiovascular romp of the traditional kind, the two buddies are quickly turning their attention to each other's cocks; with the ever-horny James making a beeline for Rozas's handsome, uncut dick, before the roles switch and Rozas takes a lengthy slurp on his pal's nicely upturned shaft.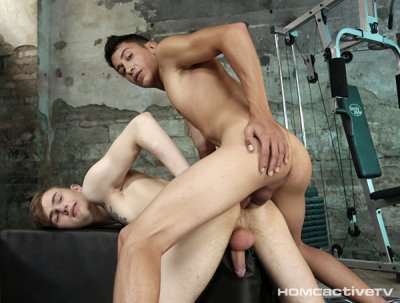 Of course, the contrast in skin-tones between these two fellows seems to make this encounter all the more exotic right from the off; and the electricity between them only charges upwards once James turns his focus to that inviting Spanish ass-hole, rimming and fingering the hungry little pucker. It's pretty obvious that Rozas is gonna get a very heavy pounding from his Czech mate; but what may come as something of a surprise is that James is feeling equally worked-up in the quest for dick. As a result, having taken time out to feed every inch of his knob into Rozas's fuck-hole, the lad is soon getting his arse stretched in similar fashion.
No doubt about it, this hardcore flip-flop session is definitely more than enough to get our fans into a jizz-laden lather; and seeing James take an ass-load of spunk courtesy of Rozas's rupturing ball-sac, prior to the lad spewing his wad all over Rozas's face, will surely guarantee a sticky conclusion for all concerned. Burning up calories has never looked so fucking appealing!

Scene 3: Gym Buddy Daydreamer Gets His Pert Twink Arse Pounded Raw!
Starring: Johnathan Strake, Seb Priestley
Like lots of young men, Johnathan Strake wants to keep his body in real good shape. Unfortunately, that's a task that involves a great deal of energy and commitment – something that he seems to be lacking in the first few moments of this terrific little escapade. Truth is he'd much rather be imagining his dream date than exercising; though given that it's the gorgeous Seb Priestley who's the subject of his fantasies, who can really blame him? Indeed, any pretence of keeping fit the traditional way is promptly abandoned once the dream starts to become a reality; with the two lads enjoying an early smooch, before Priestley launches an attack on Strake's beautiful ramrod.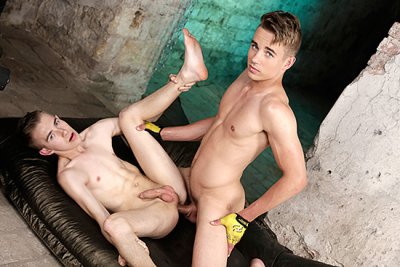 It's a move that most certainly seems to strike a chord with both buddies – Strake lying back to enjoy every stroke of Priestley's tongue over his shaft, before the roles are reversed. Finally, the two mates enjoy a simultaneous 69-ing session – feasting on hard cock in its prime like a couple of over-sexed whores. It's enough to get most fans to the brink in itself, but matters only intensify once Strake submits to the inevitable, gets on his back and allows Priestley to fuck his tight little twink ass for all that it's worth.
Anyone doubting that the young bottom is enjoying this stupendous session should take note of Strake's drooling end as his butt gets pounded; but his pleasure only intensifies as Priestley pummels him in a whole succession of positions, culminating in him spewing over his own belly in response. Leaving Priestley to blast his wad into Strake's mouth for a gorgeously gooey conclusion!
Scene 4: Horny Gym Bunnies Hop Off Home For A Hot, Jizzy Suck & Fuck!
Starring: Johnathan Strake, Noah Matous
Also available: Athletic Ass Bangers 2 (Compilation)

Outdoor gyms are all the rage these days – and provide the perfect means for those who can't afford their own personal gym equipment to keep fit. Indeed, for young lads like Johnathan Strake and Noah Matous they're a positive God-send; although in fairness it's not long before these two beauties have decided to abandon their more orthodox fitness routine for something a little kinkier. So it is that they head back to their apartment, whereupon they engage in a little bit of destressing – courtesy of some clearly much-needed foot-massaging.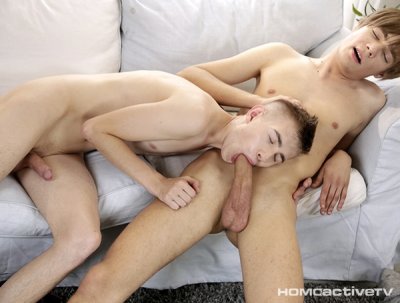 It's not long, however, before other parts of their bodies are screaming out for the same kind of attention – as Strake discovers when his hand reaches down into Matous's crotch! At which point Matous promptly retaliates by diving down onto his buddy's now clearly straining cockhead; signalling the start of a tremendous session of fellatio from both lads, which ultimately results in Matous rigorously rimming and fingering Strake's hungry little arsehole.
It's obvious by this stage in proceedings, of course, that it's not just Matous's finger that's going to be giving his mate's fuck-hole the once-over; and before long Strake is impaled on that ever-insatiable cock and feeling Matous's over-ripe balls eagerly slapping against his butt-cheeks! It's a turn of events that the hyped-up bottom clearly enjoys given the energetic manner with which he then proceeds to ride his pal's dick like a total whore; culminating in him jerking out a generous load of jizz, before sucking the jizz out of Matous's hairless shaft to secure his share of cash!
Themes: 69, Bareback, Blond haired, Dark haired, Fingering, Locker room, Shaved, Sports, Twinks (18+), Uncut cocks