Summary:
It's the extra things in life that count. Take these fresh and hard boys. The extra inches their massive cocks have make all the difference when they pound all the young holes they can find. It may hurt a bit, but the intense big cock pleasure makes up for that!
This title represent great value for money given the amount of quality content and running time. However, to ensure you don't waste money buying the same content twice, this compilation features scenes from the following titles:-
Scene 1: Two Horny Pals Enjoy A Morning Fuck-A-Thon To Empty Their Tight Young Balls!
Starring: George Basten and Ben Nichols
From: Bareback Cum Sluts - Scene 6
Morning sex is great and George Basten and Ben Nichols show us why!! These guys are full of energy and totally rock solid! Getting his thick cock inside George, Nichols stretches his friend's tight hole and clearly hits the spot again and again in the process, filling Basten full of meat before smothering him with a great thick load of spunk!
Scene 2: Two Eager Underlings Let The Boss Enjoy Every Tight Hole That Nature Gave Them!
From: Raw Meat, Scene 6
Featuring a young, well-built underworld boss with cigar and a black leather jacket and his two disloyal servants. The two boys (both very young, thin, smooth, with chic hairstyles and piercings) are only too happy to come down on their boss, front and rear. The three fuck like there's no tomorrow – concluding with the sort of spunk-show that'll have you jerking yourself off like crazy!
Scene 3: Dick-Crazy Youngster Savours Every Inch Of His Mate's Swollen, King-Sized Cock !
Starring: Nicolas Angello & Mark Moby
From: Open Wide, Scene 5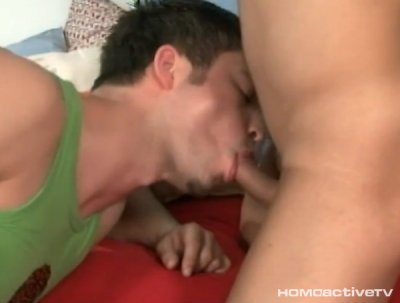 The moment these two youngsters appear on screen you sort of immediately sense where it's all gonna lead. Nicolas Angello, after all, is the shorter and leaner of the two lads; whilst Mark Moby for his part has the sort of undeniable air of dominance about him that it's pretty much inevitable that he's gonna be acting as top and calling the shots. An impression that's only underlined when Angello unzips his pal's jeans to reveal the kind of king-sized cock that's literally screaming out for adoration. Little wonder, then, that Angello's mouth is soon firmly wrapped around the monster, sucking every inch of flesh like his little life depends on it. A sentiment that's echoed by Angello's bubble-butt, which is soon homing in on the swollen trouser-snake and swallowing it with similar gusto, cowboy-style. What follows is a veritable masterclass, as the youngster rides Moby's whale-sized pecker; before both lads squirt copious sprays of jizz from their heavy, pent-up balls. Geez, you can almost smell the scent from here!
Scene 4: Hot Casting Session Sees This Young Wannabe Take Every Inch Of The Cameraman's Mighty Shaft!
From: Bareback Skin Flick, Scene 4
Hot casting session with studly blonde Dave Disel!! Trying out all his new recruits, Joe Schmidt chooses a real stunner for his next casting. Toned young Dave, with his smooth body and blonde hair, gets a real treat as the dark haired photographer produces his long thick dick to Dave who quickly goes down, sucking his head and as much of the shaft as he can fit into his sweet mouth. Pushing his finger past his ring, Joe teases Dave, getting him to beg for more, a real dick fucking him bareback!! Watching Dave's cock bounce as he rides Joe will definitely make your cock quiver in sheer excitement, ready for you to join the cumfest!!
Scene 5: Three Monster Cocks - One Fabulous Scene! Need We Say More ...?
From: World Rugby Orgy, Scene 3
Three massive cocks in one scene!! These horny young fuckers are enjoying what most can only dream about. Smooth young rugby players, with great bodies and cute butts, and all with enormous dicks!! The biggest has to be the amazing young Brit-Boy Titch Jones, and the Czechs can't get enough of him. Shooting as far as his own face, this scene is a spunk-filled dream come true.
Scene 6: With A Cock This Big, It's No Fuckin' Wonder This Guy's Pal Can't Wait To Start Riding Every Inch!
Starring: Max Fonda and Cley Ozzborn
From: Doctor Dick, Scene 3
Getting the doctor's vehicle ready, Max Fonda and Cley Ozzborn get behind schedule as they take a break and ride each other!! Max sports this huge thick cock which causes Cley to skip most of the foreplay and grind back onto it, letting his hole fill up with pure raw meat. Leaning over the machine to give great access, we see Max pump his package deep into Cley as he groans and moans in pure painful pleasure as his butt is used by the monster dick. Taking turns to fuck each other, Max feels what it's like to be pounded by hard dick as he lays back and takes it from buff Cley, shooting a load into Cley's mouth while he's still fucking!! These guys have talent you won't want to miss.
Scene 7: Big Cocks & Cummy-Kisses - These Two "Big Boys" Are A Match Made In Heaven
From: Basement Butt Fuck, Scene 1
Sex slave Chris is tall and tanned with a pierced lip and small chin beard. He has glitter in his brown/blond hair and wears lots of jewellery including a 'diamond' dog collar. Unsurprisingly, skater boy Levis is dressed in denim – but not for long! They eagerly strip and explore each other's bodies. Sucking their big uncut cocks and balls, fingering and rimming their tight shaved holes. They '69' before Levis pounds Chris' arse in various positions until Chris cums on to his stomach and then takes Levis' load in his mouth. The scene ends with cum kisses.
Scene 8: Superb Schoolroom Threesome Sees This Trio Of Monster Cocks Dumping Oodles Of Jizz!
Massive Monsters - Scene 1
We're not sure about you, but the educational system sure seems to have changed tremendously since we went to college. For one thing, were teachers ever as sexy as Milos Zambu is here? Secondly, did they ever have lessons like the one portrayed here? Well, not that we remember – but then, of course, we didn't attend this fabulous institute of academia, where the only subject on the curriculum appears to be sex, and where homework involves measuring your cock and bringing back the results. Unfortunately for Jesse Shaw, he's forgotten all about his assignment – which is unbelievable, we know, but there we have it – so it's down to dyed-blond, Saul Maxwell, to give him a helping hand. Not to mention an open mouth and an equally vacuous ass! The result is a tremendous threesome that'll have you jerking off time and time again, as uber-twink Maxwell bounces his way off Shaw's cock and onto that of his teacher! Believe us, t
Scene 9: Taken For A Ride - Quite Literally! - This Hitch-Hiker Enjoys Every Inch Of A Biker's Thick Exhaust ...
Bareback Road Trip - Scene 4
Tall and lean, our blond biker Elliot strips out of his gear for a sly wank, playing with his huge boy cock. His pretty mate catches him at it, and wraps his hungry mouth around this massive member.
Scene 10: Awesome Twinks Can't Wait To Ride Cock - Especially When It's Thick, Long & Completely Raw!
Tooled Up Twinks - Scene 3
Fucking is better than working, never a truer word is spoken, and these two twinks show us exactly why. Downing their tools and getting their own out, their young toned bodies rub and flex against each other as cute Martin devours Johns thick cock, giving it the full tongue worship. Martins ass soon becomes centre of attention as John lubes it up and probes his hot tongue deep into it, opening his butt with a finger or two in preparation for that awesome dick of his to slide in completely raw. Amazing close-up action will get you right in there as u see Martins smooth ass open up as John grinds his solid meat deeper and deeper into him. Working the entire length back and forth, Martin groans in pleasure as John gives him the fucking of his life.
Scene 11: Boxing's Fun - But Nowhere Near As Enjoyable As Riding Big, Meaty Cock For All It's Worth!
Raw Rivals - Scene 4
Massage parlour threesome!! George Basten treats two smooth young boxers to a rub down of a different kind. Long haired Filip gets rock solid at the sight of George's massively thick dick and it's no wonder!! Boxing partner Max Fonda soon joins in the fuckfest and a hot three-way is on the menu!! All three twinks are really into each other; the intensity just oozes out of the screen to moisten your cock. George soon mounts Filip and stretches his ass farther than its ever been, the moaning coming from him tells us how good it feels to have that thick bare cock ramming inside him.
100% Bareback, 100% Massive cocks, 2 DVDs, 3+ Hours! WOW!
This title represent great value for money given the amount of quality content and running time. However, to ensure you don't waste money buying the same content twice, this compilation features scenes from the following titles:-
Disc 1:
Bareback Cum Sluts - Scene 6
Raw Meat - Scene 6
Open Wide - Scene 6
Bareback Skin Flick - Scene 4
World Rugby Orgy - Scene 3
Doctor Dick - Scene 3
Disc 2:
Basement Butt Fuck - Scene 1
Massive Monsters - Scene 1
Bareback Road Trip - Scene 4
Tooled Up Twinks - Scene 3
Raw Rivals - Scene 4