Summary:
FRATBOY has a new company of troops that pairs horny sergeants with eager new recruits. Huge dicked Hayden Clark takes on the tight holes of muscle blonde, Max Carter and fawnish twink, Jasper Robinson. Straight, hung blonde, Alex Waters takes his sexual frustration out on our young cadets using their mouths and tender asses with all the intensity of a drill sergeant. Fatigue jock straps, combat boots, and hard bunker fucking, Call of Booty will satisfy your military boy itch.
Description / Review:
Scene 1. Drilled By Sergeant
Alex Waters is not happy that new recruit, Jasper Robinson, who is causing everyone to suffer with extra laps. While shining his boots in a jockstrap with his pink little hole peaking out, Alex walks in and orders the young newbie to suck the hot blonde's huge cock. Turns out the straight muscle stud is a pro at cock sucking himself driving Jasper crazy with the flicker of his tongue on Jasper's dick. Its hard to tell who's enjoying it more when Jasper sticks out his ass to take Jasper's fat boner up this tiny, tight hole. The young twink gets drilled deep by the tanned surfer stud who shoots a geyser of hot jizz while being impaled by the hung military top.
Scene 2: Take My Ass Bunk Brother
Jasper takes advantage of being alone in the bunks when out of nowhere his bunk brother Hayden Clark walks in on him spanking his monkey. "God dude, it's bad enough we had to have sausage for lunch," Hayden pretends to disapprove of his bunkmates personal time. It's to late to stop now, so Jasper keeps stroking his boy cock releasing even more pheromones and sexual energy into the air that even Hayden can't resist. Now jerking in sync Jasper calls out, "Hey man, need some help with that?" Without even taking the time to adjust his pants Hayden jumps down to get the blow job of his army career. This has Hayden even more turned on than ever as he rips Jasper's boxers right open to fuck his boy hole. It's deep moans and deep thrusts that lead these bunk brothers to busting balls.
Scene 3: Max is Playing with Big Guns
Its hot blonde Booty Camp when Max Carter and Alex Waters work on their ripped, tanned bodies outdoors then work on each others naked bods in the barracks. Alex lays on his belly, so Max can get a taste of his sweet college boy hole, then his fat boner as Alex fucks his face in a 69. Max sits his muscle bottom down on Alex lap and gets dick pumped from down under. The young private gives up tight hole up to the horny straight stud. With his legs wide open, Max's eyes roll back as hard fucker, Alex pumps his cum load out.
Scene 4: Max Meets Beer Can Cock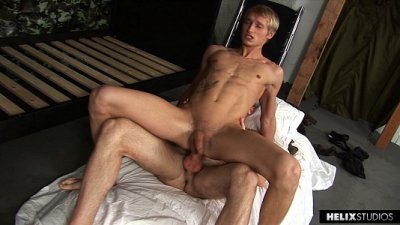 Lieutenant Clark is packing his bags and getting ready to be shipped out when the blond bombshell Max Carter walks in. Max eagerly requests an extra twenty minutes with Lieutenant Clark to say a "proper goodbye" and Clark is happy to oblige. The sexual energy has built up and now the two finally have an excuse to go beyond the call of duty and satisfy one another's cock cravings. Hayden leans in for a kiss and the passion erupts. Shirts come off, nipples get sucked and tongues swap spit before the two jarheads move their sexual encounter into the bunks. Max goes for the bulge that is now raging through Hayden's uniform and reveals the beer can sized cock he's heard so much about. With no trouble at all Max takes Hayden's cock all the way to the bottom of the shaft getting it nice and hard for some ass fucking. A few minutes later they're fucking like rabbits as Max braces himself on the bunk bed. Hayden takes advantage of this tight ass blond hunk and puts him straight into reverse cowgirl where the two go to town speeding up the pace. It isn't long and Max has to release his load while taking his bunk-mates cock. Hayden doesn't let Max's ass get off that easy as he continues to use it until he's ready to spurt his creamy batch all over the smooth chest of Max. By the end these army buds are ready for some field action.