Summary:
From fashion model to porn star, Topher DiMaggio has built a career and a fan base with his dark and smouldering good looks and now's your chance to see what makes Topher DiMaggio a true Falcon Legend in The Best Of Topher DiMaggio! Seven scorching hot, full-length scenes from some of Falcon's greatest titles of all time make this collection a must own. Many a fan has fallen hard for this hot stud, so don't miss seeing him in action!
Scene 01: Dripping Wet 3
Cast: Topher DiMaggio, and AJ Irons
Topher DiMaggio drifts in a pool of clear blue water, lost in dreamland, as AJ Irons watches from the side. AJ is so smitten with the sexy sea god that he dives in and swims towards the rubber float. He immediately pays homage by wrapping his lips around Topher's thunder stick and sucks away. Then the two trade roles with AJ relaxing poolside and exposing his cock for Topher to guzzle down. Topher's got AJ crooning and sighing as he plays with his pal's bunghole, sliding a couple of fingers inside to prime it for action. AJ declares his hole is hungry and crying to be fed and Topher complies, slamming his cock in hard and fast. After a steady series of thrusts inside AJ's wrinkled crinkly, both guys step back and stroke themselves off to finally climax and cum.
Scene 2: What Goes Around
Cast: Topher DiMaggio and Dayton O'Connor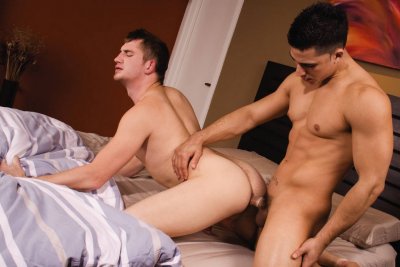 Dayton O'Connor awakes from 'Une Petite Mort', the deep sleep that follows an intense sexual tryst. He wakes next to sleeping giant Erik Rhodes. Getting up, Dayton quietly gathers his clothes, leaves Erik's place and walks down a flight of stairs to enter the apartment he shares with his boyfriend. Dayton's boyfriend Topher DiMaggio is cooking him dinner. Dayton kisses Topher's neck and runs off to take a shower. Topher is horned up and wants to get busy, because he's been home alone all day. Dayton complies, taking Topher hard cock in his mouth and swallowing it to the base. Topher grabs the back of Dayton's head and eases his cock in and out of Dayton's mouth. Picking up the pace of his thrust, Topher begins to fuck Dayton's greedy mouth. Topher pushes Dayton back onto the bed and feeds on Dayton's cock, slopping all over Dayton's meat, working up to a frenzied pace and inspiring him to moan in ecstasy. Topher flips Dayton over exposing his eager ass. Topher pushes deep into Dayton – doggy style, slamming his boyfriend's hole, and Dayton pushes back for more. Topher gets on his back and in no time, Dayton is riding his cock like a bucking bronco. Dayton loves to get fucked, he wants more and Topher is more than willing to give it to him. Topher grabs onto Dayton's hips and thrusting his cock into Dayton. Switching position again, Topher starts drilling for the mother lode, and Dayton delivers with a huge load spurting all over his chest. Topher pulls out and sprays his boyfriend down with his sweet cream. They collapse on the bed and fall fast asleep.
Scene 03: From: Steamworks
Cast: Topher DiMaggio and Austin Wilde
The final scene of this excellent movie pairs RSS Man of the Year with Topher DiMaggio, one of the best pairing of 2010. They meet in the Steamworks hallways, and then head to Topher's room. These guys were really into each other (we found out later that they were fucking on their own the night before - next time we gotta remember not to put two porn stars in the same hotel room before a shoot!). They show us some excellent oral sex in a fantastic 69 position and then Austin Wilde gets fucked. Austin doesn't bottom much, but he will stick his ass up in the air for the right guy - and Topher is the right guy!
Scene 04: From Dripping Wet 3
Cast: Topher DiMaggio Solo
Topher DiMaggio can't help it. He's fixated on his nice long cock ... stretching it, tugging it, stroking its smooth shaft up and down in steady measured motion. The feel of his hand gripping his thick prick has him entirely absorbed in his own little world of sun-soaked cock. He lays down and strokes away even more, relaxed with eyes closed while deep inside, his loins churn with excitement. He then gets on his knees and massages his nuts while he pumps his cock to an explosive and satisfying release of pent-up cum.
Scene 05: Picture Perfect
Cast: Topher DiMaggio, Marc Dylan
Marc Dylan and Topher DiMaggio are directed to be aggressive and forceful so their movements are quick and assertive as they kiss and grope each other hungrily. Marc yanks Topher's shorts down, grabs his cock and guzzles it down his gullet. He sucks it at championship lever making his buddy groan with pleasure; and Topher, stimulated with the awesome blowjob, is equally energetic when he returns the favor. Marc then lays back and yields his primed asshole to Topher who fucks him forcefully. Both men grunt and groan as the action ramps up. Marc can feel his whole body tingling with excitement as they rock back and forth, fucking like madmen until Topher withdraws and splatters his back with spooge. Then with Topher pinching his nipples to heighten the sensation, Marc strokes his pole until he finally climaxes with a burst of cum.
Scene 06: From Couples
Cast: Topher DiMaggio, Angelo Marconi
Topher DiMaggio is finishing rinsing some dishes when his man Angelo Marconi walks in. These hot Latin lovers can't keep their hands off each other. Who could if they were coupled with either of these dark-skinned, passionate men? We're not sure if there's anyone in the world who loves cock more than Angelo, and he is quickly on his knees swallowing Topher's sizable stick. The only thing that Angelo might like more than cock is having his ass worked over, and Topher knows how to deliver a mean rim job. Each time Topher comes up for air, Angelo fingers himself preparing for the real treat he wants up there: Topher's stiff thick dick. Their kitchen counter gets a workout with Angelo using it to position himself in every way to get the maximum impact of his man's meat. Topher serves it up and delivers it deep until Angelo blows a thick load onto his abs, which sends Topher over the top spraying cum all over the kitchen counter.
Scene 7: From Suck My Cock 3
Cast: Dylan Roberts and Topher DiMaggio
Robed hunks Topher DiMaggio and Dylan Roberts are in between takes on the set, and they're making out ferociously. They break away from the intense filming to ...
Scene 8: What Goes Around
Cast: Parker London and Topher DiMaggio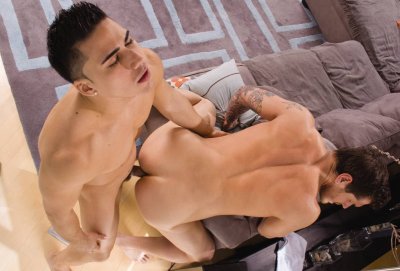 The following day Topher wakes up to find his boyfriend has already left for work. Topher begins to search the Internet for a job, but it doesn't take long before he searching for cock. Topher logs on to his favorite hook-up site, and finds a trick quick. In moments, Parker London is knocking at his door. Upon entering, Topher gets right to business pushing Parker up against the window and swapping spit with the stud. Topher is horned up working the stud over and can't wait to get his hard cock in his mouth. Being the insatiable cocksucker he is, Topher devours Parker's bone, sucking like there's no tomorrow, or until his boyfriend comes home. The intensity builds, and soon Parker is on his knees opening his mouth wide for Topher's tool. Parker sucks so deep that his nose is buried in Topher's pubes. Topher plunges his cock deep down Parker's throat, but it's another hole he really wants. Maneuvering Parker over the end of the sofa, Topher probes his dick deep into Parker who moans with appreciation. Topher bangs the stud good hitting a rhythmic stride, grabbing onto Parker and pounding his beefy ass well. Topher flips Parker over for a better angle. Closing in on the homestretch, Topher fucks with fury until they both explode ecstatically.