Summary:
See what makes TJ Hawke a true Falcon Legend in The Best of TJ Hawke. Nine scorching hot, full-length scenes from some of Falcon's greatest titles of all time make this collection a must own.

Description / Review:

Scene One from Rough Play
Cast: Marc Ryan, Dakota Rivers, Tyler Riggz and TJ Hawke
Two senior members of the athletic team find young TJ despondent and stressed out. They soon determine that the poor boy's misery stems from the sexual assault Coach Riggz forced on him. So the three decide to punish the villainous leader. They confront him in the gym with big menacing threats and their even bigger dicks. Riggz is down on his knees spinning like a carousel sucking one cock after another; then the vengeful three have Riggz jamming his tongue deep into their asscracks. The men have Riggz on his back, his ass and mouth open for vigorous plowing, pleasuring him as much as themselves - a panoply of sucking and fucking to a husky chorus of growls and grunts.
Scene Two from Fleet Week
Featuring Colby McNight and TJ Hawke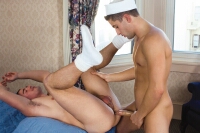 TJ Hawke catches the eye of Colby McNight. Mesmerized by the sailor's big staff, succulent balls and hairy butt, Colby sucks cock and eats ass, all the while crying out, "Give it to me sir!" TJ obliges - prepping Colby with a fierce blowjob before he delivers a good Navy fuck!
Scene Three from Afterparty
Featuring Erik Rhodes, Damian Rios, Tony Capucci and TJ Hawke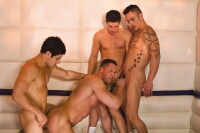 Erik Rhodes is the perfect host to TJ Hawke, Tony Capucci and Damian Rios as he feasts on their cocks, rims their asses and surrenders his hole for them to take turns pumping and pounding. When Erik's buddies have reached their peak, they deliver their hot thick loads one by one over his face and into his hungry mouth.
Scene Four from Best Men Part 2: The Wedding Party
Featuring Lucky Daniels, Andrew Blue and TJ Hawke
Andrew Blue gets an anonymous email with an incriminating image of Tony caught doing the nasty with that sleazy stripper from the week before. Feeling angry and betrayed, he finds solace with the catering staff. TJ Hawke and Lucky Daniels are more than willing to help the despondent bridegroom forget his troubles. Andrew drinks up TJ's cock, and then Lucky's. Each slurp of those hardened dicks takes him farther away from thinking about that two-timing bastard. Who said it's hard finding good help? There's enough cock to suck, asses to rim and holes to fuck to comfort his aching soul. Revenge can be sweet.
Scene Five from Asylum
Cast: Dominic Pacifico and TJ Hawke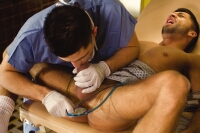 Camera in hand, Erik Rhodes (in a non-sexual role) sneaks down the decrepit hallways and past the feline sentrys to find the treatment center he's heard about. TJ Hawke is administering to Dominic Pacifico. The patient appears unconscious as he lays on the bed, his legs up in stirrups and a series of tubes inserted into his anus, fueling his asshole with a concoction of fluids. As part of the treatment, Dr. Hawke attempts to resuscitate Dominic by sucking on his uncut cock. The patient responds well to the oral attention. Then the medic removes the anal feeding lines to digitally probe the puckered asshole, inserting one finger, then two. Dominic is revived and starts sucking TJ's meaty thermometer. Then he willingly submits to the doc's pole in his hole. The physician fucks his grateful patient every which way until they both finally cum, injecting the air with spurts of their hot loads.
Scene Six from The Trainer
Cast: Hunter Vance and TJ Hawke
TJ Hawke spots Hunter Vance lifting weights and offers to be his workout buddy. The close contact during the rigorous workout soon evolves into a more intimate and deeper connection. They trade off sucking each other's cocks deep down throats before TJ slams his tool deep inside Hunter's ass. Whether getting pumped from behind or sitting on top to straddle TJ's pole, Hunter's asshole gets an exhaustive workout. And the verbal teasing, abuse, taunting, and pleading highlights the action. Before long it's a race to the finish as the guys face each other and jack off to explosive results.
Scene Seven from Dripping Wet 2
Featuring Jason Pitt and TJ Hawke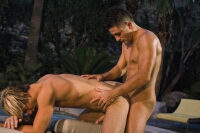 TJ Hawke finds smooth, adorable blond Jason Pitt at the end of the pool, looking petulant, hungry and wanton. They kiss passionately before TJ slides his dick into Jason's mouth. Then he bends over so the blond can jab his pointed tongue inside to tease and tickle his hole. Soon it's TJ's turn to suck and he eagerly fellates Jason's beautiful cock. Having eased the young waif into a tide of erotic pleasure, TJ then slides his cock deep into Jason's hungry hole and fucks him hard. They gyrate and pivot into every conceivable position so that TJ's cock fully probes the depths of Jason's ass. The deep fucking is rhythmic and relentless and Jason ends up jacking himself off to to enjoy TJ's cock pumping his ass as he shoots. Finally TJ pulls out and delivers his own hot load. Spent and satisfied, the two young men relax languidly by the pool.

Scene Eight from Pledgemaster: The Hazing
Featuring Jake Woods, Patrick Kennedy and TJ Hawke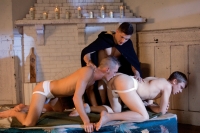 TJ Hawke has double duty, breaking in both Jake Woods and Patrick Kennedy. First TJ commands the boys rim each other's assholes, using spit to make their rosebuds slick and moist enough to slide a finger inside. Then TJ's playbook has him pulling out his collection of big rubber dildos. He jams the latex poles down their throats and up their asses. He twists the batons in their stretched holes, making the young men moan and gasp. Then he sets them both on his cock, demanding that they fellate him forcefully. To dominate the young men entirely, TJ commands Patrick to drill Jake while he gets behind to screw his ass, creating a 3-man daisy-chain fuck. Being the big man-in-charge, TJ selects who he fucks and who he sucks off. As their hazing ends, the three young men stroke out their thick loads as one.
Scene Nine from Dripping Wet 2
Featuring Bobby Clark, Turk Mason and TJ Hawke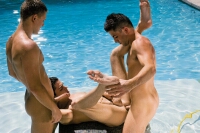 TJ Hawke looks like a muscly water sprite caught lounging at the end of the pristine pool, relaxed and carefree. Bobby Clark swims up to the exotic sea creature and surfaces only to drown him with soulful kisses. Their snug wet underwear soon slides down off their hips, exposing their stiff swollen cocks. Bobby dives onto TJ's dick to enjoy the heft and girth away, savoring each lap of his tongue on the swollen veins of the stiff shaft. TJ quickly returns the favor, sending Bobby into a swell of erotic revelry. Turk Mason quietly enters the scene, looking just as hungry and eager, and immediately joins in. He services both jocks engulfing their dicks as his head rolls from left to right like the storm driven surf. TJ stands up and Bobby throats his cock while Turk gets behind him to rim his tight hole. They continue sucking and rimming until TJ and Bobby tag-team and work Turk over, plugging him at both ends with their throbbing cocks. Ready to explode, they stroke themselves off until one by one these sexy water sprites surrender to the urgency of their orgasm... splattering the sea with their sticky loads.