Summary:
See what makes Pierre Fitch a true Falcon Legend! Eight scorching hot, full-length scenes from some of Falcon's greatest titles of all time make this collection a must own.
Description / Review:
Scene 01: Deep Inside part 1
Cast: Paddy O'Brian and Angela Marconi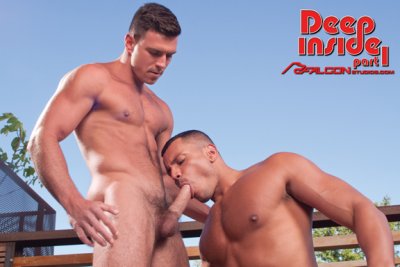 Things are getting mighty steamy in that glassed-in shower as beefy Angelo Marconi soaps up his monster cock. Blazing Paddy O'Brian rambles in with his gleaming white cock pointed straight up, and demands an exchanged frenzy of cocksucking and ass fucking that drives the passionate pair from the shower onto the deck and into the bedroom. They kiss furiously, too, lips and tongues disappearing as the men meld together. Angelo's spit smears across his face as he downs every inch of Paddy's immense tool. He deep throats it 'til he gags. Paddy calls him "Greedy," and slams Angelo's ass like he's gonna dynamite the gaping glory hole. Angelo takes it like the bruiser bottom he is, quivering, begging for more, holding on for the ride of his life. Sweat pours down Paddy's body. He's possessed, tripling the speed of his cocks depth charge in Angelo's more than eager hole. The sheer velocity of fuck decimates Angelo, and screaming, they both explode, shooting shrapnel of cum everywhere.
Scene 02: Ty Roderick and Paddy O'Brian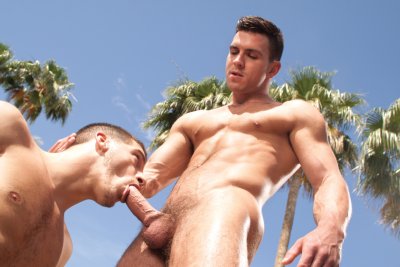 Available for the first time ever! Ty Roderick has the look of a bad boy, with his numerous tats and studded ears. But he's no stranger to cock, and he's about to be pounded by one of the biggest cocks around, Paddy O'Brian's. They meet at the edge of a swimming pool, Ty's longer cock and Paddy's fatter one battling for the same space. That contest is put on hold when Paddy aims his meat at Ty's mouth. Sucking deep on Paddy's cock, Ty is seriously aroused stroking away at his cock. Ty stands, and they lock lips, keeping them locked all the way to the bedroom. Kneeling on the bed, Paddy thwacks Ty's taut ass with his meat stick, and that gets Ty worked up so much he asks to be fucked. Paddy is quick to fulfill Ty's request, and he rams Ty's hole to the hilt in a single drive. Groaning and kicking his hip flexors into gear, Ty grinds counterthrusts while Paddy pumps like a pneumatic drill. Ty flips onto his back to get his prostate poked from a different angle, while slinging an arm behind one thigh to grab his cock and stroke it. Wide at the shoulders and narrow at the hip, Paddy pounds until the glistening precum dripping from Ty's cock turns white and the jizz begins to squirt, melded with Paddy's spectacular spouts of milky cum.
Scene 03: Summer Lust
Cast: Paddy O'Brian and Jimmy Fanz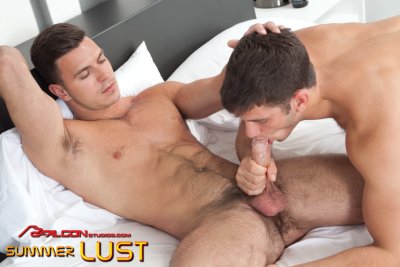 A pair of pretty stunning Falcon Exclusives take a thrilling tumble when Paddy O'Brian gives his dominating cock to dazzling newcomer Jimmy Fanz. Jimmy's a happy-go-lucky hottie, who takes a fiery ass-grilling and busts a nut all over Paddy. Jimmy goes googly-eyed when Paddy walks in, and when Jimmy cunningly strips off his clothes and wades into the pool, the sparkling super stud, Paddy, is quick to follow. Paddy locks lips with Jimmy and clutches their bodies together, pressing their cocks into one over heated package. Jimmy gets seriously down on Paddy's supersize tool, and drags him to the bedroom where the two hairy chested men get into high energy fucking. Paddy's a heaving, sweaty fuck machine. His bodacious cock jackhammers nuts deep into Jimmy's hole, stretching it wider than Jimmy thought possible. The pummeling speed strokes make Jimmy wail. It's a total meltdown for Jimmy, and his spunk explodes. Paddy blows an earthquake orgasm, leaving a prize of thick white cum pearls nestled in the curly black hair on Jimmy's belly.
Scene 04: Dripping Wet 4
Cast: Paddy O'Brian and Johnny Ryder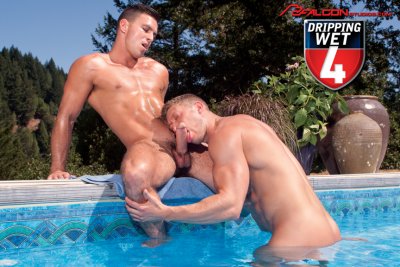 The exquisite Paddy O'Brian is dangling his feet in the pool, but it's not likely to cool him off, because there's a hot guy between his legs. Johnny Ryder is nibbling Paddy's lips, like a mer-man from the deep who rose to find 180 pounds of muscle that needs a closer inspection at the edge of his world. Zing go the strings of Paddy's swimsuit when the inspection takes a turn. Johnny hooks the waistband of Paddy's trunks under his balls, causing them to lift and separate as the fat shaft above them sinks into Johnny's throat. When no part of Paddy's hefty equipment is left unsucked, he rolls back and spreads his cheeks for Johnny's tongue to sample the depths of a hairy crack. They choose dry land for fucking, and Johnny's smooth, tan buns get split by Paddy's monster meat. Sweat breaks out in rivulets that follow the contours of their flesh, pooling in the hollow of Johnny's throat and curling around the hairs between Paddy's pecs. On the cusp of exhaustion from such intense fucking, they jerk out well-earned loads.
Scene 05: Sun Kissed
Paddy O'Brian and Edin Sol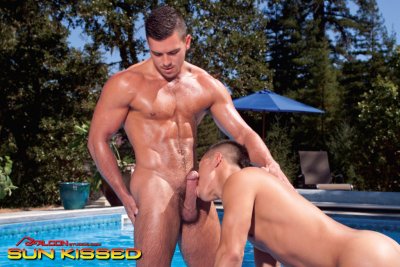 Edin Sol relaxes in the sultry sunshine by the pool. His high buns are like a red flag to a bull, and the bull in question is Paddy O'Brian, who rises from the depths of the pool, with a hard on. They make eye contact. Paddy aims his beer can cock in Edin's direction and it's instantly sheathed in Eden's warm mouth. While Edin works his jaws to accommodate Paddy's hugeness, Paddy kneads Edin's smooth plump buns, his fingers probing the crack, seeking the heat within. In a flash, Edin is on his back. His balls and hard cock glisten. Edin is naturally brown, full-lipped, smooth and toned. Paddy is brown from the sun, packed with hard muscle and a bit of body hair. His cock has gained entrance to Edin's hole and he's sawing back and forth in smooth, rhythmic strokes that curl Edin's toes. With a sloppy kiss, Paddy turns Edin over and enters him from behind, plundering his hole while raining down sweat until he's ready to erupt in fireworks of jism, soon followed by the extra thick eruption that bursts from Edin's cock.
Scene 06: Woods Part 2
Cast: Paddy 'Brian and Marcus Ruhl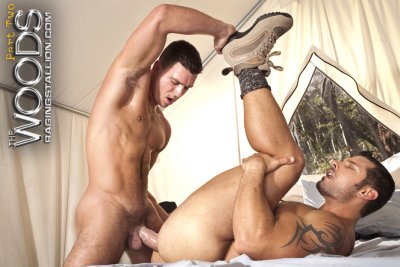 Paddy O'Brian takes up residence in one of the room-sized tents on the North side of The Woods. The sleeves are torn out of his red plaid shirt, which is the only thing he's wearing. Paddy reclines on a pillow, legs spread, playing with himself. His cylinder of flesh is as thick as his wrist, and it serves as a beacon. Fellow camper Marcus Ruhl invites himself in, reclines alongside Paddy and helps himself to a mouthful of cock. Paddy watches intently as Marcus feeds, flexing his hips to set a pace that makes his balls boil. Marcus gurgles and slurps contentedly. These studs are working each other so hard they build up a sweat. When Marcus stands to shuck his shorts, his muscled arms, quarter-sized nipples and heavy uncut cock loom into view. Paddy nods approval and Marcus lowers his meaty buttocks onto the waiting beer can that is Paddy's cock. Paddy grabs both buns and Marcus groans out in pleasure and pain as he accommodates the entry. Paddy gives Marcus a moment, then pounds him in every which way. Paddy's enormous cock tests Marcus's endurance to its limits until there's no alternative but to spray the tent with their spooge.
Scene 07: Sun Kissed
Cast: Paddy O'Brian and Trenton Ducati
Paddy O'Brian is naked and alone at a huge pool, where he is fully enjoying squeezing and teasing his cock, pinching his nipples, caressing his balls. He splashes water on himself. It fails to cool him, but when he reaches into the pool again, a chiseled and muscled man emerges in the form of Trenton Ducati. Paddy reaches out to grasp his catch. Trenton's mouth latches on to Paddy's cock, balls, nipples … any skin it finds. Paddy dives into the pool and emerges confronted by a winking hole that demands attention. He enters tongue-first, then follows with a driving finger and finally his cock. Paddy groans as if possessed by a demon as Trenton demands, "yeah, fuck me, right there!" And Paddy's fat cock hits the right spot, whether Trenton's on his back or on his knees. What began as a jack off, ends with Paddy squeezing out a juicy load into Trenton's mouth while Trenton cums all over.
Scene 08: Sun Kissed
Cast: Paddy O'Brian and Ray Diaz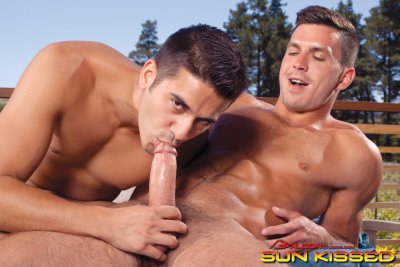 Buck naked on the patio of a spectacular vineyard, two dark-haired and dark-skinned demi-gods make out passionately in the open air. These two sculpted, handsome studs are no other than Paddy O'Brian and Ray Diaz. Their fiery kisses lead Ray to navigate his mouth across Paddy's bulging pecs and over his rippling abs to his stiff, massive cock. Ray slurps up this monumental testament of manhood producing approving sighs from Paddy. Ray delivers a breathtaking blowjob that has Paddy at full hardness, and both of them want to put his enormous hard on to good use. Ray gets on all fours and offers his ass to Paddy, and he relentlessly fucks it with energetic jabs and thrusts. Just when you think Ray can't take any more, he gets in reverse cowboy and the two of them take turns. Ray works his hole furiously over Paddy's huge trunk for a spell, then he stays stationary so Paddy can piston up into him mercilessly. After engaging in this exchange repeatedly, you would think these expert fuckers would be done, but there's more. Ray lies back and Paddy takes the driver seat expending every ounce of sexual energy until Ray shoots a magnificent load all over his chest, and Paddy follows with milky streams of cum!
Additional Information
Categories: UK R18 / XXX Gay Adult
Running Time: 120 mins, Year: 2004 - 2006
Price: Around £29*
Starring: Pierre Fitch, Chad Knight, Filippo Romano, Derrick Vinyard, Justin Wells, Gus Mattox, Ross Stuart, Barrett Long, Mason Wyler, Ralph Woods, Tyler Marks, Bobby Williams, Tristan Adonis, Jeremy Hall, Brad Star, Dakota Rivers, DC Chandler
Directors: John Bruno
Studio: Falcon Studios
Buy DVDs online at: Simply-Adult.com
Gay Video On Demand: Falcon Studios See also: www.gayvod.co.uk
Country: USA, Language: English
Additional info: No Regional Coding