Summary:
See what makes Joey Stefano a true Falcon Legend! Seven scorching hot, full-length scenes from some of Falcon's greatest titles of all time make this collection a must own.
Description / Review:
Scene 1: from Plunge
Featuring Joey Stefano, Steve Kreig & Doug Niles
Joey Stefano is in the poolside hot tub while Doug Niles and Steve Kreig are soaking up some sun on the lounge chairs. Joey successfully coaxes Steve into the hot tub while Doug looks on with interest. Sun, water and big dicks are the key ingredients for this hot three way.
Scene 2: from Revenge - More Than I Can Take
Featuring Joey Stefano & Steve Kreig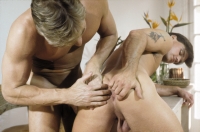 Joey Stefano and Jon Vincent drive down the coast and check in at Paradise Guest House. Joey leaves Jon in the room and goes back up to the front desk see Steve Kreig. Since no one is around Joey comes on strong to Steve. It's not long until Steve is kicking back and Joey has his mouth full of Steve. Joey wants to get fucked bad and is happy to bend over the front desk. Steve has a surprise for Joey that he keeps in his desk drawer to help get Joey nice and loose.
From: Big Bang
Featuring Joey Stefano & Michael Parks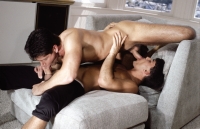 Joey Stefano is another of Glenn Steers' sexy weekend guests and is just relaxing when he catches sight of horny Michael Parks. "Get over here!" Joey demands….and soon Michael is on his knees wrapping his lips tightly around Joey's rigid cock. Joey fucks the stud's mouth until the two of them are going at each other's dicks in a frenzied 69ing episode. Parks move his dick form Stefano's hot mouth to his balls and finally to his round firm ass cheeks. Michael gets so turned on by Joey's incredibly beautiful ass that he is soon tonguing around the edges of the hole, feeling the firm buttocks writhe with pleasure as he approaches the sweet crack. Micheal brushes the twitching hole with his tongue and slowly penetrates Joey's rear canal. This heightens Joey's passion and he takes full control of the situation. He turns Michael upside down and plunges his rock-hard prick into Michael's inviting ass, thrusting back and forth, packing Michael's ass full of his hot and heavy prick. Michael turns around and straddles his hot hole onto Stefano's ready dick, pushing himself up and down and elevating their mutual pleasure until each stud finally blasts his thick load of hot cum.
From MVP018 My Cousin Danny
Featuring Joey Stefano & Gary Dean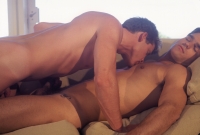 Gary Dean and cousin Danny are making small-talk as Joey Stefano enters the room. Danny's off to get some details pinned down, giving Joey and Gary a chance to compare notes on him. Joey's convinced he can have anyone – straight or gay – and Gary's not one to argue. Soon the two eager studs are sucking and fucking the afternoon away.
From FVP066 Plunge
Featuring Joey Stefano & Lon Flexx
Lon Flexx is relaxing in a hot tub when Joey Stefano walks up and inquires about the water. Lon invites him to get in. It only takes a few minutes for Joey to get accustomed to the water and his immediate surroundings. Joey sucks on his big dick enough to coax him out of the hot tub and into his tight ass.
From MSC008 Idol Eyes
Featuring Joey Stefano & Ryan Idol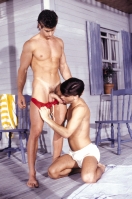 Lifeguard Ryan Idol has been furtively watching and enjoying a lot of the beach dudes getting it on, and now he needs to get some ass himself. He hooks up with fellow lifeguard Joey Stefano for an afternoon of sucking rimming and fucking. Joey eagerly strips Ryan out of his speedo and starts sucking his cock. Ryan turns around so Joey can rim his hole. Finally Ryan can hold back no longer…and Joey's eager to get fucked…so Ryan slides his huge cock deep in Joey's ass. Pumping Joey's tight hole over and over until Ryan reaches his peak and covers Joey's back with his load.
From FVP067 Revenge - More Than I Can Take
Featuring Joey Stefano and Jon Vincent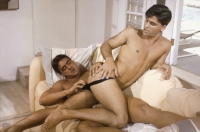 Joey Stefano returns to the room to find Jon Vincent passed out drunk. Joey starts shooting off his mouth as he has been ever since they checked in and Jon decides it's time to show him who is boss. It doesn't take Joey long to realize that Jon and his big fat dick are running the show.
Click here for more gay DVDs featuring Joey Stefano